"Sous Vide" is a French word. A literal translation is "Under Vacuum."
The first thing to do is to pack food in a vacuum sealing bag. Then, immerse in hot water at a consistent temperature for a specified period (typically lower temperature for a more extended period than cooking with fire). This cooking technique has existed for decades, but not for home use because machines were expensive and giant. Now that many Sous Vide machines introduced for home cooking in the last couple of years, Sous Vide became well-known and implemented for home cooking. Here are some popular Sous Vide machines in 2017.
The Best Immersion Circulators
There are mainly two types of Sous Vide machines: immersion circulators and sous vide ovens. Immersion circulators can work with any containers that already exist in your house. You can store them in a kitchen drawer when not in use. They are suitable for those who don't want another appliance to take space on kitchen counter. Here are three best Sous Vide immersion circulators in 2017.
ChefSteps Joule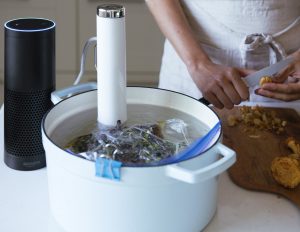 It's nearly half size of competitors. However, ChefSteps Joule's benefits are not only design. There are many remarkable features. This small gadget needs only 1.5-inch deep water. While it can work fine in a small pot, a manufacturer claims that it can be used in up to 10 gallons of a water container. Read a full review.
Anova WiFi Precision Cooker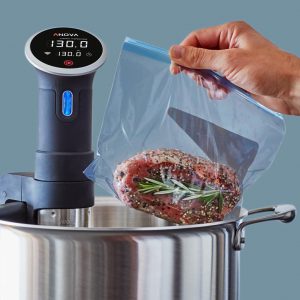 It's probably the most well-known brand for Sous Vide machines. It works with a mobile app to set a timer, schedule, notification, etc. It also works as a standalone device without the app. With a display of temperature and timer on the top, a dial to set temperature on the side. It's easy to use, and reliable. The latest version uses WiFi to connect to your smartphone. You can even operate the machine away from home. Read a full review.
Gourmia GSV-130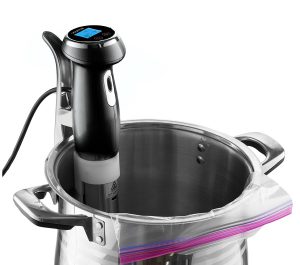 A price of Gourmia GSV-130 is a half or less than competitors. It doesn't have Wifi or Bluetooth to connect to your smartphone. It only works by pressing buttons on the device. A large digital display on the top is more sophisticated and showing more information than Anova's. It doesn't have outstanding features. But it's very easy to use, and the price is very appealing. Read a full review.

| Product | ChefsStep Joules | Anova WiFi | Gourmia GSV-130 |
| --- | --- | --- | --- |
| Dimension | 1.85" x 1.85" x 11" | 2.75" x 2.75" x 14.75" | 4" x 5" x 14.5" |
| Weight | 1.28 lbs | 2.5 lbs | 2.3 lbs |
| Power | 1100 watts | 900 watts | 1200 watts |
| Max water valume | 10 gallons | 5 gallons | 3.5 gallons |
| Min/Max water depth | 1.5" / 8" | 2.5" / 6.25" | 2.75" / 6" |
| Max temperature | 208 degree F | 210 degree F | 203 degree F |
| Wireless Technology | Bluetooth + WiFi | Bluetooth + WiFi | n/a |
| Price | $199.00* | $149.00* | $79.99* |
*Click to see the latest price
The Best Sous Vide Ovens
Here are some popular Sous Vide Ovens in 2017. They are all-in-one machines for Sous Vide cooking. They consist of a water bath, heater, thermometer, timers, etc. Since they have a water bath, the size of the machine is large. While immersion circulators are called Kitchen Gadgets, Sous Vide Ovens are considered as small appliances.
Tribest Sousvant
All electric parts are in a bottom base, and a water bath (=carafe) is mounted on the base. The carafe can be removed from the base so you can take it to the sink to fill it up, empty, or wash easily. The carafe are clear all around. Unlike other sous vide ovens, you can perfectly see the progress of cooking without opening the lid. A compact and beautiful design allows the machine take your kitchen space positively. Read a full review.
SousVide Supreme / Supreme Demi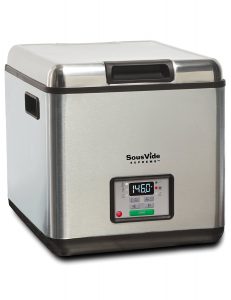 SousVide Supreme and Demi are energy-efficient all-in-one Sous Vide ovens. Well-designed pouch rack can be used in three different ways. A capacity of Supreme is 3 gallons, and Demi is 2.3 gallons. A good insulation makes the machines energy-efficient. The heating system doesn't need a motor to circulate water, so it's very quiet operation. You can truly set and forget the machines and do whatever you like until timer goes off. Read a full review.
Gourmia GSV-550 / GSV-900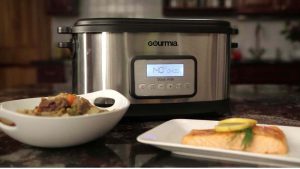 As immersion circulators, Gourmia has Sous Vide ovens at reasonable prices. Gourmia GSV-550 and GSV-900 are 9qt and 10qt capacity all-in-one Sous Vide ovens. A stainless steel rack comes with both models. They can't beat SousVide Supreme/Demi in quality and feature, but the prices are much less. Read a full review.

Product
Tribest SousVant
SousVide Supreme
SousVide Supreme Demi
Gourmia GSV-900
Gourmia GSV-550
Dimension
D x W x H
14.5" x 8" x 15.5"
11.4" x 14.2 x 11.4
10.96" x 12.99" x 11.3
10" x 15" x 8.75"
10.75" x 16" x 8.25"
Weight
10 lbs
13 lbs
9.8 lbs
8.3 lbs
9 lbs
Power
1000 watts
850 watts
550 watts
800 watts
525 watts
Water Bath Volume
3 gallons
3 gallons
2.3 gallons
2.5 gallons
2.25 gallons
Max Temperature
194 degrees F
210 degrees F
210 degrees F
212 degrees F
194 degrees F
Price
$399.00*
$429.00*
$329.00*
$129.99*
$74.99*
*Click to see the latest price