ChefSteps Joule is the smallest and sleekest immersion circulator available today. There is no bulky part you may find in other brands' immersion circulators. Despite its small size, output power is 1100 watts. Two colors are available: All White or White/Stainless Steel.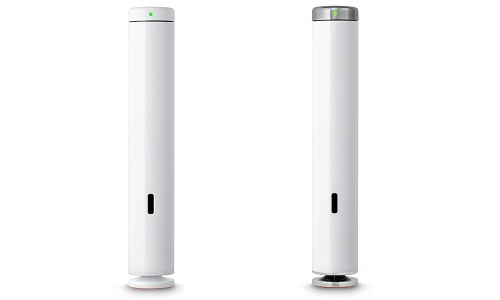 Nearly half size of most competitors. Save space in a pot, and slip into a top drawer with your silverware when no use.
With a magnetic base and a simple clip, it can attach to almost any container, pot, or pan.
1100 watts of power heats up fast. Precise to 0.2°F / 0.1°C.
Works with iOS and Android devices. It can connect with Bluetooth only, and you can use WiFi to control it away from home.
Works with Alexa.
What in Box?
Pull off the sleeve, and you see a black box that securely holds the device. That's all in it. There is an instruction printed inside of the black box. You will get more details, recipes, and tips from its smartphone app: "Joule: Sous Vide by ChefSteps."
Design
Plain and simple, 11 inch long cylinder with a clip on the side. Magnetic base on the bottom, LED indicator and a single button to stop the machine on the top. Horizontal slit on the bottom is an inlet of water. There is a hole on the side around 4 inches from the bottom, which is an outlet for water.
The clip is designed for pots or container that have a thin wall. It's not recommended to use for containers that have a thick wall, such as a cooler box.
Specifications
Dimension: 1.85″ (47 mm) x 11″ (280 mm)
Weight: 1.28 lbs (580 g)
Performance: 1100 watts
Temperature accuracy: +/- 0.2 degree F (0.1 degree C)
Maximum water temperature: 208 degree F (98 degrees C)
Maximum bath volume: 10 gallons (40 liters)
Minimum water depth: 1.5″ (38 mm)
Maximum water depth: 8″ (203 mm)
As a comparison, Anova WiFi is 900 watts, and Gourmia GSV130 is 1200 watts. Considering the size, Joule has a very powerful heater. And, most other brands' immersion circulators can handle 5 to 6 gallons of water at max, but Joule can do 10 gallons of water. While Joule is useful when you cook a large amount of food, it also has a feature for cooking a small amount of food. The minimum depth of water is as low as 1.5 inches. So, you can even use a frying pan with Joule for sous vide cooking.
Control from anywhere
Joule has both Bluetooth and WiFi. However, you don't need WiFi to control Joule. All you need are your smartphone with Bluetooth and Joule mobile app. WiFi is used when you are not home. You can control it remotely over the internet with a WiFi connection.
Works with Alexa
If you have Alexa-enabled devices, such as Amazon Echo and Fire TV, you can control Joule with your voice. It's a great advantage over competitors. And more importantly, it's a great advantage to Joule itself. That's because Joule has no display on the device. It has only a button on the top to stop the machine. All controls like setting temperature and timer, or starting the device, need to be done by the smartphone app. But, now you have another option, controlling with your voice! Here are some examples you can ask Alexa,
"Alexa, ask Joule to cook pork chop like last time."
"Alexa, ask Joule, what is the time and temperature for tenderloin steak?"
"Alexa, ask Joule to set the temperature to 165 degrees."
"Alexa, ask Joule to check the status."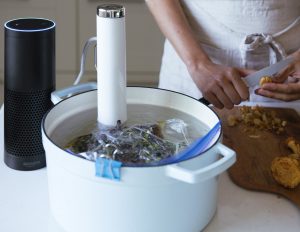 As of writing this post, Alexa can't set a timer or tell you how much a timer is left, but smart home technology is always improving. It may be able to do these things in the future.
Conclusion
The smallest, powerful, and well-designed. Joule is the most innovative immersion circulator available today. Its features outperform all other competitors. However, one negative thing you have to accept is that it's not a standalone device. You always need your smartphone to control the device. If you are OK with that, there is no doubt that Joule is the best immersion circulator available today. Check the price of Joule at amazon.com.