Sous Vide cooking technic has existed for decades. But, sous vide machines had been expensive, bulky, commercial and industrial until Anova introduced the first affordable and user-friendly immersion circulator. Since then, Sous Vide cooking is getting used in home kitchens.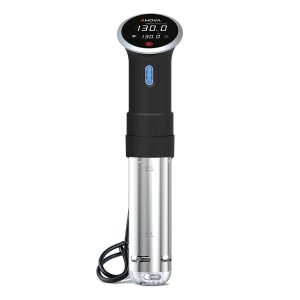 Anova has released two versions of Sous Vide immersion circulator. The first one has 800 watts and uses Bluetooth to connect to your smartphone. The second one has 900 watts and uses Bluetooth and WiFi. Both models are available on the market. And, because it's been a while since their release, you may find a good discount.
What's in Box?
Anova Precision Cooker
Adjustable Clamp
Quick Start Guide
User manual
Design
Anova is made out of polycarbonate on an upper body and stainless steel on the bottom. The stainless steel bottom contains a heating element, thermometer, and circulator, and it can be opened by twisting it for cleaning or maintenance. A display on the top is very basic, showing temperature and timer. There are also a Bluetooth (1st gen) or WiFi (2nd gen) indicator light, a start/pause touch button, and a timer indicator light. Temperature can be set quickly by spinning a blue-backlit wheel on the side.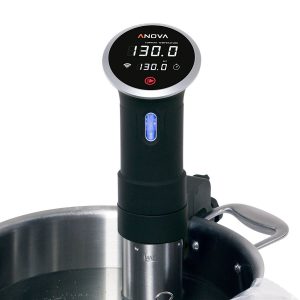 A clamp is designed to attach to a water bath, and the device is slipped into it. The clamp can open up to 1.25 inch (317.5 mm), so it can attach to many kinds of container, even it has a thick wall like a cooler box.
Specifications
Dimension: 2.75″ (698 mm) x 14.75″ (368 mm)
Weight: 2.5 lbs (1.1 kg)
Temperature range: 77 degrees F (25 degrees C) to 210 degrees F (99 degrees C)
Maximum immersion depth: 7.25″ (184 mm)
Minimum immersion depth: 2.5″ (635 mm)
Tank capacity: 4 to 5 gallons (15 to 19 liters)
Difference between 1st gen and 2nd gen
Anova Bluetooth (1st gen) and WiFi (2nd gen) look the same. There are only two differences in performance between them. First, the 2nd gen is a little more powerful than the 1st gen by 100 watts output power. Second, while the 1st gen has only Bluetooth, and the 2nd gen has both Bluetooth and WiFi. The 2nd gen's WiFi connectivity allows you to control the device remotely. But, when you are close to Anova, 2nd gen also uses Bluetooth to connect your smartphone.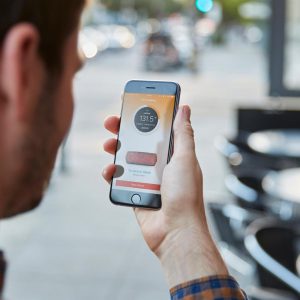 As another benefit come from WiFi connectivity, the 2nd gen works with Alexa. You can say things like,
"Alexa, ask Anova to cook chicken"
"Alexa, ask Anova to check the status"
"Alexa, ask Anova to heat the water to 140 degrees"
Both versions work with the same smartphone app. In the app, you can see many recipes. They are not only basic ones but personal ones from Anova users who upload their recipes and share them in the app. The 1st gen doesn't have the features of Alexa skill or operating remotely, but it's cheaper than the 2nd gen (usually $50 less)
Conclusion
Anova Sous Vide Precision Cooker is affordable and easy to use. It can work with your smartphone, but it's also a standalone device. You don't need a smartphone to control the device. Everything can be done by pressing buttons on the device. The 1st gen (Bluetooth) and the 2nd gen (WiFi) are both available to purchase. WiFi version is a little more powerful, and it also has features of Alexa compatibility and a remote operation over the internet. Reportedly, Alexa skill has an issue of connectivity, but it may be improving in the future. Unless you need these features, the 1st gen is suitable for you because it is cheaper than the 2nd gen. Overall, both versions of Anova precision cooker are reliable, reasonable, and easy to use. Click here to the prices of both versions.