Gourmia GSV-900 and GSV-550 are budget sous vide water ovens. Their design are not attractive. They are kind of big and wide. And there are not many remarkable features. However, the prices are much lower than other brands' water ovens.
What' in Box of GSV-900?
Gourmia sous vide oven
Stainless steel rack
Instruction manual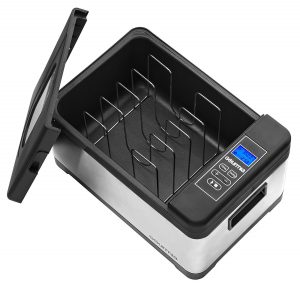 Recessed handles are attached to the body on both sides. A lid has a window to look through it. But, condensation is built up inside of the lid when in use, so the window doesn't help much monitoring foods.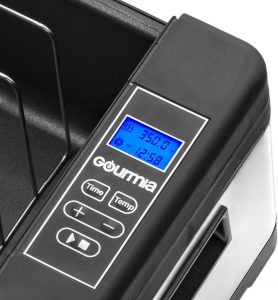 A display and buttons are located on the top. The display shows the cooking time and temperature. The timer can be set up to 24 hours. And a heater and circulator are located below the display and buttons, on one side of the machine. This layout makes the machine low and flat, but wide and big. I find it less attractive for counter-top appliances.
Gourmia GSV-550 has one quart-less capacity of water bath than GSV-900. And the price is lower. It's one of the least expensive Sous Vide water ovens today.
What's in Box of GSV-550
Gourmia sous vide oven
Stainless steel rack
Bonus recipe book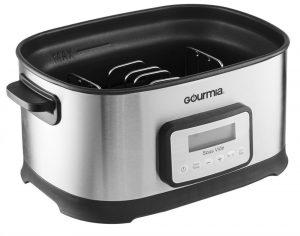 The maximum water capacity is 9 quart. The including rack helps to separate food pouches, making it possible to cook up to 12 4-oz-porches at the same time. Unlike GSV-900, the heater is located at the bottom of the unit, and there is no circulator. It relies on convection to maintain temperature.
The overall design is very simple, similar to SousVide Supreme/Demi. Handles are attached to the body on both sides. Unlike GSV-900 or SousVide Supreme/Demi, they are bulged, making it wider. A lid is transparent. You can see through it better than GSV-900.
Back-lit display and buttons on the front wall. The maximum temperature is 194 degree F (90 degrees C), which is relatively low but believed to be sufficient for most sous vide cooking. The timer can be set between 30 minutes and 72 hours.
Specs and comparison of GSV-900 and GSV-550
| Product | Gourmia GSV-900 | Gourmia GSV-550 |
| --- | --- | --- |
| Dimension | 10" L x 15" W x 8.75" H | 10.75" L x 16" W x 8.25" H |
| Weight | 8.3 lbs | 9 lbs |
| Power | 800 watts | 525 watts |
| Water bath capacity | 2.5 gallons | 2.25 gallons |
| Maximum temperature | 212 degrees F | 194 degrees F |
Conclusion
Gourmai GSV-900 works well for its reasonable price. However, there are no remarkable features. Its operation is just the same as immersion circulators. Thus, you may consider GSV-900 as all-in-one immersion circulator. As long as it's a good discounted price, and you want an all-in-one design of Sous Vide machine, you may want to choose Gourmia GSV-900.
Gourmia GSV-550 is another budget Sous Vide oven. It has a little smaller capacity than GSV-900, but it's a little cheaper. The building quality and accuracy of the temperature of both models are inferior to SousVide Supreme/Demi. If you just want to try out sous vide cooking with an all-in-one machine, both Gourmia sous vide ovens are recommended. Click to see the current prices of GSV-900 and GSV-550.