SousVide Supreme water oven is a compact all-in-one Sous Vide machine for home kitchens. The original Supreme and Demi offer the same functions. Demi is smaller and cheaper than the original Supreme.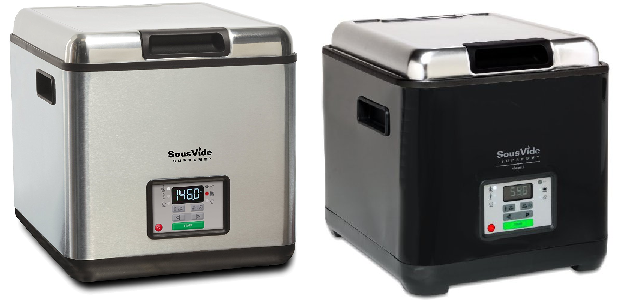 What's in Box?
SousVide Supreme / Demi water oven
Stainless steel pouch rack
Detachable power cord
Instructional DVD
User manual
A power cord is detachable so you can carry only the main body to the sink to fill with water or empty and bring back to the counter.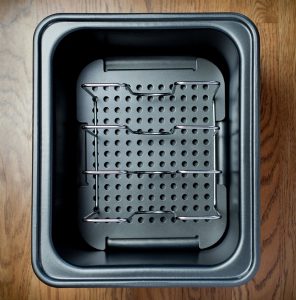 A tight-fitting lid is completely removed from the main body. The water bath capacity of each unit is 3 gallons (the original) and 2.3 gallons (Demi). The maximum temperature is 210 degrees F. Double wall insulation makes it energy efficient, and the exterior is cool to touch. Thanks to a perforated grill on the bottom, foods don't touch a heated surface directly. The perforated grill lets heat through. Both models rely on convection to circulate water. So, there is no motor. It allows it operate silently and makes it more energy-efficient.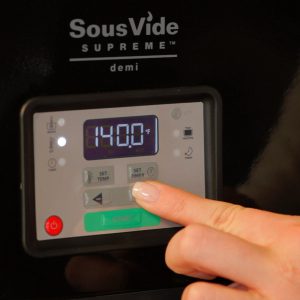 Specs & Comparison of SousVide Supreme / Demi
| Product | Supreme | Demi |
| --- | --- | --- |
| Dimension | 14.2" L x 11.4" W x 11.4" H | 12.99" L x 10.96" W x 11.3" H |
| Water Bath Dimension | 12.5" L x 9.75" W x 6.75" H | 11" L x 8.75" W x 6.5" H |
| Water Bath Capacity | 3 gallons | 2.3 gallons |
| Cooking Capacity | Approx. 20 x 4oz portions | Approx. 12 x 4oz portions |
| Weight | 13 lbs | 9.8 lbs |
| Power | 850 watts | 550 watts |
| Temperature Range | 86 to 210 degrees F | 86 to 210 degrees F |
Both models' performance is almost the same. There is another difference except for their sizes. The original Supreme is built with stainless steel. Demi, on the other hand, consists of a polished aluminum lid, anodized aluminum interior, and coated steel exterior shell. While the original Supreme is only one color (silver), Demi has three, Black, White, and Red.
Conclusion
SousVide Supreme and Demi are basic designed Sous Vide ovens, but their constructions are outstanding. Double wall insulated water bath with a tight-fitting lid retains heat well, making it energy efficient. And they don't need to motor for circulation. It allows a quiet operation, making it more energy efficient. Both models include a stainless steel rack that claims to contain approximately 20 x 4oz-portions (the original) and 12 x 4oz-portions (Demi). This info gives you a rough idea whether or not they have sufficient capacity for your cooking. If you cook food for many hours or days, these compact, quiet, and energy efficient machines are the best choice for you. Check the current price of the original Supreme here, and click here for Demi.