Tribest Sousvant is an all-in-one Sous Vide oven. Its unique design gives many advantages.
What's in Box?
Sousvant Sous Vide oven
Storage bag
User manual
Design
A design of Sousvant is very simple. A water bath (=carafe) is mounted on an electrical base. All electric units are integrated into the base. A water carafe is clear-plastic all around so you can perfectly see foods through it. A lid, which is also clear, helps to get targetted temperature quickly, and you don't have to worry about water evaporation.
Specifications
Dimension: 11.5″ W x 7.5″ D x 15.5″ H
Weight: 10 lbs
Power: 1000 Watts
Temperature Range: 95 degrees F to 194 degrees F
Carafe capacity: 3 gallons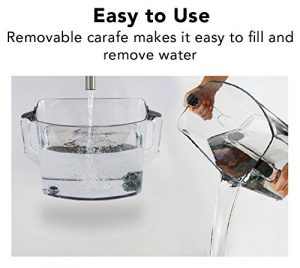 The carafe is removable. It has big and sturdy handles on both sides so you can lift it up from the base, take it to a sink, and fill or clean it up easily. And its rectangular and kind of flat shape helps it to fit in an ordinary kitchen sink. The capacity of the carafe is 3 gallons, which may not be large enough for those who want to cook a large amount of food at a time.
The base has a back-lit display and buttons in the center. There are four buttons,  Cook, Up, Down, and Stop. The display shows a temperature on the top and time on the bottom. There is no countdown timer. Time on the display shows how long it's been cooking after it reached targeted temperature, and it starts automatically.
There is no WiFi or Bluetooth feature.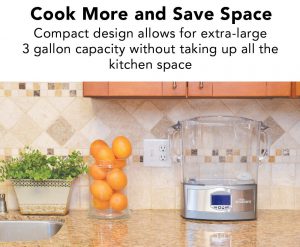 Conclusion
The removable carafe makes everything convenient. From preparing to cleaning, it's a lot easier than other Sous Vide ovens. Sousvant is well-designed for home use, and It looks beautiful on a kitchen counter. Since there is no insulation, it may not be suitable for a long cook (hours or day.) If you want to give your kitchen a modern look, and you are OK with 3-gallon capacity, Sousvant is worth the price. Click here to see the latest price.