Gourmia GSV-130 is a budget immersion circulator. It doesn't have Bluetooth or WiFi, and it can't cook a large amount in a large container. But it has a powerful heater for its price.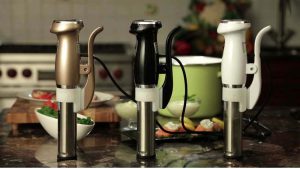 What's in Box?
Gourmia GSV-130 immersion circulator
Recipe book
Design
It's very similar in appearance to Anova immersion circulator. A backlit display and buttons are on the top, and a wheel to adjust temperature and timer on the side. The display looks more modern than Anova's. A big clip can open and pinch up to 1 inch.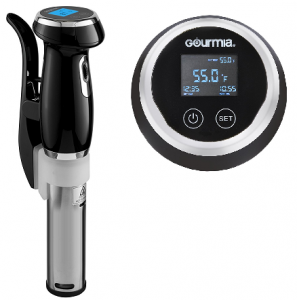 Specifications
Dimensions: 4 x 5 x 14.5 inches
Weight: 2.3 lbs
Power: 1200 Watt
Maximum water capacity: 3.5 gallons
Maximum temperature: 203 degrees F (95 degrees C)
Minimum water depth: 3 inches
Maximum: 6 inches
Gourmia GSV-130 has a powerful 1200-watt heater, which is remarkable for its price. As a comparison, Chefsteps Joule is 1100 watts, and Anova WiFi is 900 watts. While it has a powerful heater, maximum water capacity is modest. The size of up to 3.5 gallons may be a problem for those who have a big family or want to cook entire meals for a week.
Other Gourmia immersion circulators
Gourmia has released other models for sous vide immersion circulator. GSV-140 has the same 1200-watt heater. It can work in up to 10 gallons containers. GSV-150 has added another feature. It's WiFi. GSV-150 works with a smartphone app, and you can control it via WiFi away from home. These two models are more expensive than GSV-130 and not much different from Anova's prices. So, when you consider purchasing these models, you may want to consider Anova's immersion circulators, too.
Conclusion
Gourmia GSV-130 is a very basic immersion circulator. Before purchasing, make sure you are using container or pod smaller than 3.5-gallon capacity. And if you don't need WiFi features to control over smartphones apps or internet, Gourmia GSV-130 will be the best budget addition to your kitchen. Available in three colors, Black, Bronze, and White. Click here to see the price.