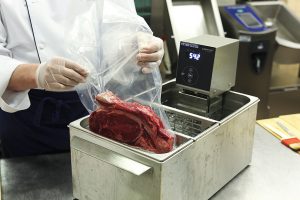 Although Sous vide cooking method has existed for decades, sous vide cooking became popular for home kitchens quite recently. Starting with Anova immersion circulator, many sous vide machines has been released for home use in the last few years. And these years are enough time for introducing us so many new products that you may not be able to keep up. This post is about 5 things to consider before buying sous vide machine and hopefully helps you choose the right sous vide machine for you.
#1 The capacity of a water bath
A capacity of water bath of all sous vide ovens is between 2 to 3 gallons. It's believed to be practical because you need to carry the machine to a kitchen sink to empty or clean it. And it's believed to be enough for home cooking. For example, SousVide Supreme water oven (2.75-gallon capacity) includes a stainless steel rack which can hold up 20 x 4oz portions. I think it's sufficient for home cooking.
A capacity of water bath of immersion circulators, however, are ranging widely from 3 to 10 gallons. If you cook a large volume of food at a time, you need to choose an immersion circulator compatible with high capacity. For example, Chefsteps Joule claims that it can work in up to 10-gallon container. However, a 10-gallon container is huge. You can't find such pods in the kitchen. You may find that size of cooler boxes or storage boxes and use them as a water bath if you really need it.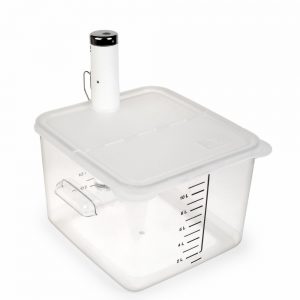 The point is that 10-gallon sous vide cooking are not practical for the home kitchen. As mentioned, 2.75-gallon capacity water oven can cook 20 x 4oz portions, and it's probably sufficient. But, if you are sure that you need to cook a larger volume of food at a time, immersion circulators compatible with high capacity are the only option.
#2 How long you cook by sous vide
Sous vide cooking relatively needs a long time. Some recipes take even a day or more. If you plan to cook such foods, water ovens are recommended. Water ovens include a lid. It eliminates the problem of evaporation. Although you may find a container with a lid that perfectly fits a specific brands of an immersion circulator, water ovens are more energy efficient. For example, SousVide Supreme Demi water oven is a double wall insulated water bath. Once it reaches a targeted temperature, it stays warm without a power of heater. Plus, it doesn't need a motor to circulate water, it remains quite and consumes as little as 550 watts at max.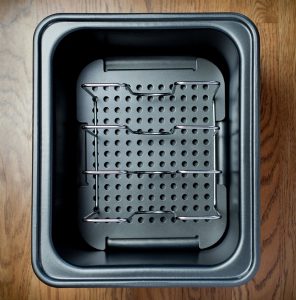 So, if you want to cook for a long time, water ovens are preferable. It's better to choose ones with good insulation and energy efficiency.
#3 How much food you cook at a time
If you cook only a single steak at a time, you don't need a large water bath. Immersion circulators are suitable for those who cook only a small portion of food because you can use any container as a water bath as long as the food is immersed in it. You may choose a pot, saucepan, or even frying pan. But, you have to make sure that whatever you use as a water bath is deep enough for the immersion circulator. Immersion circulators have a sensor for a water level. When the level is below a threshold, the machine automatically stops to prevent from overheating. Minimum water depth varies from model to model. For example, minimum depth of Anova precision immersion circulator is 2.5 inches. You probably have a pot that is deep enough for this machine, but you can't use a frying pan for it. Chefsteps Joule, however, needs only 1.5 inches of water. You will have many choices for a water bath with this machine.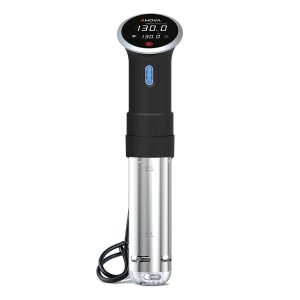 As you see, minimum water depth is a important factor when comparing and choosing immersion circulators.
#4 Size
Immersion circulators don't take up much space in your kitchen. They can be stored in a kitchen drawer when not in use. Unless you purchase an extra water container, immersion circulators won't interfere with your kitchen space. On the other hand, water ovens need space. Unless you have enough storage area, water ovens will be left on a kitchen counter even when not in use. Thus, overall size is important for water ovens. Gourmia GSV-550 is 2.25-gallon water oven. Its shallow water bath makes the machine wide. Besides, handles on both sides stick out. They make the machine wider. On the other hand, SousVide Supreme Demi is 2.3-gallon water oven. Its handles are recessed, and overall size keeps compact and space-saving.
When you decide to purchase water oven, just get the dimension of the machine and consider where to put it before buying.
#5 Design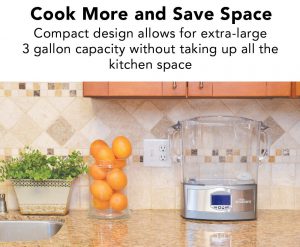 Again, if you choose water oven over immersion circulator and don't have storage space for it in your kitchen, it will be left on the kitchen counter all the time. And some people care its appearance very much. If you are one of them, Tribest Sousvant water oven is the one you may want to consider first. Its water bath is clear all the way around. You can perfectly see the progress of cooking without opening a lid or picking up the food. The overall design is very modern. It will add positive impression to your kitchen counter. Unlike SousVide Supreme, there is no insulation, and it has a motor to circulate water, so it's less energy-efficient than SousVide Supreme. But if you do only a short-time cook (around an hour), and care the design more than anything, Tribest Sousvant may be the best choice.
The Best Sous Vide Machines in 2017

| Product | ChefsStep Joules | Anova WiFi | Gourmia GSV-130 |
| --- | --- | --- | --- |
| Dimension | 1.85" x 1.85" x 11" | 2.75" x 2.75" x 14.75" | 4" x 5" x 14.5" |
| Weight | 1.28 lbs | 2.5 lbs | 2.3 lbs |
| Power | 1100 watts | 900 watts | 1200 watts |
| Max water valume | 10 gallons | 5 gallons | 3.5 gallons |
| Min/Max water depth | 1.5" / 8" | 2.5" / 6.25" | 2.75" / 6" |
| Max temperature | 208 degree F | 210 degree F | 203 degree F |
| Wireless Technology | Bluetooth + WiFi | Bluetooth + WiFi | n/a |
| Price | $199.00* | $149.00* | $79.99* |
*Click to see the latest price
Product
Tribest SousVant
SousVide Supreme
SousVide Supreme Demi
Gourmia GSV-900
Gourmia GSV-550
Dimension
D x W x H
14.5" x 8" x 15.5"
11.4" x 14.2 x 11.4
10.96" x 12.99" x 11.3
10" x 15" x 8.75"
10.75" x 16" x 8.25"
Weight
10 lbs
13 lbs
9.8 lbs
8.3 lbs
9 lbs
Power
1000 watts
850 watts
550 watts
800 watts
525 watts
Water Bath Volume
3 gallons
3 gallons
2.3 gallons
2.5 gallons
2.25 gallons
Max Temperature
194 degrees F
210 degrees F
210 degrees F
212 degrees F
194 degrees F
Price
$399.00*
$429.00*
$329.00*
$129.99*
$74.99*
*Click to see the latest price