In 2017, Amazon introduced several new Echo devices. Echo is a now a big family. Here is a quick rundown of each Echo device to help you understand which is best for you.
Echo Dot
The 2nd generation of Echo Dot has been on the market since 2016. It's the least expensive in an Echo family, but it has the most features of other Echo products. You can't expect superb sound quality to a small speaker inside a hockey puck sized Echo Dot, but it's sufficient for listening news, weathers or making calls. For that reason, Echo Dot has a 3.5mm audio output to connect to enhanced audio devices. There are two colors, black and white. Click here to see more details.
Echo
It's an all new Echo released in 2017. There are six different colors or designs. You may switch to a different one later to match your decor. This Echo is the 2nd generation of original Echo. Echo Plus has the same size of original Echo, but it has a brand new feature. Don't mix them up. Echo Plus is Echo Plus. This one is the successor of the original Echo. You can choose the 2nd gen Echo in 6 different designs including fabrics and wooden veneers. Click to see more details.
Echo Plus
Echo Plus is the same size of the original Echo. It has a good quality of speaker and a built-in hub for smart home devices. You can start adding smart home products without a need of hub each group such as lights, locks cameras, and so on. According to Amazon, it will work with 100 smart home products out of the box. A Philips Hue's light bulb comes with Echo Plus in every box. Echo Plus is available in black, white, and silver. Click to see more details.
Echo Spot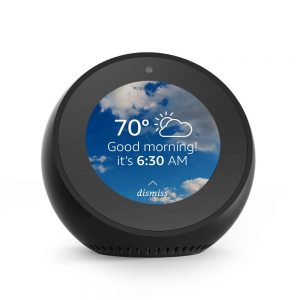 Echo Spot is a small version of Echo Show. The round shaped Echo Spot has a 2.5-inch touchscreen display which gives you visual information in addition to Alexa's voice assistance. And a built-in camera allows you to make video calls. With supported smart cameras, you can use it as a monitor of nursery or security cameras. Echo Spot has two colors, black and white. Click to see more details.
Echo Show
Echo Show has Alexa's voice assistant and 7.0-inch touchscreen display. Dual speakers provide crisp vocals with the dynamic bass response and expansive sound. A large screen makes it easy to check your schedule on a calendar, search a right item at Amazon Shopping, browse Amazon videos, and much more. Unlike other Echo devices, Echo Show doesn't have a 3.5mm audio output, and the only way to output audio is via Bluetooth. Echo Spot is available in two colors, black and white. Click to see more details.

Product
Echo Dot
Echo
Echo Plus
Echo Spot
Echo Show
Dimension
3.3" x 3.3" x 1.3"
3.4" x 3.4" x 5.8"
3.3" x 3.3" x 9.2"
3.8" x 3.6" x 4.1"
7.4" x 3.5" x 7.4"
Weight
5.7 oz
29.0 oz
33.6 oz
14.8 oz
41.0 oz
Speaker Size
0.6" speaker
2.5" woofer
0.6" tweeter
2.5" woofer
0.8" tweeter
1.4" speaker
Dual 2.0" speaker
Screen Size
N/A
N/A
N/A
2.5"
7"
3.5mm audio output jack (Y/N)
Y
Y
Y
Y
N
Price
$49.99*
$99.99*
$149.99*
$129.99*
$229.99*
*Click to see the latest price