The original (1st gen) Echo was released in 2014. Since then, Echo family has been expanding by Echo Dot and Echo Show. And, many others are created by other companies such as Google, Microsoft, Sonos, and Apple. In 2017, Amazon finally released the 2nd generation of Echo. The 2nd generation of Echo, aka All-new Echo, is shorter and wider than the 1st. And most importantly, it's a lot cheaper.
Design
Dimension: 5.8″ x 3.4″ x 3.4″
Weight: 29.0 oz
Color: Charcoal Fabric, Heather Gray Fabric, Oak Finish, Sandstone Fabric, Silver Finish, Walnut Finish
The 2nd Echo is shorter than the 1st. It's about 2/3 tall. And, it has a slightly larger diameter. The +/- buttons have replaced the volume ring or knob. There are two other buttons on the top; Action and microphone on/off switches. Light ring is on edge. Except for the size, the design on the top is the same as the design of Echo Dot.
On the wall at the bottom, there are two ports. One is for an AC power adapter, and the other is a 3.5 mm audio output.
When you purchase, you can choose one among six different designs (=shells.) The shells are interchangeable. You may buy a different shell later and switch it to match your decor.
Features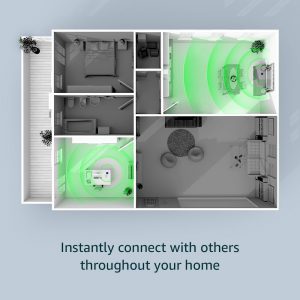 The features of the 2nd are not much different from the 1st. The most capabilities of Echo products are not tied to the device but Alexa's virtual assistance. Since the 1st Echo release, there have been new features and many improvements including calling and messaging, multi-room music, voice profiles, and reminders.
Sound and Music
You can stream music from Amazon Music, Spotify, Pandora, iHeartRadio, and so on. You can also listen to audiobooks, news, radio, etc.
The 2nd generation of Echo has a 2.5-inch downward-firing woofer and 0.6-inch tweeter. They are powered by Dolby to bring crisp vocals and dynamic bass.
Many people complain about the sound quality of the 2nd Echo. Amazon using a smaller tweeter which is responsible for higher tones. Instead, the 2nd has a 3.5 mm audio output so you can connect it with high-end speakers. It's natural to expect successors to have better quality. And for those who were hoping so, the sound quality of the 2nd probably disappointed them. However, please consider that Amazon added another option to connect it with external speakers, the price is a lot lower than the 1st, and the sound quality is not that bad rather sufficient for casual listeners.
An array of 7 microphones is built in on the top of the device. Amazon advertises that the 2nd has an improvement in response to the wake word even in noisy environments or while playing music loud. In my experience, the 1st or Echo Dot doesn't have much trouble in responding my wake word in the first place. And I don't recognize the difference. It may be noticeable in extreme conditions.
Smart Home
Many smart devices are compatible with Alexa-enabled devices. With Amazon Alexa app, you can create "Routines" and "Groups" which perform a set of actions on different smart home devices by single voice command. For example, when you say, "Alexa, I'm going to bed," it turns off TVs, stops the music, and lock the door.
Turning on or off a single light by a voice command can make you think silly or lazy. But, it's very practical that a single voice command triggers many actions on various smart home devices.
Skills
Skills expand the capabilities of Echo devices. And, new skills are being developed every day. Check out from time to time, and you will take full advantage of Alexa-enabled devices.
Amazon Prime
If you are an Amazon Prime member, you can get ad-free streaming of over 2 million songs from Prime Music. You can also have a benefit of weekly Alexa shopping deals with fast and free shipping. You will notify when a package has been shipped and delivered. When you see the light ring turn on yellow, say, "Alexa, read my notifications" to check the status of your order.
Conclusion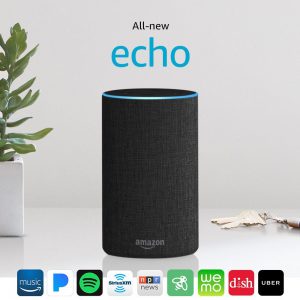 The 2nd generation Echo is much more affordable than the 1st. You may purchase multiple Echos for each room in your home. They work as an intercom between each other. With the feature of multi-room music, you can play the same song all Echo devices in a group you configure in the app. You may play nice BGMs all over the house to impress your guests.
Alexa is always getting smarter and added new functionalities. In fact, the Multi-room music is a relatively new feature as well as voice profiles, reminders, and a lot of skills from third-party developers.
Don't expect superb sound quality. It can't even compare with high-end audio speakers like Sonos. But, it's sufficient for casual listeners. If you are on a small budget, you may choose Echo Dots or mix with Echo Dots which have inferior sound quality but least expensive among Echo products.
The 2nd Echo has six different outfits (=shells,) and you may purchase a different shell later and change it to match decor. Click to see available colors and the latest price.