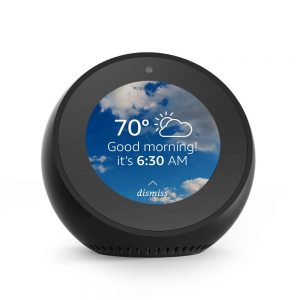 Echo Spot has been released in 2017. It was several months after Echo Show's release. Echo Spot has the same features as Echo Show. It has a tiny screen, spherical design, and small speaker.
Design
Dimension: 4.1″ x 3.8″ x 3.6″
Weight: 14.8 oz
Color: Black, White
The design of Echo Spot may be the cutest of all Amazon products including Echo, Fire, and AmazonBasics. All Amazon products tend to be plain in color and design. Echo Spot is not an exception, but its spherical body with circular display makes it look lovely.
The size of a display is 2.5 inches. A front-facing camera is built in, just above the display. There are three buttons on the top; volume up, volume down, and microphone and camera on/off switch. A 4-microphone array is built in the same area. On the back, there is a 3.5 mm audio output jack and power port.
The display is a perfect circle. The 2.5-inch screen is not suitable for watching a full movie, but good for watching movie trailers, news, weather, or other basic information.
Features
Home Screen
By default, the home screen rotates from the clock, weather, calendar, to-do list, top news, and "Things to try." You can fully personalize the home screen. Instead of listening to an entire flash briefing on Echo or Echo Dot, you can see information and quickly skip to the next by swiping on the screen.
Display Setting
The configuration of the display is the same as Echo Show. You can set your Prime Photo as a background or use clock by default. With Clock, you can change themes. With Night Mode, the screen automatically dims based on a schedule you configure.
Sound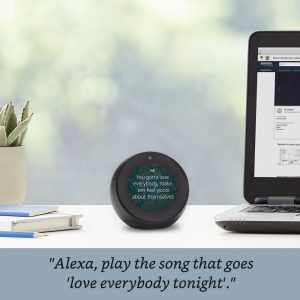 Echo Spot has a single 1.4-inch speaker, which provides better sound than Echo Dot, but worse than Echo. Since it has a small speaker, Echo Spot has a 3.5 mm audio output jack to hook up with external audio speakers.
Music
Having a display is beneficial even when it plays the music.While playing, you can see the title, artist, album, album art, and so on. And, if you use Prime Music, you can also see lyrics scrolling along with a song.
Bluetooth
You can use Echo Spot as a speaker for Bluetooth enabled music players such as smartphones and tablets. You can also connect Echo Spot to external speakers via Bluetooth in addition to using a 3.5 mm audio output jack.
Video Call, Drop In, Monitor a live camera feed
Since Echo Spot has a display, there are many things it can do. It's possible to make video calls with anyone having Echo Show, Echo Spot, or Alexa app installed on their smartphone.
If you want to connect instantly with other Echo devices in your home or closest family and friends, use the Drop-in feature. You can use multiple Echo Spots as intercoms with this feature. A vision is blurry for ten seconds, and then it becomes clear. You can turn off a video at any time during Drop in by saying "Video off" or tap "Video off" on the screen.
If you have compatible security cameras such as Ring, Arlo, and Amazon Cloud Cam, you can monitor them by saying like "Alexa, show me the front door" or "Alexa, show me the nursery."
Skills
New skills are being developed every day. Check them from time to time, and you will discover new and exciting skills. Some of them are just for fun. Some are helpful to your life.
Amazon Prime
If you are an Amazon Prime member, you will have more benefits on Echo Spot. When you shop on Amazon, it's much better to see visual information than only listening to Alexa. And Alexa notifies you when a package has shipped and delivered.
You can also stream over 2 million songs from Prime Music and play movies and shows from Prime Video. The 2.5-inch screen is not suitable for watching a full movie, but it's good for searching movies and seeing movie trailers. For new movies, you can search nearby theaters and showtime, and then call Uber, etc. Echo Spot helps you all.
Conclusion
Echo Spot is small and compact but full of features. Although the tiny screen is not suitable for watching full movies, it enhances the standard Alexa voice assistance. You can use it as a monitor of security cameras. And multiple Echo Spots or Shows can be used as intercoms. From a computer desk to a kitchen counter, Echo Spot fits anywhere in your home, and it's always there to help your life. Click to see the latest price.