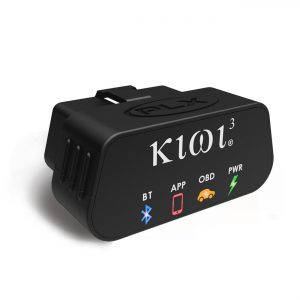 Kiwi 3 is the third generation of the OBD2 adapter by PLX Devices. Unlike predecessors, Kiwi 3 has no cable and becomes one of the smallest OBD2 adapters. It's compatible with Android, iOS, and Windows.
What's in the box?
Kiwi 3 Bluetooth OBD2 adapter
Instruction manual
Specifications
Dimension: 2.0″ D x 1.3″ W x 0.9″ H
Weight: 1.12 oz
Its stubby shape doesn't interfere your driving no matter where an OBD2 port is located.
Basic Features
Read and Clear the trouble codes – You can read and clear trouble codes including pending codes. Some codes don't trigger Check Engine Light instantly. The vehicles computer stores codes as pending codes for a while. Then, if the problem still exists, the computer turns on Check Engine Light. Reading trouble codes is the first step for dealing with problems of computerized modern cars.
Freeze Frame data – Freeze frame data is a snapshot of engine data when the computer stores a trouble code. It gives you a rough idea of the condition of the engine at the moment Check Engine Light comes on. And, you may be able to tell where to look first to tackle the problem.
I/M readiness monitors – It's a self-test by the vehicle's computer. The computer performs the test on various systems every time it's reset (=cleared Check Engine Light.) The cars are not ready for a state inspection until the test is done.
Live Data – You can see various engine data in real time. In apps, you can customize them and create a secondary virtual dashboard. You may choose graph, dial, or gauge style as well as sizes and colors.
Key Features
Ultrafast – Kiwi 3 is up to 4 times faster than competitors. Its quick response reflects on smoother actions in Live Data. The data show accurate, and virtual gauge movements look realistic.
Ultra low power consumption – Whether the adapter is active or sleep, it consumes almost nothing. You can leave the adapter plugged all the time without worrying about a battery drain.
Cross-Platform compatible – Kiwi 3 is one of the few Bluetooth OBD2 adapters that are compatible with iOS devices as well as Android and Windows.
Kiwi OBD 6-in-1 app – Kiwi OBD is a mobile app that has been developed by PLX Devices along with a hardware (=Kiwi 3.) It is currently available at Apple's app store and coming soon to Android Play store. 6-in-1 means that the app includes Multigauges, Performance, Data Logging, Fuel Efficiency, Diagnostics, and Video Overlay. Watch the video below for more details. Unfortunately, the app doesn't come with the adapter. And it costs a lot!!!
Pros
Kiwi 3 is one of the fastest OBD2 adapters. Thanks to its quick response, you can see more accurate and smoother engine data. And it is compatible with many apps. Unlike many other Bluetooth adapters, it works with iOS as well as Android and Windows. Its small design won't interfere your driving no matter where an OBD2 port is located. It consumes ultra-low power and automatically sleeps when no use. So, you can leave the adapter plugged all the time.
Cons
Expensive. And, I was very disappointed when I found out that its app (=Kiwi OBD) wasn't included with a purchase of the adapter. Besides, the app is way too expensive. The app looks cool, and it's useful. But, it's not worth the price. On the top of that, the app offers a free trial, but it's merely one hour!!!
Conclusion
Kiwi 3 is a small, fast, and versatile OBD2 adapter. It's a good quality, and it doesn't matter if you use an Android or iOS device. If you are looking for a high-end OBD2 adapter, and you want to try many different apps, Kiwi 3 would meet your needs. Click here to see the latest price.