Amazon Echo Dot is a smaller version of the original Echo. Echo Dot has the same features as Echo. It consists a built-in speaker and seven microphones. You can access to Alexa, Amazon's Intelligent Personal Assistant by your voice. When you say "Alexa" it wakes up and then responds your command, questions, or even greetings. The 2nd generation of Echo Dot will be released on Oct 20th, 2016.
Design
Dimension: 1.3″ x 3.3″ x 3.3″
Weight: 5.7 oz
Color: Black, White
A sleek, small, and hockey-puck designed Echo Dot is a convenient addition to any room in your house. The 2nd gen has +/- buttons on the top, instead of the volume knob. There are two more buttons; Action and Microphone on/off switch. On the side wall, there are two ports. One is for an AC power adapter, and the other is a 3.5 mm audio output. Unlike the original Echo or most other Echo devices, the power port of Echo Dot is a Micro-USB.
What is the difference between Echo and Dot
Echo is 9.25 inch tall, and Dot is much shorter, 1.3 inches tall (2nd's specs). Dot can perform all functions Echo can. A sound quality of Dot is inferior to Echo because of a smaller size. Thus, Dot is designed to be able to connect to other audio devices via Bluetooth or 3.5mm audio output.
What is the difference between Dot 1st and 2nd
Price is cheaper than 1st. A regular price of 1st is $89.99, and 2nd is $49.99.
2nd Dot is available to everyone in the U.S. You can't find 1st Dot on Amazon website. 1st was only available to Amazon Prime members, and you also need Amazon devices that can access to Alexa such as, Echo, Dot, Tap, and Amazon Fire TV. You have to have Alexa order Dots. For example, you wanted to buy 1st Dot, say "Alexa, order two Amazon Echo Dots."
2nd no longer has a volume dial. It's controlled by simple up-and-down buttons. It gets 0.2-inch shorter and 3 oz lighter.
Features
Sound and Music
You can stream music from Amazon Music, Spotify, Pandora, iHeartRadio, and so on. You can also listen to audiobooks, news, radio, etc.
Echo Dot has a 0.6-inch speaker inside. The sound quality is the worst among all Echo devices. And, the max volume may not be sufficient to play the music in a large room. For those problems, you can use Bluetooth or the 3.5 mm audio output to connect to external speakers. Although the sound quality is not good, it's sufficient to listen to the news, audiobooks, or play BGMs, nature sounds, and so on.
Call and Drop In
You can make a phone call with Alexa. Say, "Alexa, call [name (in your contact list]." you can also send messages via voice or text to anyone with a supported Echo device or the Alexa App.
If you have multiple Echo devices in your home, you can use them as intercoms. Instead of raising your voice, you can use the Drop-in feature to speak through Echo devices.
Smart Home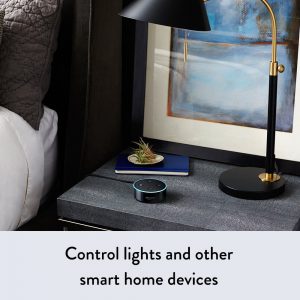 Echo Dot works with a variety of smart home devices. You can control them with your voice. You may think that just turning on or off the light with a voice command is silly or lazy. However, you can make a group from different smart home devices and control them all together with a single voice command. For example, Say, "Alexa, it's bed time." and it turns off the lights and TV, locks the door, etc.
Skills
Skills expand the capabilities of Echo devices. Some skills are essential to use smart home devices with Alexa. And some skills are just for fun. New skills are being added every day. Check out from time to time, and you will discover new skills which are helpful and interesting to you.
Amazon Prime
If you are an Amazon Prime member, you can get ad-free streaming of over 2 million songs from Prime Music. You can also have access to weekly Alexa shopping deals. Alexa does a lot of things for your order. You place an order with Alexa. You can check the status of the order with Alexa. When a package has shipped or delivered, you will be notified by Alexa.
Promotion
Buy 5 Get 1 free; Buy 10 Get 2 free – Bring Alexa to every room of your home. When you buy five, you will get 1 for free. When you buy ten, you will get 2 for free. Please note that you will need to add 6 or 12 Dots to a cart and make sure to use either promotional code DOT6PACK or DOT12PACK at checkout. Usually, there is a similar promotion. Click here to see a current promotion.
Customize with Echo Dot case
There is an optional Echo Dot case to match the decor of your room. There are six different designs; Saddle Tan Leather, Merlot Leather, Midnight Leather, Indigo Fabric, Charcoal Fabric, Sandstone Fabric. Click here to see images and prices. 
Conclusion
Echo Dot is a small and compact, but its capability is enormous. It's an excellent addition to any room in your home. Due to its small speaker, Using Echo Dot alone is not suitable for a large room. But I think it's sufficient for a small room, bathroom, or hallway. But, remember you can connect Echo Dot to high-end speakers with Bluetooth or an auxiliary cable. Above all, Echo Dot is very reasonable. Multiple Echo devices can be used as intercoms. You may want Echo Dots in every room of your house. Click here to see the latest price.