Echo Show is the first smart speaker with a touchscreen display and front-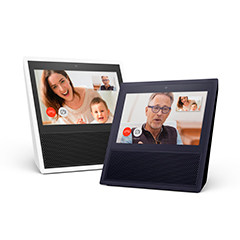 facing camera. In addition to Alexa's voice assistance, it provides visual information and allows you to make video calls and more.
Design
Dimension: 7.4″ (H) x 7.4″ (W) x 3.5″ (D)
Weight: 41.0 oz
Color: Black or White
The design of Echo Show is straightforward. It's blocky and angular. It's far from innovative, futuristic, or revolutionary. Some people have a negative impression of the design. But, to be fair, how far can design of the device with a rectangular touchscreen get? Besides, two 2-inch speakers are built in the bottom of the device, and they produce quality sound for their sizes. I guess there were not much options in design in the first place.
The screen is 7-inch touchscreen LCD with 1024 x 600 resolution which is the same specification as Amazon Kindle Fire 7 tablet. A 5.0-megapixel camera is built in just above the display. You can't adjust the angle of the screen or camera. It is a little inconvenient.
All buttons are on the top. There are only three; volume up, volume down, and microphones & camera on/off switch. An 8-microphone array is built in the same area, and it's ready to answer your questions, execute your commands, and so on.
On the back, there is the only one port where an AC adapter connects. It doesn't have a 3.5 mm audio output. If you want to use external audio speakers, the only option is to connect via Bluetooth.
Features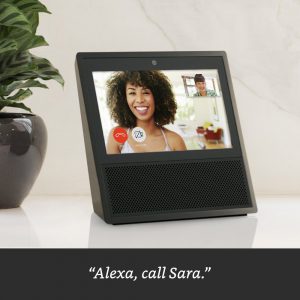 Echo Show has all features of other Echo devices. Alexa's voice assistance is always there to help you in various ways. The capabilities of Alexa's voice assistance are all the same across all Echo devices. But, Echo Show has a screen to show videos which gives you visual information in addition to vocal one.
A video doesn't add significant features to Echo Show, but it's useful. If you want a new electric device on a desk in the office, on a kitchen counter, or on the side table in the bedroom, Echo Show helps your daily life a lot. But, if you already have a device such as TV, Echo Show may be intrusive, and Echo, Echo Dot, or Echo Spot may be the right choice.
Home Screen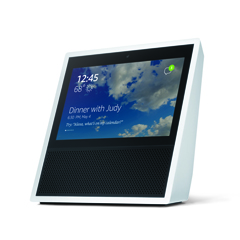 You can fully customize the home screen. For example, you can set a family photo as a background, start a slideshow of a photo album, and so on. When you tap and swipe, the screen rotates from a clock, calendar, to-do lists, weather, and top news. With other Echo devices such as Echo and Echo Dot, you have to ask Alexa to tell you a flash briefing. But, with Echo Show, you can just tap and look at the information. And, with Echo and Echo Dot, you may have to listen to an entire flash briefing until Alexa tells you a specific category you need. Instead, with Echo Show, you can also skip and quickly jump to a particular category by swipes.
Display's Behavior
By default, the display automatically lights up when you stand or cross in front of it. It may be annoying if you don't intend to use especially when it's dark. There are many ways to customize the setting of display's behavior. For example, Do-not-disturb mode shows a blank screen with a digital clock and blocks alerts for calls and messages until you turn off the mode. Or, you can completely turn off the display until you say the wake word. Or, automatic setting adjusts brightness depending on surroundings to make it less annoying when it's dark. And there are much more. Surely, you will be able to find the best setting that fits your lifestyle.
It's worth noting that you can configure all settings by your voice or swipes and taps on the screen.
Sound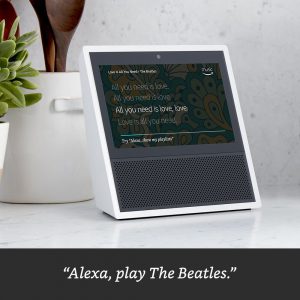 The speakers of Echo Show has a good quality sound. Two 2.0-inch speakers are built into the device, and they produce broader and wider sound. However, it can't be denied that Dolby speakers are too close together to provide meaningful stereo sound and that's a waste.
Music
If you use Amazon Music, you can see lyrics along with songs. It may help your karaoke skills. As you may already know, there are more and more skills developed. I bet you keep finding new ones which are interest and helpful to you.
Bluetooth
You can connect external audio speakers via Bluetooth. Conversely, you can use Echo Show as speaker of your music player. Either way, the only option to connect each other is to use Bluetooth. There is no line out or line in port.
Watch Video Clips
A screen may be small to watch a full movie, but it's handy to search a movie. For example, Alexa can quickly show you a list of movies in a theater. Then you can watch trailers, descriptions, locations of theaters, showtimes, etc. You can also watch other video clips like news, weather, music videos, cooking recipes, and much more.
Drop in
Drop in is one of the features of all Echo devices, but the function of Echo Show has a little extra. When Echo Show gets Drop in, it displays a blurry vision in ten seconds, and then the video becomes clear. You can turn off the video at any time by saying "Video Off" or touching the screen and selecting Video off.
Monitor a live camera feed
If you have security cameras which is compatible with Echo Show, you can take full advantage of Echo Show's display. You don't need extra wires or anything. You can only ask "Alexa, show me the front door." to monitor them. It's easier and quicker than watching through smartphone's apps.
Conclusion
As I mentioned above, Echo Show can be intrusive for a place near TV, or desktop computer. But, for an upgrade, it's good to replace with Echo, Echo Dot, or out-of-date alarm clock. If you think Echo Show is too big, you should consider Echo Spot.
It's been several years since the original Echo's release. Many other brands have followed by releasing their smart speakers. But now, Amazon added a video display. Echo Show expanded features and applications of Echo device, and it will grow more when new skills and more compatibility with smart home devices. Click to see the latest price.