Echo Plus has been released along with the 2nd generation of Echo. Echo Plus has all features of the original Echo and a built-in smart home hub.
Design
Dimension: 9.2″ x 3.3″ x 3.3″
Weight: 33.6 oz
Color: Black, Silver, White
Echo Plus looks the same as the original (1st gen) Echo. But, it's not the successor (2nd gen) of the original Echo. (Click here to see the details of the 2nd gen Echo.)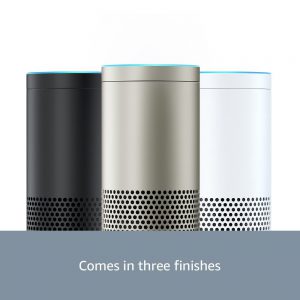 On the top, Echo Plus continues to use the volume knob. I prefer the volume knob to the +/- buttons because it feels more luxurious and looks more stylish. There are two buttons; Action and Microphone on/off switch. The light ring is on edge.
Its appearance is almost the same as the original Echo, but there is one thing that is different. Echo Plus has a 3.5mm audio output to connect with external speakers. It's located on the wall near the bottom. There is a power port for AC adapter next to the auxiliary audio output.
Features
Sound and Music
You can play the music from Amazon Music, Spotify, Pandora, iHeatRadio, and so on. Alexa will respond your voice commands like pause, resume, skip, etc. You can also listen to audiobooks, news, podcasts and more.
Echo Plus has a 2.5-inch downward-firing woofer and 0.8″ tweeter. Echo Plus uses a smaller tweeter than the original Echo. For those who expect an improvement in sound quality, Echo Plus may disappoint you. The 3.5 mm audio output is a consolation.
An array of seven microphones are built in on the top. Amazon advertises it has an improvement in response to wake word so it can hear you even in noisy environments or while play the music loud. In my experience, I can't see the difference because I don't have much trouble in calling Alexa since the original Echo and Echo Dot. But, you may feel the difference in an extreme condition.
Skills
There are tens of thousands of skills. Skills enhance your experiences with Echo devices. Some skills enable your smart home products to be controlled by Alexa. Some are just for fun. New skills are being developed every day. Check them from time to time, and you will discover new skills which are helpful to you.
Amazon Prime
If you are a member of Amazon Prime, you can get ad-free streaming of over 2 million songs from Prime Music. You can also have access to weekly Alexa shopping deals. You have Alexa place an order. You will receive notifications when a package has shipped or delivered. When you see the light ring turn on yellow, ask "Alexa, what are notifications?" You can also ask Alexa about your order anytime, like "Alexa, where is my package?" "Alexa, what is the status of my order?"
Built-in hub
The features of Echo Plus is almost the same as the original Echo or other Echo devices. Most functionalities are tied to Alexa's virtual assistance to which all Echo devices have access. However, there is one thing which makes Echo Plus unique. Echo Plus has a built-in smart home hub.
The built-in hub can connect and control ZigBee smart devices like light bulbs, switches, door locks, and smart outlets without the need of separate hubs. Echo Plus includes one Philips Hue light bulb. The light bulb is plain without colors. You can turn on/off, dim, and brighten it by asking Alexa to do so. You can add more light bulbs to your home and control them as well.
However, for Philips Hue color light bulbs, you can't change colors with Echo Plus. Besides, you can't add accessories like light switches and motion sensors. You can't use them without the original Philips Hue's hub.
So, if you already have many Philips Hue products controlled by the original hub, you should keep the hub, or Echo Plus isn't the right choice in the first place.  As long as you have the original hub, they work all functions, and you can also control them with Alexa.
Conclusion
Echo Plus is a smart speaker with Alexa voice assistance. For those who have high-end speakers, the auxiliary audio output is a good option that is added to Echo Plus.
The built-in smart home hub is an exclusive feature of Echo Plus. Its capabilities are very limited. I don't have experience with other smart home devices. But, for Philips Hue, all you can do is to turn on/off and dim the light. All other features of Philips Hue don't work at all. Echo Plus can't even find Hue's motion sensors and light switches.
If you already have many smart home products and think of ditching and replacing each hub with Echo Plus, you'd better not to. The built-in hub is not that intelligent. It seems it can't perform complicated tasks. It may be going to be updated in the future. But for now, I don't see the reason to pay extra money for the dumb hub. $50-cheaper 2nd gen Echo makes more sense.
Product
Echo Plus
Echo (1st)
Echo (2nd)
Dimension
3.3" x 3.3" x 9.2"
3.3" x 3.3" x 9.2"
3.4" x 3.4" x 5.8"
Weight
41.0 oz
37.5 oz
29.0 oz
Speaker Size
2.5" woofer
0.8" tweeter
2.5" woofer
2.0" tweeter
2.5" woofer
0.6" tweeter
3.5 mm output jack (Y/N)
Y
N
Y
Built-in smart home hub (Y/N)
Y
N
N
Price
$149.99*
$89.99*(Certified Refurbished)
$99.99*
*Click to see the latest price.