It's been a few months since the Oculus Quest's release. A truly all-in-one VR headset offers an untethered complete freedom experience as promised. There are some things that you can enjoy more and make the most use of a standalone VR headset. Here are some Oculus Quest tips and tricks.
---
AmazonBasics PSVR travel case fits Oculus Quest with a small modification
Oculus released the original travel case along with the headset. But this travel case has been sold out quickly, and as long as I know, at the time of writing it has never been restocked. Amazon has an original travel case for a PSVR headset. With a little modification, Oculus Quest fits perfectly in this travel case. What you need to do is to make cuts on each side where the head straps sit. Just cut deep enough to make the head straps slide into them.
There are compartments for the controllers, USB cable, wall adapter, and some small additional accessories. It's less expensive than the Oculus official travel case. The drawback, however, is that the case is unnecessarily thick because it's made for a PSVR headset, which has a bulky headband. If you prefer a flat one, take a look at these cases.
Install SideQuest for more apps and games, adding customs songs to Beat Saber
SideQuest is the platform of community that third-party developers can share and test apps and games they create. You can download and install apps and games that are not available in the Oculus Store. You can also add customs songs to Beat Saber with SideQuest. This post tells you how to install SideQuest and how to add custom songs to Beat Saber.
Disable Guardian if you have an open space
If you have an open space that doesn't have any obstacles like walls, furniture, or anything, you can completely disable the Guardian. To do so, you need to enable Developer mode. If you install SideQuest, this procedure must be familiar to you. But for those who have never done before, here is the procedure.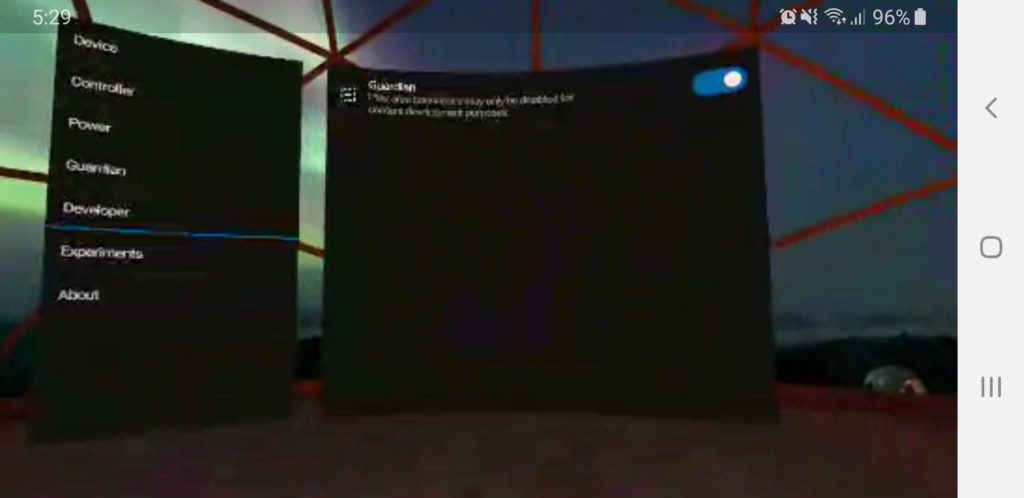 Open "Settings" of the Oculus mobile app
Tap "Oculus Quest xxx(serial number)xxx"
Tap "More Settings" and "Developer Mode"
Tap the slider to enable "Developer Mode"
Next, put on the headset, open "Settings" and click "See all"
Click "Developer"
Click the toggle switch to disable Guardian.
Use PopSockets and Mount to attach an external battery on the back of the head strap
Oculus Quest battery lasts between 2 to 3 hours. If you want to play continuously more than that, you can buy and connect an external battery pack. Instead of using a USB cable and wall adapter which is included as accessories in the box, using an external battery allows you to move freely and don't ruin the Oculus Quest's main feature of complete wireless.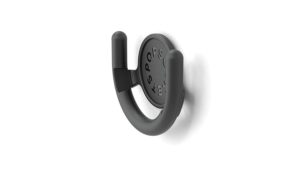 If you put it in your back pocket, you need a relatively long USB cable. Some people use PopSocket and Mount. They are mostly used for mounting a smartphone on the dashboard of the car, but they suit nicely as if they were made for this purpose as well. If you use PopSocket and Mount, 1-foot cable would be long enough.
Use rechargeable batteries for Touch Controllers
The Touch Controller is powered by an AA battery. Since I bought the Oculus Quest a few months ago, I have changed batteries so many times that I can't remember. Instead of using disposable batteries, it's convenient and eco-friendly to use rechargeable batteries. Just get 4-pack of rechargeable batteries and charger. Most chargers can charge 2 or 4 batteries at the same time. So, while 2 are using, other 2 can get charged. Thus, you always have a couple of spare batteries.
If you use the headset somewhere away from home and there is no electric outlet, you may consider these type of rechargeable batteries. Each battery has a Micro USB port to charge directly from a USB cable. You can charge them from an external battery pack. And there is no charger to carry around. All it needs is a USB cable. The drawback of these batteries is that they have less capacity than conventional rechargeable batteries.
Using Google Chromecast to share VR experiences with your friends and family
Virtual reality tends to be isolated from the real world. When you are with your friends or family, you may want to share the experiences by casting to your TV. You need the 3rd generation or Ultra to cast Oculus Quest to your TV. (Updated 10/18/2019, you can cast to all generations of Chomecast. Click here to see the details.) After setting up Chromecast with Google Home mobile app, tap the cast icon on the top of the Oculus mobile app. And select your Oculus Quest as a "Cast From" and your Chromecast as a "Cast To" device. Please note that 1st and 2nd generation of Chromecast don't work for casting Oculus Quest. The 3rd gen or Ultra is compatible with this feature.
Related Posts