Oculus Quest was released on May 21, 2019, a year after Oculus Go, which is another standalone VR headset developed by the same company. A big difference between these headsets is Oculus Quest has the six-degree of freedom (6DoF) tracking. The 6DoF tracking technology has been already existing for years in other headsets such as HTC Vive and Oculus Rift, but the Quest is the first and currently the only standalone VR headset with 6DoF.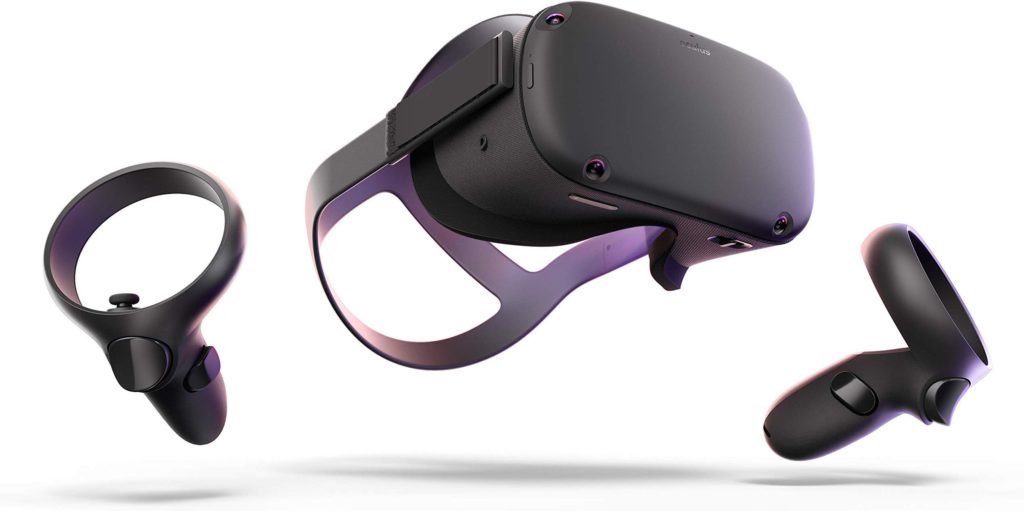 What's in the box
Oculus Quest headset
Touch Controller (L), (R)
15W power adapter
USB-C cable
Spacer for a user with eyeglasses
AA batteries
Design
The Quest looks so compact and is lightweight. A front plate is black plastic, and there are four tracking cameras around each corner. A power button is on the right, and USB-C port for charging is on the left. The rest of the body of the headset is coated by a fabric. There are two 3.5 mm headphone jacks on both sides. The volume buttons and IPD (inter-pupil distance) adjustment slider are on the bottom.
A head strap is made of soft and flexible rubber. It keeps its shape like a helmet all the time. Velcros are attached on the top and both sides to fit and secure the headset on your head. The straps on the sides go through brackets. The brackets have built-in speakers. 3D spatial audio comes out from the slits on the ends of the brackets.
The head strap is ergonomic, sleek, and functional. But, when I play games required a lot of movement such as Beat Saber, the head strap never seems tight enough. I guess a headband that is used Rift S or PSVR is more suitable for gaming VR headsets. The reason the Quest has a head strap is that the company wants to emphasize its portability. A VR headset with a headband is too bulky to carry around. That is why the Rift S has a headband. The Rift S has to be tethered to a gaming computer, and it's not meant to be portable.
A face pad made of foam and cloth attached to a plastic frame. You can remove it from the headset to wash. It's relatively comfortable. But, I feel a pressure on the cheekbones and have marks there for a while every after the usage.
Controllers
Two Touch controllers are included. They are similar with the ones for Oculus Rift and exactly the same as ones for Rift S. Each one has a clickable thumbstick, two buttons, home button, trigger, and grip button.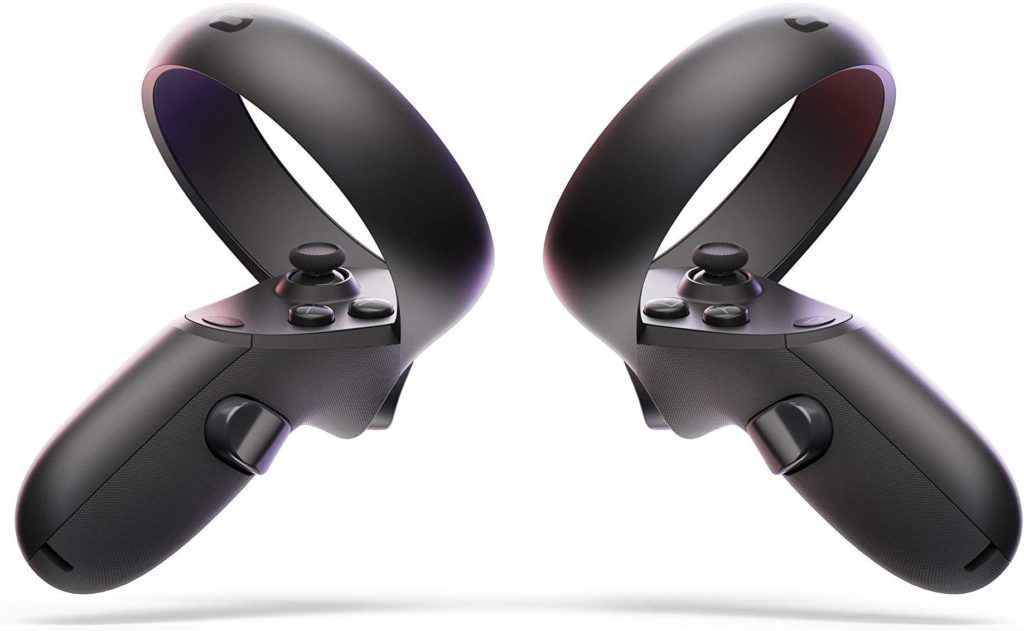 It's powered by an AA battery. A battery door slides open and close. Built-in magnet keeps the door close without a latch or screws. Wrist straps prevent you from throwing the controller accidentally during gameplay. The strap is detachable. You can remove it by opening the battery door and sliding it upward.
After setting up, you will take a tutorial lesson called First Steps. In the lesson, you learn how to pick up an object, put it down, throw it, or hit it with the other object. You have the opportunity to learn and use the full capability of the controllers in First Steps.
Display
The Quest has dual OLED, 1440 x 1600 per eye resolution displays.
It's better than the Oculus Rift 1080 x 1200 per-eye resolution, and the Oculus Go and Rift S 1280 x 1440 per-eye resolutions. Thanks to dual displays, the Quest can adjust IPD (inter pupil distance) by a slider on the bottom.
Oculus Insight
Inside out tracking system called Oculus Insight offers the 6DoF. It allows you to move in a virtual world. Built-in tracking cameras makes Oculus Insight work without a need for external cameras. The same kind of tracking system is used in the Rift S.

Oculus Insight keeps tracking on the controllers, too. Not only the position of the controllers the system can keep tracking, but it can also tell the angles and directions of them. Oculus Insight successfully offers the 6DoF on both the headset and the controllers.
Oculus Guardian
Oculus Guardian is a safety system set up before you play games. The system creates a virtual wall on a boundary line you draw where you can move freely with no obstacles in your room. The virtual wall is a green grid. It appears when you get close to the boundary. When you get really close to it, that part of the green grid turns red to get your more attention.
If you use the Quest in the same place, you don't have to set up the boundary every time. The Quest remembers the boundary you set up last time, and somehow it can tell where that is. So, all you have to do is turn on the headset and start playing. If you play in a new place, you have to set up a new boundary, and the Quest will forget the old one. The boundary setup is way too easy, anyway. Just draw a virtual line on a floor with the controller. That's it. It doesn't even take a minute.
Passthrough
When you get out of the boundary or stick out your head through the virtual wall, you can see a real world in black and white. The built-in tracking cameras are now used as lenses for you to see a real world without taking off the headset. This feature is called Passthrough.
Battery
The headset has a built-in rechargeable battery. You can charge it via an included USB-C cable and a wall adapter. According to Oculus, battery life is about 2 to 3 hours. For me, it's more than enough. I can't just play VR continuously for hours.
Games and Apps
50 titles were launched along with Oculus Quest. You can purchase and download with the headset or through the Oculus mobile app. The Oculus mobile app is shared with GO and Rift. Make sure to select "Oculus Quest" from a drop-down and then look for games and apps.
Here are some popular games and apps. Beat Saber is a unique rhythm game. You have a lightsaber in each hand and cut cubes coming at you with the music. There should be a demo version. You should try. I played and purchased and got addicted to it.
Superhot VR is an action shooting game. Shoot, grab, throw, you can experience the full capability of Touch controllers in this game. The standalone, untethered VR headset allows you to turn around and around without worrying tripping over wires or cables.
Wander is a world travel app. It uses data from Google StreetView to show you 360-degree images and Wikipedia for you to learn about historic places.
Vader Immortal Episode 1 is an adventure game of Star Wars experience from LucasFilm. You are the main character in the story. You can learn how to handle a lightsaber, and there are many other interactions inside the story. I'm longing for the next episode.
Price
Oculus Quest costs $399 for 64GB, and $499 for 128GB. Unfortunately, there is no memory card slot to expand a storage.
For a comparison, Oculus Go cost $199 for 32GB, and $249 for 64GB. Oculus Rift S costs the same $399. However, the Rift S needs a gaming computer.
Conclusion
Oculus Quest successfully introduced new technology and opened the door of the VR industry to more people. Some people have been interested in VR but hesitant about buying it because of an expensive startup cost, uneasy setup, or having to be tethered all the time. Oculus Quest solved these problems. The price $399, considering you don't need anything else to start VR, is reasonable.
Related Posts