Mobile devices like smartphones and tablets make our lives much more convenient. Manufacturers of these devices consider and weigh battery life and size and then create a design which is supposed to be compact enough to make overall design attractive while it has enough capacity for average use. For those who spend their time indoor such as home, office, cafe, and school, you may have no problem to find a place to charge your devices. But, while you go traveling, camping, or other outdoor activities, a portable charger is a must. Although they go under different names such as Battery Parks, Power Banks, Portable Charger, or Backup Charger, they are all the same thing. Here are some things to consider when you choose a portable charger.
Your mobile devices' capacity
When you choose a portable charger for your devices, the first thing you need to know is the capacity of the batteries in mobile devices. The capacity is usually shown in the unit of mAh (milliamp hour). It's labeled or printed on the battery. For the devices you can't access to the battery, just google "device name + battery + mAh" or "device name + battery specs" For example, iPhone X is powered by a 2716 mAh battery while Samsung S9 is powered by a 3000 mAh battery.
Portable charger's capacity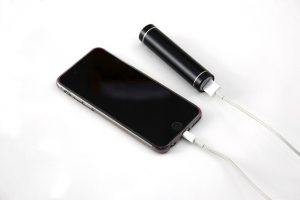 The capacity of portable chargers is also shown in mAh. It's commonly ranging from 2000 mAh to 20000 mAh. The more capacity, the larger and heavier. If you need to charge iPhone X with 0% battery, you will need at least 3000 mAh portable charger. But, after charging the iPhone X from 0%, there is no juice remaining in the portable charger. If you go camping in the back-country for three days, you will need a portable charger with a capacity of 10000 mAh or more. And, keep in mind that larger devices like tablets or laptops contain a much larger battery. So, you will need a portable charger with a larger capacity accordingly.
Number of USB ports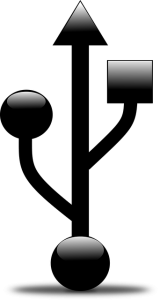 If you have multiple mobile devices and need to charge them simultaneously, you will need to make sure how many USB ports a portable charger has. In general, the larger portable charger is, the more USB ports it has. A small stick charger with around 2000 mAh capacity usually has only one. A charger with a capacity ranging from 5000 to 15000 mAh typically has two. A charger with 15000+ mAh has three or more. Think about the situation you are charging the devices. For example, when you go hiking with a smartphone and GoPro. A GoPro's battery probably runs out first. You take a rest and charge the GoPro, but it's a good time to charge your smartphone as well although it's not dead yet. In short, it's better to choose a portable charger with the same numbers of USB port as numbers of devices you carry.
Charging Time (power output)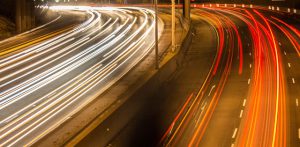 Any portable charger has a USB port or multiple ports to output the power to your mobile devices, but the amount of juice provided through it varies from model to model. Most smartphones require a 1 A (=1000 mA), but a 2.4 A is ideal for charging most smartphones at the fastest possible speed. It's called Optimal Charging. Larger devices like tablets can be charged via a 1 A USB port, but it's slow. It's ideal to use the charger with at least 2 A USB port. The 2 A USB ports can charge two times faster than the 1 A USB port.
Charging Time (power input)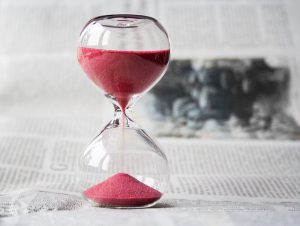 A charging time here is mentioning about the time required to charge a portable charger itself. The amount of input also varies from model to model. It's ranging from 1 A to 2.4 A. Simply, the larger number input, the faster it will charge. Most wall outlet can deliver 2.4 A. So, it's better to choose a portable charger with a larger number input, especially a portable charger with high capacity. For example, RAVPower 26800 mAh battery pack requires 14 to 15 hours to charge with a 2.4 A input, but 23 to 24 hours with a 1 A input, which means you can't fully re-charger overnight.
Anker, a famous brand for electronics accessories, made a unique approach to shorten the recharging time in their products, PowerCore with Dual Input 20000 mAh and 26800 mAh. These products have two micro USB ports for a recharge. It allows you to recharge for around 6 hours which is two times faster than a single input. Please note that they don't include a wall adapter. To recharge at the best possible speed, you will need a wall adapter with two USB outlets, and both ports should provide 2.4 A.
If you want to cut more time for a recharge, you should consider Anker PowerCore with Power Delivery wall adapter 20000 mAh or 26800 mAh. The including wall charger allows you to recharge for around 4 hours. It's three times faster than competitors.
Wall Adapter (wall outlet to USB)
With a USB cable, you can recharge a portable charger from any USB port. However, USB ports on the computer don't output much amount of juice. It's ranging from 500 mA to 1 A. On the other hand, most wall outlet can deliver up to 2.4 A, but it requires a wall adapter to convert power from wall outlet to USB outlet.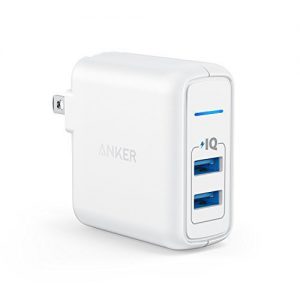 Most portable chargers don't include a wall adapter. You may keep many wall adapters come with electronics you purchased, but are they suitable for the portable charger you're going to buy? See the output spec printed on wall adapters. You can use any wall charger for a recharge, but the larger number a wall charger output, the better (faster) especially for a high-capacity portable charger. As a tip, try to find a wall adapter come with the larger device you purchased the most recently. For example, iPad Pro includes a 2.4 A wall adapter. Samsung Galaxy Tab S3 includes a 2 A wall adapter. If you don't find one, you can buy separately. It's not expensive.
Size and Weight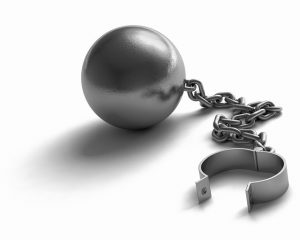 If you need to carry around a portable charger in your pocket all day, its design and weight would be significant factors when you choose a portable charger. Since portable chargers are trending more and more stylish and slimmer, you will be able to find your favorite design easily.
If you are a minimalist traveler, weight is probably the most important to you. Avoid one with extra features like a built-in flashlight, panic alarm, built-in speakers, solar panel, and so on.
Conclusion
As you see, the first thing to do is to determine the capacity of a portable charger based on the capacity of your mobile devices. Then, make sure that it has enough USB ports to charge your multiple devices at the same time. 2.4 A USB outputs are favorable to charge any modern mobile devices. If you buy a portable charger with a large capacity, it's important to know how long it takes to recharge because it varies significantly from model to model.
Related post