Mellow is the most innovative sous vide oven available today. Unlike other sous vide ovens, it has a built-in WiFi. But, The most outstanding feature of Mellow is the refrigeration system.
What's in a box?
Mellow sous vide oven
20 sealable plastic bags
Instructional booklets
Plastics bags come with the machine. Water pressure is used to let air out of bags (They are not for vacuum sealers.) They are custom made, a perfect fit to the shape of Mellow's water bath. A food-safe plastic, High-Density Polyethylene (HDPE) is used. Both BPA and phthalate free. Of course, you can use other bags as long as they are safe to use for sous vide cooking. If you like their bags, you can order them from their website or mobile app.
Design
Mellow doesn't have any buttons. You only see an indicator light that shows whether the machine is paired with your smartphone. A water bath is clear plastic. Unlike Tribest Sousvant, Mellow's water bath has double wall insulation.
The design is a very simple. It's a white box with a plastic water bath. If you don't know what it is, you'll probably never know what it is. But, the overall design is good for a small appliance which stays on a kitchen counter.
Specifications
Dimension: 6.7″ W x 12.5″ D x 15.8″ H
Weight: 20 lbs
Water bath capacity: 5 liters (=1.32 gallons)
Water bath dimension: 6.1″ W x 9.1″ D x 11.2 H
Heating Power: 1000 watts
Cooling Power: 140 watts
Temperature range: 39 degrees F (at 84F room temp) to 194 degrees F
It's very compact machine. It doesn't need much space on your kitchen counter. However, the size of the water bath is small. It has a capacity of 5 liters. You can put 5 liters of water and foods. Because of the size, Mellow is not suitable for a big family or those who want to cook a large amount at a time.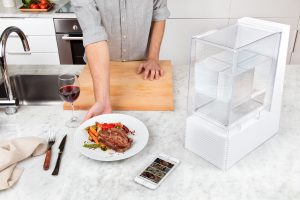 A 1000-watt heater is very powerful for the small size of a water bath. It can heat up water quickly. Thanks to double wall insulation, it doesn't consume much energy after it reaches the target temperature. According to a manufacturer, it only needs around 30 watts to maintain the heat.
Features
Refrigeration system
Weight sensor
Wireless connection
Energy efficiency
Instant feedback
Smart control
You have to have a smartphone to use Mellow. There are no buttons on the machine. Operating through a smartphone's app is the only way. If you have an Android device, it should be a version 4.4 or later. If iPhone, iOS9 or later.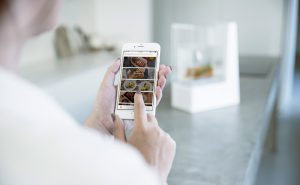 Mellow is the first sous vide machine with a capability of cooling. The refrigeration system keeps foods flesh. According to the manufacturer, it can cool to 39 degrees F at 84 F room temperature.
Built-in WiFi allows you to control Mellow from anywhere. And thanks to the refrigeration system, you can leave food in the water bath for a long time without worrying about freshness and safety.
I think that the WiFi feature of sous vide machines has finally become useful and practical with the refrigeration system. There are many sous vide immersion circulators with WiFi such as Chefsteps Joule, or Anova, but you have to manage to keep food in water bath fresh in case you are away from home for a long time. Some people put ice cubes in a water bath to deal with the problem, but it's a hassle. Besides, it can go wrong when you have a sudden change of schedules such as overtime work or heavy traffic. Mellow is the first sous vide machine that makes sense for the WiFi feature.
Weight sensor detects changes in weight when you put food in the water bath. Then, it starts cooling down and maintains a safe temperature until you start cooking. At the same time, it sends a push notification on your smartphone.
The remote control is not the only benefit of built-in WiFi. With WiFi and internet connection, Mellow learns a preference of your taste by getting feedback from you. If you didn't like the steak cooked by Mellow last time, send feedback and Mellow will give suggestions and improve next time. The more you use and send feedback, the more Mellow know your taste.
As another benefit of WiFi, the app will update with improvements and new features. So, possibilities are endless.
Conclusion
Mellow is apparently not for a big family or those who want to cook a large amount because of its small size. However, if you are busy and away from home most of the day, Mellow will be a great help for your cooking. And the price, $399 is very reasonable for all those features. Click here to see the latest price.