Read Also
Thanks to advanced technologies, our lives are becoming more and more convenient. You carry, use, look at them every day. But, they are not only limited to items carrying around or having in our homes like cellphones, computers, smart home products but also for our cars. For recent years, OBD2 adapters have been popular among car enthusiasts, Sunday mechanics, or even professional automotive technicians. These little gadgets can get access to vehicles' computers and give lots of information by transmitting to your smartphones. It's been a while since its first appearance. So, countless products are on the market now. And, it's difficult to choose one if you don't know much about these products. I hope this post help you pick up the right OBD adapter. Here are the best OBD2 adapters in 2017.
BAFX Products 34t5 Bluetooth OBDII Scan Adapter Tool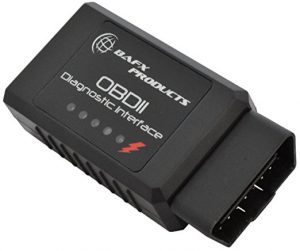 BAFX has been an amazon's best seller for many years. It's a very basic OBD2 adapter, and its price is reasonable. Unlike many other adapters of the same or less price range, BAFX is reliable because there are no copied products. Many cheap adapters are copied, sold and re-sold with less quality and loose inspection. As a result, you may receive a defect. Besides, you may not have a warranty for it. However, BAFX adapter is sold only by a manufacturer. You may find re-sellers of the adapter somewhere else, but I strongly recommend buying at amazon.com. It's sold directly by the manufacturer (fulfilled by Amazon) with a two-year warranty. Click here to see more details.
Panlong Bluetooth OBD2 Scan Adapter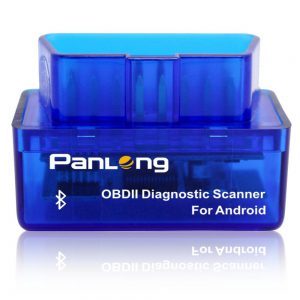 Panlong is another basic OBD2 adapter. The price is lower than BAFX. It's one of the least expensive adapters. Dimension 1.9″ L x 1.3″ D x 1″ H. Its stubby shape doesn't stick out from an OBD port, and it won't interfere your driving. A blue-tinted transparent housing looks cool. You can see circuit boards with LED indicator lights through it. Unfortunately, a defect rate seems higher than BAFX but a lot lower than average. A manufacturer offers 100% money back guarantee and 1-year replacement with professional customer service. As BAFX, I strongly recommend avoiding re-sellers and buying at amazon.com. (sold by Ace Deal and fulfilled by Amazon)
ScanTool OBDLink LX OBD2 Bluetooth Adapter
OBDLink LX is an OBD2 adapter with better quality than generic adapters such as BAFX and Panlong. Unlike generic adapters, a firmware of OBDLink LX can be updated for free when available. You also get a free exclusive app for Android and software for Windows PC (OBDwiz.) Of course, you can use many other 3rd party apps. Especially, free software for Windows is a big bonus because many software for Windows is expensive. Although there are some free ones, they have limited functions.
OBDLink LX is up to 4 times faster than competitors. If you plan to use the adapter for monitoring or recording engine data, LX performs excellent jobs for those purposes. It will provide more data points, smoother graphs, and more realistic virtual gauges.
Battery saver technology allows you leave the adapter plugged without worrying about draining vehicle's battery. The adapter comes with a three-year warranty and lifetime software and firmware upgrades. Click here to see more details.
ScanTool OBDLink MX OBD2 Bluetooth Adapter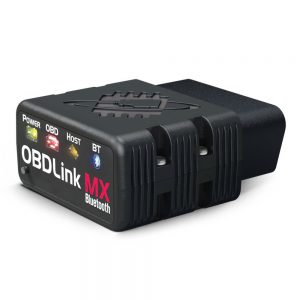 OBDLink MX has all features of LX, plus some other features for many late models of GM, Ford and Mazda vehicles. For supported GM models, you can open and close windows, door locks, or start the engine remotely by using 3rd party app called obdCANex. It is also compatible with enhanced PC software called ScanXL to access ABS, Airbag, Transmission, and other vehicles' modules. It used to need expensive scan tools to access all these modules. They cost at least several thousand dollars, but now you can do it for a fraction of costs.
Again, MX has all features of LX including a free Android app, Windows PC software (OBDwiz), battery saver technology, three-year warranty, and free software and firmware updates. MX is slightly more expensive than LX. If you have late-model GM, Ford, or Mazda or you are a mechanic who works on many different makes and models, MX is a good choice. Click here to see more details.
BlueDriver Bluetooth Professional OBDII Scan Tool
BlueDriver is probably the best choice for a professional mechanics or those who mainly use the adapter for diagnosis. The adapter is manufactured by a company called Lemur Vehicles Monitors. The company has been developing the adapter and exclusive app together. The BlueDriver app contains a database of over 6.6 million fixes verified by certified auto mechanics. When you get trouble codes, it will show you not only definitions of codes but also possible causes and reported fixes. You can even ask for more details by an email or a live chat through the app.
It has access to ABS, Airbag, Transmission modules, too. Currently, it's limited to GM, Ford, Chrysler, Nissan, Toyota, and BMW with some models excluded, but the company is working on other makes and models to make it compatible. Unlike OBDLink MX, you don't need extra software (ScanXL) to scan ABS, Airbag, and Transmission modules. It's all done in a BlueDriver app. And, unlike all other adapters listed above, BlueDirver works with both Android and iOS devices.
It's very professional adapter and app. But, there is one thing you should know before purchasing. BlueDirver adapter is not compatible any other apps. It works with BlueDriver app only. As compared with Torque app, BlueDriver doesn't have a map to see and record a route you drive. However, you can fully customize live data to create a virtual dashboard just like Torque.
Since the company is developing both the adapter and app together, it's improving rapidly. BlueDriver is the best OBD2 adapter for diagnosis with great potential. Click here to see more details.

Product
BAFX Products 34t5
Panlong PL-B02
ScanTool OBDLink LX
ScanTool OBDLink MX
BlueDriver
Dimension
D x L x H
3.5" x 1.8" x 1"
1.3" x 1.9" x 1"
2" x 1.8" x 0.9"
2" x 1.8" x 0.9"
2.2" x 1.9" x 1"
Weight
2.88 oz
0.64 oz
1.12 oz
1.12 oz
1.6 oz
iOS compatibility Y/N
N
N
N
N
Y
Windows compatibility Y/N
Y
Y
Y
Y
N
Price
$29.99*
$17.99*
$69.99*
$99.99*
$99.95*
*Click to see the latest price