BlueDriver is an OBD2 adapter created by a company called Lemur Vehicle Monitors. The adapter works exclusively with their app. It uses Bluetooth to connect to your Android or iOS devices. The app is free, and there are no subscription fee or in-app purchases. All you need to buy is the adapter to make your mobile device into a sophisticated OBD2 scan tool.
What's in the box?
BlueDriver OBD2 sensor
Instruction guide
In the box, BlueDriver OBD2 adapter (sensor), and either a little piece of paper or a card that is supposed to be an instruction guide. It says that you can begin by installing the app, and the app has a user manual in it. There is a QR code on the box and even the sensor itself. You can install the app by scanning them.
Specifications
Dimension: 1.9″ L x 2.2″ D x 1″ H
Weight: 1.6 oz
The sensor is small and compact. The company could make a design of the sensor smaller and shorter. But, to remove it from OBD2 port easily, the sensor has a tab on end to grip and pinch by your fingers. And, there is one LED indicator light to show power and connection status.
Features of BlueDriver
Read and Clear Trouble Codes – When your car's engine has a problem, a vehicle's computer tries to tell you by turning on Check Engine Light on the dash. At the same time, the computer stores Trouble Codes for you to identify the problem. OBD2 scan tools can get access to the computer and retrieve the codes.
You may see the codes even when Check Engine Light is off. Depending on codes, the computer takes a certain time to trigger Check Engine Light and stores trouble codes (Permanent codes) after it detects a problem. During this time, the computer stores these codes as Pending codes. BlueDirver can read and clear both Permanent and Pending codes.
Read and Clear Enhanced Codes (ABS, Airbag, and Transmission for supported makes and models only) – While most OBD2 adapters can get access only to vehicles' engine computer, BlueDriver can do it to ABS, Airbag, Transmission modules. This feature is limited to supported makes and models. Currently, they are GM, Ford, Chrysler, Toyota, BMW, Nissan, and Honda. A company continuously works on developing to make more makes and models supported.
Repair Reports – Once you get a trouble code, you will get a report containing details of the code, possible causes, and reported fixes. The app matches your car's year, make, and model then provides a report from a database of over 6.6 million fixes verified by certified automotive technicians. Although you may get this information by searching on the internet, it takes time to reach a specific. You might end up reading unrelated articles or guess works and advice from armatures. Repair Reports save your time. They are organized and ready to provide you the correct information, and more importantly, they are keeping updated.
Freeze Frame – It's a snapshot of PIDs such as RPM, coolant temp, mass airflow volume, etc at the moment a trouble code is stored. With Freeze Frame data and Repair Reports, you will know where to start diagnosing to identify the cause of the problem.
Smog Check – Also known as I/M readiness monitor. It's a set of self-test done by a vehicle's computer, showing Ready or Not Ready. It tells you whether your car is ready to be taken to the state inspection. Regulation of inspection varies from the state to the state. So, it may pass the inspection even if one of the tests is Not Ready
Mode 6 – It's an advanced test result. Unlike Smog Check, Mode 6 shows test results in values. When values exceed a maximum or minimum threshold, a vehicle's computer illuminates Check Engine Light. In other words, no matter how close the value is to the threshold, the computer doesn't set trouble codes even if you feel something wrong with the vehicle. Mode 6 is used to find a problem with a vehicle without Check Engine Light. Depending on the vehicle, Mode 6 may show either raw hex values or interpreted test IDs and values.
Live Data – It shows real-time engine data such as RPM, coolant temp, speed, etc. A list of data varies from vehicle to vehicle. In general, the newer cars, the more numbers of data provided. You can customize Live Data Dashboard by selecting PIDs, changing the color, displaying in a graph, gauge, or digital style. You can also create a file to export and log.
Pros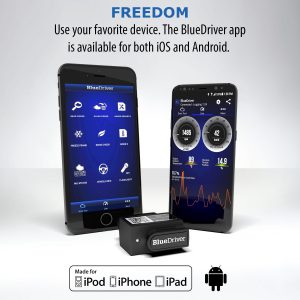 BlueDriver is focused on vehicle diagnosis and repair. Repair Reports are very helpful and time-saving. Enhanced diagnostics (ABS, Airbag, and Transmission) are outstanding features. It used to need expensive scan tools to diagnose all these modules. Now, all you need is BlueDriver sensor and app. The feature is currently limited to certain makes and models. But, a company has been developing the sensor and app together, and they are improving rapidly. In fact, when it was released, enhanced diagnostics are available only on GM, Ford, and Chrysler. But now, Toyota, BMW, Nissan, and Honda have become supported.
BlueDriver is one of the few OBD2 Bluetooth adapters which compatible with both Android and iOS devices. For example, OBDLink MX and BAFX Products adapters work with Android only. If you have an iOS device, you need WiFi version of OBDLink MX or BAFX Products adapters.
Cons
BlueDriver is not compatible with any 3rd party apps. It works with BlueDriver app only. If you want to use other apps such as Torque, BlueDriver is not for you.
Conclusion
BlueDriver is the best OBD2 adapter for vehicle diagnosis. The company is helpful and serious about helping DIY-ers. That reflects on continually updating repair reports, customer support, and improvements over years since its release. All features including new ones that may become available in the future are offered without in-app purchases or subscriptions. BlueDriver is definitely worth its price. Click to see the latest price.