Read Also
Although so many OBD2 adapters are on the market, a majority of Bluetooth adapters are not compatible with iOS devices because manufacturers don't bother to join the MFi (Made For iPod) program and to pass certification tests. Consequently, manufacturers create adapters for iOS devices using WiFi instead of Bluetooth. Some high-end adapters using Bluetooth are passed certification tests of MFi program and compatible with iOS devices as well as Android. Here are the best OBD2 adapters for iPhone, iPad, and iPod in 2017.
Foseal Car WIFI OBD2 Scan Tool Adapter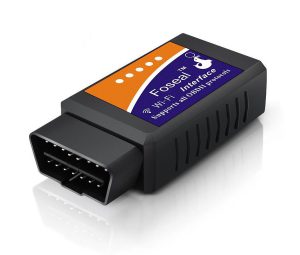 Foseal OBD2 adapter is a basic adapter. It uses WiFi to connect your mobile device or laptop. Product dimensions: 3.5″ x 2″ x 1″. It's a little large. Depending on a location of an OBD2 port, you may have problems such as kicking a sticking-out adapter or falling itself. Although the adapter is compatible with Android as well as iOS, and Windows, it's not recommended for Android users. There is no remarkable feature in this product, but it's very inexpensive. And a manufacturer offers a one-year warranty.
Veepeak Mini WiFi OBD2 Scanner Adapter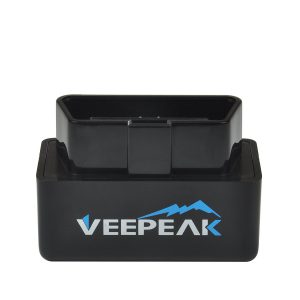 Veepeak Mini WiFi is another basic OBD2 adapter using WiFi instead of Bluetooth. It's cheaper than Foreal. And its size is much smaller than Foseal. Product dimensions: 1.3″ x 1.9″ x 1. You don't have to worry about sticking out too much from OBD2 port, kicking, or falling itself. Just like Foseal and other WiFi adapters, it's compatible with Android, iOS, and Windows, but it's not recommended for Android users. A manufacturer offers a 30-day money back guarantee and a 12-month hassle-free replacement warranty.
PLX Devices Kiwi 3 Bluetooth OBD2 Diagnostic Scan Tool
Kiwi 3 adapter is one of the few Bluetooth OBD2 adapters which is compatible with iOS devices as well as Android and Windows. It's the 3rd generation of Kiwi OBD2 adapter by PLX Devices. Earlier versions have a cable although they use Bluetooth and connect to a mobile device or PC wirelessly. Kiwi 3 eliminated a cable and made it very small. Product dimension: 1.3″ x 2″ x 0.7″. No matter where an OBD2 port is located, you don't have to worry about falling or kicking the adapter. The company claims that it's up to 4 times faster than competitors.
PLX Devices developed their OBD2 app called Kiwi OBD. It's compatible with Kiwi 3 and available at Apple store, coming soon to Android. The app looks cool and decent features, but insanely expensive. Since Kiwi 3 is compatible with many OBD2 apps, I would use the money for many other OBD2 apps instead of purchasing a single and costly Kiwi OBD app. And, the price of adapter is a little expensive, too. If you want a fast and good quality adapter and use many different apps, you may consider purchasing Kiwi 3. Click here to see more details.
BlueDriver Bluetooth Professional OBDII Scan Tool
BlueDriver is a professional OBD2 adapter that is focused on vehicle diagnosis and repairs. It uses Bluetooth, but it's compatible with iOS devices as well as Android. Unlike other adapters, BlueDriver works with their BlueDriver app only, and there is no app or software for Windows.
The app contains Repair Reports generated a database of over 6.6 million fixes verified by certified auto mechanics. The reports include details of the problem, possible causes, and verified fixes. You may get the same information from the internet, but it takes time, and you might end up reading unrelated articles or guess works from armatures. Repair Reports save you time.
You can perform enhanced diagnostics on systems other than engines such as ABS, SRS, and Transmission on supported makes and models. Currently, Ford, GM, Chrysler, Toyota, Nissan, BMW, VW, and Honda are supported (some models excluded.) A company keeps working on making more makes and models supported. Customer service is excellent. If you want a professional level of vehicle diagnosis and customer support, BlueDriver is the best choice of all. Click here to see more details.

| Product | Foseal WiFi | Veepeak Mini WiFi | PLX Devices Kiwi 3 Bluetooth | BlueDirver Bluetooth |
| --- | --- | --- | --- | --- |
| Dimension | 3.5" x 2" x 1" | 1.3" x 1.9" x 1" | 1.3" x 2" x 0.7" | 2.2" x 1.9" x 1" |
| Weight | 1.6 oz | 0.32 oz | 1.12 oz | 1.6 oz |
| Android Compatibility Y/N | Y | Y | Y | Y |
| Windows Compatibility Y/N | Y | Y | Y | N |
| Price | $19.99* | $16.99* | $149.99* | $99.95* |
*Click to see the latest price