OBDLink LX is an OBD2 adapter. It's plugged into OBD2 ports and connected to Android devices or Windows PCs via Bluetooth. With the adapter, your Android device or Windows PC becomes a sophisticated OBD2 scan tool.
What's in the box?
OBDLink LX adapter
Instruction guide
Installation Disc for Windows software (OBDwiz)
Specifications
Dimension: 2″ D x 1.8″ L x 0.9″ H
Weight: 1.12 oz
Basic Features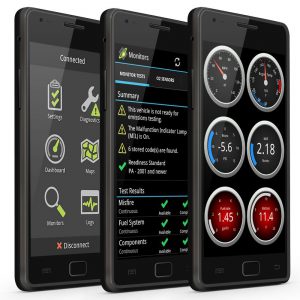 Read and Clear the trouble codes – OBDLink LX is plugged into an OBD2 port to get access to a vehicle's computer and also connect to your Android device or Windows PC via Bluetooth. With app or software, you can read and clear trouble codes which are essential for diagnosing engine problem of modern vehicles.
The trouble codes are stored on the computer even before Check Engine Light comes on. The computer detects a problem and stores code as a Pending code. You don't see Check Engine Light yet. After a while, if the problem still exists, the computer set the code as a Permanent code and turns on Check Engine Light. OBDLink LX can retrieve both Permanent and Pending codes.
Freeze Frame data – Freeze frame data is a snapshot of engine data when the computer stores a trouble code. It helps you determine where to look first when diagnosing.
I/M Readiness Monitors – A vehicle's computer performs a self-test various systems every time you reset the computer (=clear Check Engine Light.) If they are not completed, a vehicle won't pass a state inspection.
Live Data – You can see many engine data in Android apps or Windows software. Both OBDLink Android app and OBDwiz allow you to customize them in a digital, graph, or gauge style. You can create a virtual dashboard as you'd like.
Key Features
World's fastest Bluetooth OBD2 adapter – Up to 4 times faster than competitors. Its quick response makes gauges, graphs, and dials smoother and more detailed.
BatterySaver technology – The adapter is monitoring vehicle's battery voltage all the time. It automatically turns on or goes to sleep mode accordingly.
Free OBDLink Android app and OBDwiz – OBDLink Android app is the exclusive app for OBDLink adapters. It's very similar to Torque app. OBDwiz is software for Windows. It's a good bonus because OBD2 software for Windows is usually expensive.
More 3rd party app and software options – OBDLink LX is compatible with many 3rd party apps and software.
3-year warranty and Free firmware/software updates – They offer a 3-year warranty and free lifetime firmware and software updates.
Pros
OBDLink LX is up to 4 times faster than competitors. In Live Data, gauge actions are as smooth as a real one. Graphs are detailed. A free Window software, OBDwiz is useful when you want to use a laptop. And there are many apps and software compatible with OBDLink LX.
Cons
OBDLink LX is not compatible with iOS devices. If you want to use iPhones or iPads, this is not the adapter for you.
Difference between MX and LX
OBDLink MX works with two additional OBD2 protocols, SW-CAN and MS-CAN, which are used in late GM and Ford models. That's the only difference between MX and LX, and MX is a little more expensive than LX. If your car is not GM or Ford, and you are sure that you don't use the adapter on these models, there is no reason to pay extra money for OBDLink MX.
Conclusion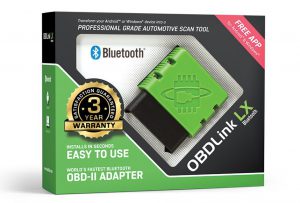 OBDLink LX is fast, reliable, and versatile OBD2 adapter. There are many apps and software compatible with the adapter. They are not only for engine diagnosis but also data logging, recording route maps, or creating a secondary dashboard with smooth and detailed gauge actions. OBDLink LX is the best OBD2 adapter for those who want to try many 3rd party apps and software on Android and Windows PC. Click to see the latest price.