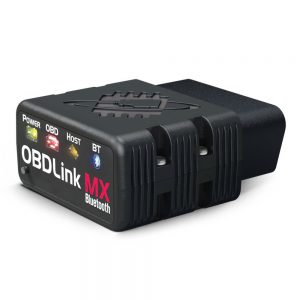 OBDLink MX is an OBD2 adapter that works with Android and Windows PC. It's up to 4 times faster than competitors, meaning flawless and smooth actions in live data. OBDLink MX is the adapter compatible with various apps and software.
What's in the box?
OBDLink MX Bluetooth adapter
Instruction guide
Installation disc for Windows software (OBDwiz)
In the box, the adapter itself, a piece of paper of instruction guide, and an installation disc of OBDwiz Windows software. The software is worthy because many OBD software for Windows is not attractive in design. Besides, although most of them are free to install, functions and features are limited. You will need to purchase full versions. OBDwiz software comes with the adapter for free, and you can use all features without any restrictions or additional costs.
Specifications
Dimension: 2″ D x 1.8″ L x  0.9″ H
Weight: 1.12 oz
Basic Features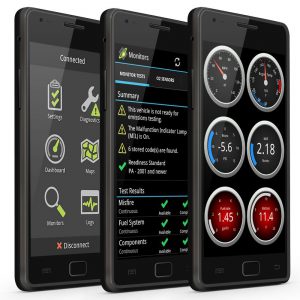 Read and Clear the trouble codes – The adapter is plugged into an OBD2 port, and then it gets access to a vehicle's computer. When you have Check Engine Light, the computer stores the trouble code which helps you diagnose the engine problem. You can read the codes on your Android devices or Windows PC. After fixing the problem, you can clear the codes to turn off Check Engine Light.
Before the computer triggers Check Engine Light on and sets a trouble code as a permanent code, the computer has already had the code as a pending code. You can read and clear both permanent and pending codes.
Freeze Frame data – It's a snapshot of engine data at the moment the computer stores a trouble code. It gives a rough idea of vehicle's condition at that moment and helps you where to start diagnosing first.
I/M Readiness Monitors – The computer performs a self-test on numbers of systems every after being reset (cleared Check Engine Light.) It takes a while and a couple of drive cycles to complete. If they are not finished, it's not ready to take a car to the state inspection. Regulation of inspection varies from the state to the state. It may pass the inspection even when some systems' self-tests are not finished.
Live Data – Both OBDLink Android app and OBDwiz can display various engine data such as RPM, Coolant temp, Mass Air Flow volume, etc in a graph, dial, or digital style. Of course, you can use and do the same in 3rd party apps such as Torque and DashCommand. Your mobile device or Windows PC becomes fully customized secondary dashboard.
Key Features
Supports SW-CAN & MS-CAN protocols – OBDLink MX is compatible with SW-CAN and MS-CAN which is used in late-model GM, Ford, and Mazda. It allows you to perform enhanced diagnosis which most other OBD2 adapters can't get access such as ABS, Airbag, and Transmission.
World's fastest Bluetooth OBD2 adapter – Up to 4 times faster than competitors. It means it provides more frequent data points, smoother graphs, more realistic gauge actions.
BatterySaver Technology – The adapter monitors the voltage of vehicle's battery and automatically sleep and wake-up accordingly. Thus, you can leave the adapter plugged without worrying about a battery drain.
Free OBDLink Android app and OBDwiz – OBDLink Android app works exclusively with OBDLink adapters. It's very similar to Torque app. You also have OBDwiz software for Window PC. The features of the software are almost the same as the OBDLink app, but you may prefer using PC to Android devices for data logging and recording purposes.
More 3rd party app and software options – Android's Play Store has numerous OBD2 diagnostic apps. OBDLink MX is compatible with most of them. On the top of it, there is a unique app like obdCANex or a professional OBD software, ScanXL.
3-year warranty and Free firmware/software updates – Unlike cheap generic OBD2 adapters, the firmware of OBDLink MX can be updated.
Pros
OBDLink MX is up to 4 times faster than competitors. If you use the adapter only for reading and clearing Check Engine Light, it doesn't matter how fast it is. But, if you want to create and set up virtual gauges or digital meters on your mobile device, OBDLink MX provides smoother and more realistic actions. It also provides more precise graph actions which help diagnosis better.
SW-CAN & MS-CAN protocol supports will bring more possibilities. In fact, some 3rd party apps already offer enhanced diagnosis on Ford vehicles. And an Android app called obdCANex provides remote control of windows and locks on selected GM vehicles. There will be more and more Android apps with new features developed in the future.
For logging and recording purposes, you may want to use a laptop. OBDLink MX is compatible with Windows PC, and a free Windows software, OBDwiz comes with the adapter.
Cons
It advertises OBD professional software, ScanXL which is exclusively compatible with the adapter and capable of enhanced diagnostics on GM, Ford, and Mazda. However, ScanXL is expensive. Besides, you will need add-ons to perform enhanced diagnostics, and they are also expensive.
OBDLink MX Bluetooth is not compatible with iOS devices. You need a WiFi version if you use iOS devices.
Difference between MX and LX
OBDLink LX lacks a compatibility with two OBD2 protocols, SW-CAN and MS-CAN, which are used in late GM and Ford models. That's the only difference between MX and LX, and MX is a little more expensive than LX. If your car is late models of GM or Ford, or you are an auto mechanic who works on these models, you should choose OBDLink MX over LX.
Conclusion
OBDLink MX is fast, reliable, and versatile OBD2 adapter. There are already many apps compatible with the adapter. And many developers use OBDLink MX when they test their apps. Some cheap OBD2 adapters may not be going to be compatible with new apps, but OBDLink MX will. If you use Android devices and Windows PCs and want to use many different apps including unique or future apps, OBDLink MX would be the best OBD2 adapter for you. Click to see the latest price.