Amazon has launched its streaming app for some VR headsets. Prime Video VR is free and available for GearVR, Oculus Go, and Oculus Quest. You can watch prime videos on those VR headsets.

It's good for prime members who regularly watch prime videos. There have been other video VR apps like Netflix, Hulu, and YouTubeVR for an almost entire time since the debut of VR headset, but this is the first VR app from Amazon.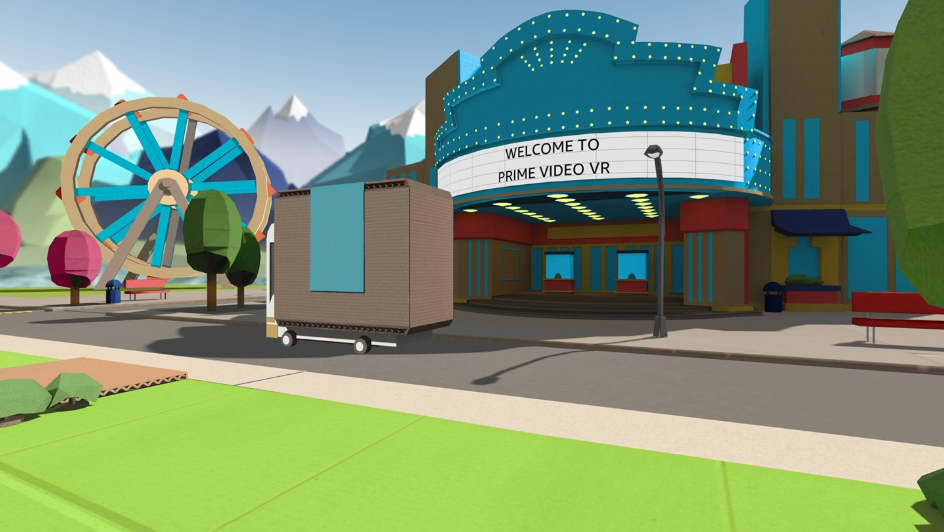 The benefit of using a VR headset to watch videos is that you can watch them on a big virtual screen. When you play a video, you are in a theater. you can choose three different sizes of the screen. And you have the option to switch to the screen-only mode that you can move the screen wherever you like it to be, so you can always bring it to the front of you. For example, you lie down in bed with your face up, move the screen to the front as if you have a big screen TV on the ceiling.
If you have Oculus Quest, the feature of six-degree of freedom is available in some areas in the app. I found that in the home screen and the theater. It's up to you to move to the aisle seat or back to the end row. You may find something interesting when you walk around. But I don't know and I can't even walk around because my room is so small to explore the virtual home town and theater.
In addition to watching prime videos, there are ten 360-degree videos at launch. A familiar Asteroids! and Invasion! by baobab studios are included. All of these are free to watch. I hope Amazon adds more 360-degree videos.
There are a few things for the app to need to be improved. First VR contents are few. It should be more. It's been several years now since the first edition of GearVR was released. Other video streaming apps have existed for years as well. Why didn't Amazon prepare for more VR contents during the time? Second, there is no 3D movies or videos. VR headsets are useful for not only 360-degree videos but also 3D movies.
As a Prime member myself, the launch of Prime Video VR is definitely good news. I'm going to use the app from time to time. However, considering that it's been quite a while since VR's debut, I think Amazon should have had more VR contents like 360 videos or 3D movies at launch.
Related Posts