Oculus Go is finally released. It costs $199.99 for 32GB and $249.99 for 64GB. The Go is a standalone VR headset meaning that it doesn't require a computer to hook up or mount a smartphone to use as a display and processor. Not only does the Go have essential components like LCD and processor but also speakers and microphones into the design.
Specs
Dimension: 7.5″ x 4.1″ x 4.5″
Weight: 16.5 oz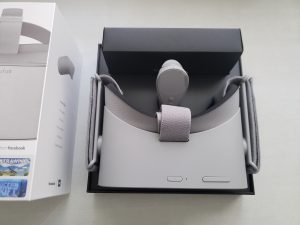 The Oculus Go is light and compact despite the fact that it has all components built-in. It's smaller than the Gear VR (8.2″ x 4.8″ x 3.9″), but it's not as compact as the Daydream View (6.6″ x 4.6″ x 3.9″). Speaking of the weight, the Go is heavier than the Gear VR (12.1 oz) and the Daydream View (9.2 oz), but those two headsets require to mount a smartphone in front of the device. So, overall weights are close to each other. Compared with two high-end VR headsets, HTC Vive is much heavier and bulkier, but the Go is very similar to Oculus Rift in design and specification except for the Rift's protruding headphones and head straps.
What's in the box
Oculus Go VR headset
Controller with battery and strap
Wall Charger / Micro USB cable
Eyeglass spacer
Cleaning cloth
Instruction
Design
At a quick glance, the Oculus Go looks like a Google Daydream View. But, the material on the surface of the Go is made from matte slate-gray plastic while the Daydream View is covered with soft gray fabric. The overall design is similar to the Oculus Rift except for built-in speakers and head strap. On the top, there are two soft-touch buttons for power and volume. On the side, there is a headphone jack and USB micro-B port for charging. It's kind of strange because newer electric devices tend to have USB-C ports. Even the 2nd generation of Gear VR which was released two years ago has a USB-C port. Two ports and two buttons are all you see on the headset. There is no focus wheel, a touch pad, or home and back buttons. A strap is not attached directly to the headset but to integrated speakers which can turn and change the angle. It helps you make a perfect fit without tightening the strap too much.
Comfort
A faceplate of the Go is well designed. It has enough amount of foam, and it's covered by knit mesh. It gives you comfort and breathability. You don't have to push too hard against your face to find the best fit. That's probably the reason the Go doesn't have or need ventilation ducts, which is found in the Gear VR. And, the straps consist of two. They have velcro to adjust on the sides and over the head. The head strap (horizontal one from the side of the headset to the other) use a soft and stretchy material that gives you enough tension for the headset to fit your face. The strap is split into two on the back of your head that helps fitting better for a long hairstyle like buns and ponytails.
Controller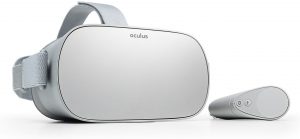 The size of the controller is 4.4″ x 1.5″ x 2.2″, and the weight is 2.3 oz with a single AA battery and strap. It's made of the same plastic with the same color as the headset. Compared with the Gear VR Controller, it's round, stubby, and fat. It has a clickable touchpad, Home button, Back button, and a trigger. It lacks a volume button. So, volume control is done with mostly the button on the headset, but it can be a drawback for some people. The volume button is located on the left top of the headset and easily accessed with your left hand. But, for left-handed, the left hand is occupied with the controller. So options for left-handed are to fumble the volume button with your right hand, press it awkwardly with your left hand while holding the controller, or pass the controller to the right hand then press it with your left hand. All of these are inconvenient.
Battery Life
According to Oculus, the battery lasts between 2 to 2.5 hours depending on the activity. I found it accurate. And I think it's enough for VR. No matter how comfortable a headset is, probably you can't stand wearing it for hours continuously. And not to mention, you don't have to worry about your smartphone's battery. As for recharging, it takes around three hours to charge the headset from 0% to 100%. Although it's possible, Oculus doesn't recommend charging while using the headset.
Display
The Go has a lot better viewing experience than mobile VR headsets such as Gear VR and Daydream View. It's crisp and sharp. You don't see much lags when you turn around the head. There still is, but not as much as the mobile VR headsets. Besides, although the front of the device is relatively hot during use, it never shows an overheating and cooling down message.
Apps and Games
If you already have an Oculus account and purchased games and apps, you can download them without being charged. But you needed to use the same account info during setup. To find the games and apps, go to Home > Library > Not Installed, and you will see all games and apps you have installed before. You have to download and install again to play them.
Built-in Speakers
The sound quality of built-in speakers is impressive. It's surprisingly clear. It's also loud enough to drown out outside world without disturbing someone in a next room. The benefit of 3D spatial audio without anything covering your ears is outstanding. The quality and comfort of built-in speakers are better than any other VR headsets.
Built-in Microphone
There is one more component, which you may overlook but it works great. It's a built-in microphone. With it, you can open or search apps, navigate the menu with your voice. You need to enable the feature first. Go to Home > click Voice Search on the right top corner > OK, and it will respond when you say, "Hey, Oculus. …followed by the command." Keep in mind that it's not always available. While you are in the app, games, video, or browser, it won't respond at all.
Conclusion
Oculus Go is a standalone VR headset. Although it doesn't have the positional tracking and room-scale ability, the experiences come from it are worth the price. If you want to start VR experience, the Oculus Go is the best one to start. If you enjoy a mobile VR such as Gear VR or Daydream View but are tired of overheating messages and quick battery drain, Oculus Go is recommended. Two versions are available, 32 GB and 64 GB.
Related Posts