Samsung Gear VR is a virtual reality headset compatible selected Samsung Galaxy smartphones. After two innovator editions (SM-R320 & SM-R321) had been released for developers, Samsung released the first consumer edition (SM-R322) in 2015 . And the second one (SM-R323) was released in 2016, with some minor changes and improvements.
Overall size: 2016 version is a little wider horizontally.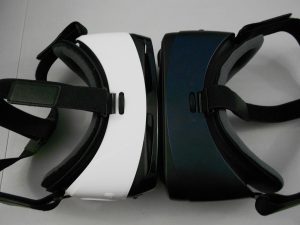 Color: 2015 version is black and white, while 2016 version is black and dark blue
Touchpad: 2015 version has cross-shaped groove, while 2016 version is flat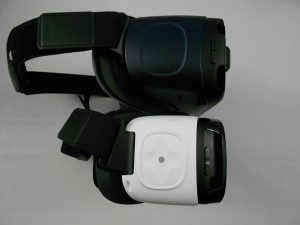 Home button: Back button exists on both versions, Home button is added to 2016 version.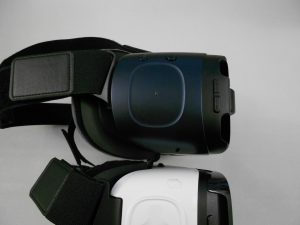 2016 version has a plastic divider in front (where a phone is inserted)
2016 version has a thicker rubber cushioning
Color inside a compartment where your face is against is white on 2015 version and black on 2016 version. Dark color reduces glare and reflection.
2016 version has six holes in total for ventilation while 2015 version has two.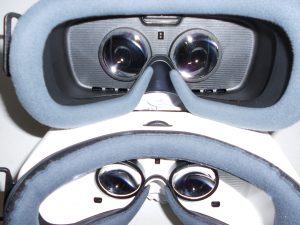 2016 can't close a cover when phone is set on a headset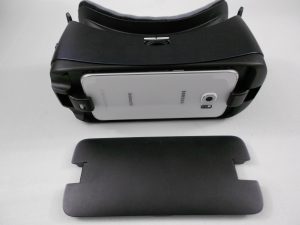 2016 can't close a cover when a holder is in Position B.
You can close with a holder (connector side) lifted up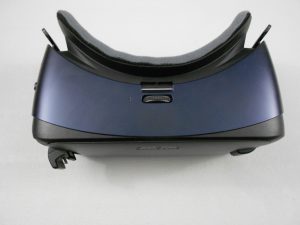 2016 version a holder (connector side) is detachable to swap Type-C USB and Micro USB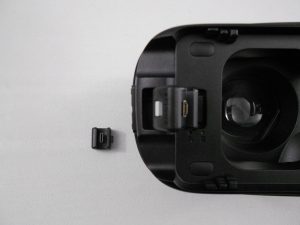 2016 charging port is Type-C USB. Use an adapter for micro USB cable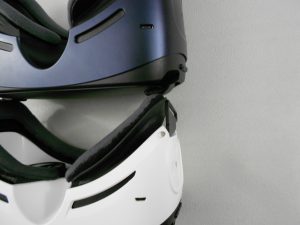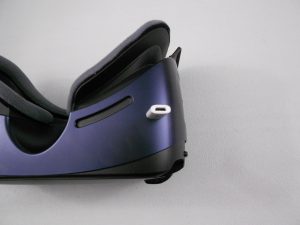 Field of View is 96 degree on 2015 version and 101 degree on 2016 version
Price: Regular price is the same, $99.99. However, you may find 2015 version with a great discount after a release of 2016 version.
What is international version?
An international version is originally intended for sale in other countries than the U.S. Gear VRs of this version found on Amazon or eBay are not specified from which country. Some boxes have a description in other languages than English. There is no known difference between them, but international version may be a little cheaper than domestic version. Please note that international version may not have a warranty from a manufacturer. It's better to contact the seller directly for more information.
Which one should I buy?
2016 version is released alongside Note 7 which has Type-C USB. Thanks to its detachable connector it's also compatible with older phones which have micro USB. Currently, no compatible phone has Type-C USB because of a recall and discontinuation of Note 7. But, new phones are expected to have Type-C USB. So, 2016 version is a better choice for those who upgrade their phones frequently. If you are sure that you keep your current phone for a long time, you may choose 2015 version for its discounted price.