Roav VIVA Pro is an Alexa-enabled two-port USB car charger. It allows you to bring Alexa voice assistance into your car. It's the same concept as the original Roav VIVA, and they look almost identical. The differences are that an Aux-Out port and an FM transmitter are equipped in the Pro. So, there are extra options to connect to your car's stereo in addition to Bluetooth and USB.
Design
It looks the same as the original Roav VIVA except for the existence of the Aux-Out port. The face of the VIVA consists of the two microphones, a big button, and a LED ring.
The button works as Action and Mute
When you press the button, you don't have to say, "Alexa."  Just start with your command or question, and Alexa will respond. Holding down the button mutes the microphones, and the LED ring and the microphone icon turn red. Holding down the button again will un-mute.
LED Indications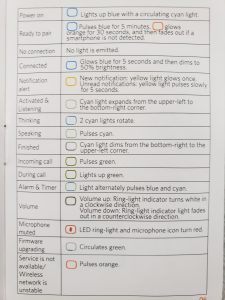 The LED will change colors and behaviors depending on the status of the device. It even turns yellow when you get a notification just like Amazon Echo devices. You can look up a full list in the image on the right.
Anker Fast Charging Technology
Roav is a subsidiary of Anker, which is popular and famous for their mobile device's accessories like portable chargers. Two USB ports of the VIVA can charge two mobile devices simultaneously. They both have the Anker's exclusive fast-charging technologies; PowerIQ and VoltageBoost, and provide up to 2.4 A to charge your device quickly.
Setup
Plug the VIVA into your car's cigarette lighter socket. Start the car, and the LED ring will turn blue with a circulating cyan light.
Download the Roav VIVA app from Apple App Store or Google Play Store.
Open the app, select "Roav VIVA_XXXX" to complete a Bluetooth connection to your phone.
Follow the instruction in the app to link with your Amazon Alexa's account. If you never use any Alexa-enabled devices such as Echo, Fire tablet, or Fire TV, you need to create Amazon Alexa's account. Install the Amazon Alexa app for iOS or Android and create the account. It's free, meaning that you don't have to own other Alexa-enabled devices in your home. It's totally fine that the VIVA is your first or only Alexa-enabled device.
Lastly, choose how you connect with your car's stereo to have sound come out of vehicle's speakers. The Pro has more connection options than the original Roav VIVA. The choices are Bluetooth, Aux cable, USB, and FM transmitter. If your car's stereo has an Aux-in port, you can directly connect the Pro to a car's stereo (a cable is not included.) If you use an FM transmitter, choose a frequency which is dead in your area and set up through the app.
Firmware Update
After completing setup, check if a firmware update is available. Firmware update doesn't start automatically. You will need to open the app and start for yourself. An update needs to be done in your vehicle, with the engine on, and your phone connected to the VIVA.
Who is Roav VIVA for?
The VIVA always needs a smartphone to work with. And the smartphone already has its voice assistance feature such as Google Assistant or Siri. Why would you need an extra gadget for a voice assistance feature? Here is the thing.
For those who have Alexa-enabled devices
If you are heavily invested in the Amazon Alexa's ecosystem, you probably want Alexa with you everywhere even while driving. If you subscribe to Amazon Music Unlimited, you'd be happy with a complete hands-free control of the music player on demand with tens of millions of songs. If you have some Alexa-enabled devices in your home, you'd prefer the same voice assistance in your car. And thousands of Alexa skills enhances the experience with Alexa-enabled devices, which other voice assistance can't even compete.
For those who want a Hands-free operation with Alexa
Amazon Alexa app is evolving. It has more features than it used to be. Tap the circle icon in the center at the bottom and command or ask a question, and Alexa will respond. Unlike the Reverb app, it can play music, news, podcast, etc. You can create a widget and place it on the home screen of your smartphone instead of opening the app and tap the icon so you can speak to Alexa quickly. But, this is not hands-free. If you want a hand-free feature with Alexa, you still need an Alexa-enabled device.
Roav VIVA Pro or Roav VIVA
The difference between the Pro and the original Roav VIVA is only a selection of connecting methods to your car's stereo. For older cars whose stereos don't have Bluetooth, Aux-in port, or USB port. FM transmitter may be the only option to get it to connect. So, you need the Pro. In other words, if your car stereo has either Bluetooth, Aux-in port or USB port, you don't have to pay extra money to get the Pro. The original Roav VIVA will be just fine.
Conclusion
The Roav VIVA is not for everyone. If you are happy using Google Assistant, Samsung Galaxy's Bixby, or Apple's Siri, there is no reason to buy it to bring Alexa into your car. But, if you prefer Alexa, the Roav VIVA will work seamlessly in your vehicle just like Echo devices in your home. If your car's stereo doesn't have either Bluetooth, Aux-in port or USB port, the Pro offers a wireless connection with a built-in FM transmitter. And remember, the VIVA is also a car charger with two USB outputs equipped Anker's fast-charging technology. Click here to see the latest price of Roav VIVA Pro.