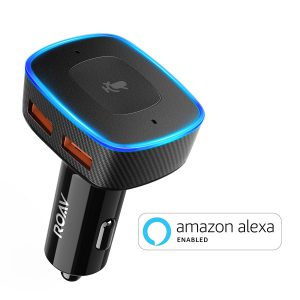 Roav VIVA is an Alexa-enabled two-port USB car charger. It allows you to bring Alexa voice assistance into your car. The VIVA connects to your phone via Bluetooth and uses the phone's data connection to access the internet. The combination of the VIVA and your phone acts just like an Amazon Echo device. You have almost all Alexa features and skills in your car.
Design
The face of the VIVA consists of the two microphones, a big button, and a LED ring. Keep in mind that pressing the button also wakes up Alexa in addition to saying the wake-word. When you press the button, you don't have to say, "Alexa." Just start with your command, question, etc. You can mute and unmute the microphones by long-pressing the button. A noise-canceling chip reduces background noise by 30% to help to isolate your voice from the sound of a car or road.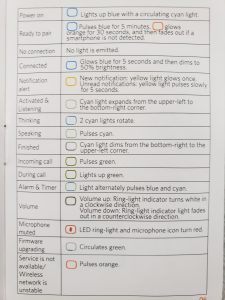 Just like Echo and Echo Dot, the VIVA has a LED ring around the edge of the top, and it shows you a lot of different statuses with different colors and behaviors. You can look up the meaning of the LED colors and behaviors in the image on the right. Keep in mind that you can change the brightness of the LED in the settings of the Roav VIVA app.
Roav is a subsidiary of Anker, which is popular and famous for their mobile device's accessories like portable chargers. Two USB ports of the VIVA can charge two mobile devices simultaneously. They both have the Anker's exclusive fast-charging technologies; PowerIQ and VoltageBoost, and provide up to 2.4 A to charge your device quickly.
Setup
Plug the VIVA into your car's cigarette lighter socket. Start the car, and the LED ring will turn blue with a circulating cyan light.
Download the Roav VIVA app from Apple App Store or Google Play Store.
Open the app, select "Roav VIVA_XXXX" to complete a Bluetooth connection to your phone.
Follow the instruction in the app to link with your Amazon Alexa's account. If you never use any Alexa-enabled devices such as Echo, Fire tablet, or Fire TV, you need to create Amazon Alexa's account. Install the Amazon Alexa app for iOS or Android and create the account. It's free, meaning that you don't have to own other Alexa-enabled devices in your home. It's totally fine that the VIVA is your first or only Alexa-enabled device.
Lastly, your phone needs to connect with your car's audio to have sound come out of vehicle's speakers. There are several methods to get connected. The app has instructions to help you connect via Bluetooth, Aux-in, and USB cable, and you can play the test audio. Most modern cars have any or all of these methods, but older cars may have none of these. If so, you may need an FM transmitter or cassette adapter. Please note the VIVA can work even if you don't connect your phone to your car's audio. Without car's audio, the sound comes out of the phone's speaker.
Firmware Update – After completing setup, check if a firmware update is available. Firmware update doesn't start installing automatically. You will need to open the app and start for yourself. An update needs to be done in your vehicle, with the engine on, and your phone connected to the VIVA.
Who is the Roav VIVA for?
The VIVA always needs a smartphone to work with. And the smartphone already has its voice assistance feature such as Google Assistant or Siri. Why would you need an extra gadget for a voice assistance feature? Here is the thing.
If you are heavily invested in the Amazon Alexa's ecosystem, you probably want Alexa with you everywhere even while driving. If you subscribe to Amazon Music Unlimited, you'd be happy with a complete hands-free control of the music player on demand with tens of millions of songs. If you have some Alexa-enabled devices in your home, you'd prefer the same voice assistance in your car. And thousands of Alexa skills enhances the experience with Alexa-enabled devices, which other voice assistance can't even compete.
If you prefer Alexa, you might know the Reverb app and install it on your smartphone. The app successfully brings Alexa to your smartphone, but its features are limited. You can't play music, news, radio, or anything that requires streaming. Besides, it doesn't offer a hands-free experience. Even if you create a widget or shortcut to access the app quickly, you always need to tap the icon to speak Alexa.
Some people bring Echo Dot in their car. Unlike the original Echo, the Dot is small enough to fit in a center console, and it can get powered via a micro USB cable. Having Echo Dot in a car gives a perfect hands-free experience without any restrictions, but there are two significant disadvantages. First, it takes a few minutes to get ready after you turn on the car while the VIVA takes at most 30 seconds. Second, Echo Dot requires a WiFi connection. In order to get WiFi in your car, you will need a portable WiFi device or use your phone's hotspot feature. Both have a cap on usage. The VIVA uses your phone data connection so you can take advantage of the unlimited data which many phone's carriers offer.
Conclusion
The Roav VIVA is not for everyone. If you are happy using Google Assistant or Siri, there is no reason to bring Alexa into your car. But, if you use Alexa in your home, the VIVA will work seamlessly in your vehicle as Echo devices in your home do. It's worth the price ($50). And remember, the VIVA is also a car charger with two USB outputs equipped Anker's fast-charging technology. Click here to see the latest price.
Related Post: Roav Viva Pro by Anker review – Alexa-Enabled 2-Port USB Car Charger with FM transmitter