Amazon has released a smart plug along with a new lineup of Echo devices in 2018. Amazon Smart Plug is the first official smart plug by Amazon.
Amazon Smart Plug is similar with TP-Link MIni and Wemo Mini
What it does is the exactly the same as other smart plugs. Plug some dumb devices like a fan and coffee maker and turn it on and off with using a home WiFi network and a mobile app or voice assistant speaker. Amazon Smart Plug doesn't have a fancy feature like energy monitoring. It's small enough to put two plugs in the same outlet. It's very similar and comparable to TP-Link Mini or Wemo Mini smart plugs.
The price is reasonable
The price is $24.99. It's very reasonable but not too attractive because of the timing of the release. Multiple manufacturers already released similar plugs a few years ago. And now they are on the market with a discount.
For example, the original price of TP-Link Mini is $34.99, and now it's around $25. The original price of the Wemo Mini is also $34.99, and now it's about $25. If you buy multiple packs, it's possible to get less than $20 each. So, there is not much difference in price now.
Works with Amazon Alexa only
These two popular smart plugs, TP-Link and Wemo, are compatible with Amazon Alexa and Google Assistant. And, Wemo Mini is also compatible with Apple HomeKit. So, Wemo Mini is the most versatile smart plug among similar devices on the market.
Read Also: Wemo Mini works with Apple HomeKit without Wemo Bridge
On the other hand, Amazon Smart Plug works with Amazon Alexa and Alexa app. There is no way to control it with Google Home speakers or Apple's Siri. However, you can do it with Alexa app on iOS devices.
The benefits of Amazon Smart Plug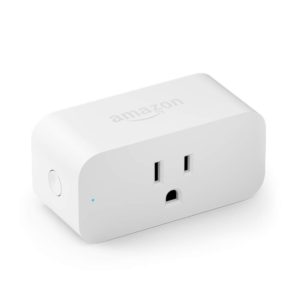 The specifications, features, and prices are all similar among these mini smart plugs. And it's limited in Amazon's ecosystem. What are the benefits of Amazon Smart Plug?
Ease of Setup
One of the benefits is ease of setup. Let's say you already have an Alexa-enabled device like Echo speaker and installed Amazon Alexa app on your smartphone. All you need to do is to plug it into an outlet and open the app. Soon, you will receive a notification that your new Smart Plug was named "First Plug," and you can turn it on by saying "Alexa, turn on First Plug."
That's it. Of course, you can rename the plug in the app later. You can also set up a timer, schedule, or routine in the Alexa app. And that is another benefit, meaning that you don't need to install another app to set up and manage it. The Alexa app governs all devices and controls them all.
No third-party app
Devices probably have a strong connection between them because they've been in the same Amazon's ecosystem without any third-party apps involved. I have Wemo Mini, Light Switch, and Insight (smart plug with energy monitoring) and usually control them by voice with Alexa. The Mini responds most of the time, but the Insight and Switch got out of connection very often. If Amazon releases a smart plug with energy monitoring or smart light switch, I would like to try them and hope they respond all the time.
Read Also: Tips and tricks of Wemo Insight smart plug
Conclusion
Amazon Smart Plug works with Alexa only. If you use Google Assistant or Apple Siri to control your smart home devices, this is not the right product for you. But, if you already have Alexa-enabled devices, you will make use of it. Ease of setup and no need of third-party app are some hidden benefits.
The original price of $24.99 is competitive with similar products, and it's a good start. It's probably getting cheaper in the future, or there may be some promotions like 2 for $xx, buy three get $xx discount, etc. Click here to see the latest price of Amazon Smart Plug.
A bundle of new Echo Dot (3rd gen) and Smart Plug save you $10 instead of buying two times separately.