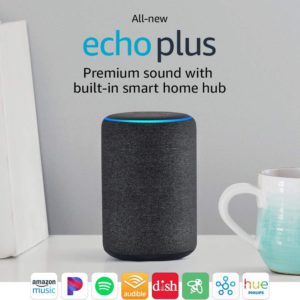 The new Amazon Echo Plus (2018) ditches a tall cylindrical design which was from the very first Echo debuted in 2014. It has become squatter and shorter. Now, it looks more like the 2nd gen Echo (2017), but have fabric on the side and rounded edge on top and bottom. The price $149.99 is the same as the 1st gen Echo Plus (2017).
Design
The 2nd Gen Echo Plus look more like the 2nd gen Echo. It becomes shorter and wider. A fabric mesh covers all around the side of the device. The physical volume dial has been replaced with +&- buttons. Action and mute buttons are placed on the top with volume buttons just like other recent Echo speakers.
A LED ring is around the edge on the top. The edges on top and bottom are rounder than 1st gen Echo Plus or 2nd gen Echo and Echo Dot. On the side near the bottom, there are a power port and 3.5mm AUX output port.
Color
Three colors are available, Charcoal, Heather Gray, and Sandstone. They are simply three different tones of grey. The 3rd gen Echo Dot (2018) has exactly the same color variations.
Specification
Size: 5.8" x 3.9" x 3.9" (148 x 99 x 99 mm)
Weight: 27.5 oz. (780 grams)
Actual size and weight may vary by manufacturing process
Stereo Pairing
You can use two Echo Plus as a left and right speaker. This feature is compatible with that the 2nd gen Echo Plus and 3rd gen Echo Dot which are both released in late 2018. With another new Echo line, Echo Sub, you can create a 2.1 audio system with boost bass performance.
Built-in Temperature sensor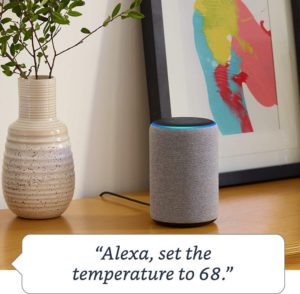 A temperature sensor isn't a fancy device, but many things would be possible when it works with a smart speaker. The new Echo Plus has the built-in temperature sensor. It monitors room temperature. You can ask Aleax the current temperature or set up home automation. (e.g. when the temp is above 75 degrees, turn on the fan, etc.)
Sound
The new Echo Plus has improvement on sound, too. While it has 0.8-inch sweeter, a subwoofer gets a little larger to 3.0-inch. There is a stronger bass as compared with the previous models.
Built-in Smart Hub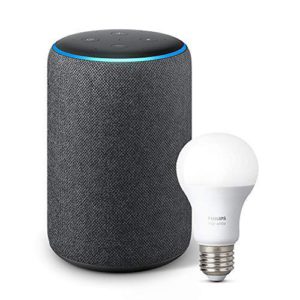 The new Echo Plus continues to have a built-in smart hub to control a range of other smart home devices such as lights, thermostats, cameras, and switches. A free Philips Hue White light bulb is bundled with Echo Plus at Amazon. If you prefer, you can choose the Echo Plus only for a slightly discounted price.
The built-in smart hub allows Alexa to control many smart home devices. However, there are many smart home devices which don't require a hub. For example, TP-Link has a range of smart home devices such as a smart plug, security camera, and light bulb. None of these requires a hub. And you can control them with any Echo devices, even the very first Echo speaker from 2014.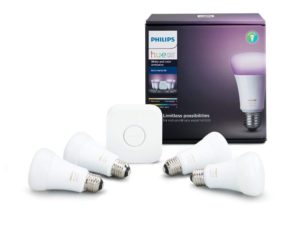 Philips Hue products are a different story. They all need a hub. Thanks to the built-in smart hub, Alexa can control Philips Hue light bulbs. But, you can't use the full features of Philips Hue products without the original hub from Philips.
Philips was one of the first manufacturers to enter the smart home market, and now they have a wide range of products. They are not only lighting but also switches and sensors. The built-in smart hub of Echo Plus is not capable of handling the full features of Philips Hue products.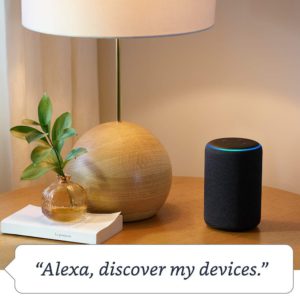 With Echo Plus, of course, you can do a simple task like turning on/off and changing colors, but you can't even set up a light switch or motion sensor. And if you just want to turn on/off or change colors, you can choose the smart light bulbs and switches that don't require a hub like TP-Link from the beginning. You don't have to have Echo Plus for those products. You can control them with Echo and Echo Dot.
The point is that the built-in smart hub is not a significant feature of Echo Plus. It would be fascinating if software and hardware updates make the built-in hub equivalent to the Philips Hub. But, it is far from it for now.
Conclusion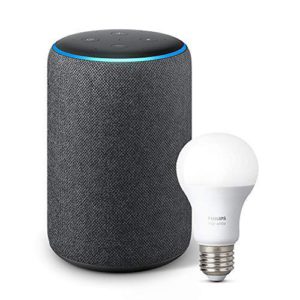 The 2nd gen Echo Plus (2018) has an improvement on bass sound. Stereo Paring features allow you to use two Echo Plus as a left and right speaker. The design is more like 2nd Echo 2017 version with fabric on its side. Its new built-in temperature sensor is physically a simple addition, but it seems to have a lot of usages. The built-in smart hub doesn't have much significance because many smart home products can directly connect to the WiFi network and controlled by any Echo devices. Overall, however, the 2nd gen Echo Plus is worth a price, and it has many improvements over the 1st gen with the same price. Click here to see the latest price.