Oculus Quest is a highly-anticipated standalone VR headset which will be available in Spring 2019. It's an all-in-one VR headset, no wires and no PC like Oculus Go, but six degrees of freedom (6DOF) experience like Oculus Rift. Oculus Quest is expected to take VR gaming to the next level and bring Virtual Reality industry into the mainstream.
All-in-one VR headset
Everything you need to start VR with Oculus Quest is inside the box. Setup is as easy as Oculus Go, and performance is as high as Oculus Rift.
Read Also: Oculus Go all-in-one standalone VR headset review
Insight Tracking System
With Oculus Quest, you can move forward, backward, left, right, up, and down. All your movements in real-world reflect in the world of virtual reality. It's the same experience as Oculus Rift, but Oculus Quest uses a new tracking system called Oculus Insight. Four wide-angle sensors are built into the corners of a front plate of the headset. Insight tracking system eliminates the need for any external sensors to track your movement.
Read Also: The Best Virtual Reality Headset for a stater – three different types of VR headset
Speakers
Just like Oculus Go, Oculus Quest has built-in speakers into side straps. They provide 3D spatial audio without the need for headphones.
Head Straps
Unlike Windows Mixed Reality or PlayStation VR headsets, Oculus Quest utilizes similar head straps to Oculus Rift. Both sides and top of the head strap have an adjustment. And a flexible spring system allows you to slip the headset on your head like a baseball cap.
Display
With a resolution of 1600 x 1440 per eye. It's the same optics as Oculus Go.
Touch Controllers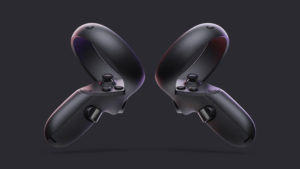 Two fully tracked hand controllers are included. They have the same amount of buttons as ones for Oculus Rift. But, rings for tracking sensors are on the grips, rather than under the grips. That's probably better for the tracking sensors of Oculus Quest to see the controllers. If you put the controllers behind you or where the tracking sensors can't see them, it loses track. This is the problem found in all Windows Mixed Reality headsets. But, tracking sensors of Oculus Quest are wide-angled. So, this problem may less frequently happen than Windows Mixed Reality headsets.
Read Also: What's the best Windows Mixed Reality VR headset?
Beyond Room Scale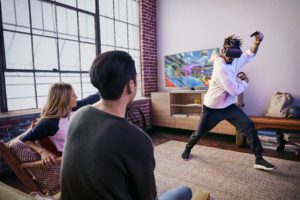 No external sensors give you not only a benefit of ease of setup but also use anywhere. It doesn't matter space is big or small. Oculus Quest fits and works with all your environment.
Miscellaneous
Quest will have an internal cooling fan, rather than a heat-dissipating front plate of Oculus Go.
There is a power button, a charging port (USB-C, it may be possible fast-charging), and 3.5mm headphone jack if you want to use your headphones. On the bottom of the headset, there's an IPD (Inter-Pupillary Distance) adjustment slider and volume buttons.
Games
50 game titles are expected to be released at the launch of Oculus Quest, including a popular climbing simulator, The Climb, and adventure-puzzle game, Moss.
What's in the box
VR headset
Touch controllers for Oculus Quest
Power adapter
Eyeglass spacer
Oculus Insight tracking system
Price
It will be $399.
Release Date
Oculus Quest will be available sometime in Spring 2019. There is no official date yet.
Click here to see the updates, questions and answers, setup email you when available.