Anova Nano Sous Vide cooker is launched in 2018 with updated technology. It is smaller, quieter, more efficient than the previous model. It only has Bluetooth. There is no WiFi to control remotely away from home. The dial has been eliminated. All settings are done by touch buttons on display on the top or mobile app on Android or iOS devices.
Specifications
Dimension: 4.1″ x 2.2″ x 12.8″
Weight: 3.04 lb
Connectivity: Bluetooth 4.2
Precision: ±0.1° precision
Power: 750 W
Anova App: Includes Anova App
Recipes: 1,000+ Recipes
Voltage: 120V
Anova Nano vs. Anova WiFi version
Anova Nano doesn't have WiFi. So, you can't control it when you are away from home. But, I strongly doubt the necessity of remote control of sous vide cooker. You always need to be home to prepare a water bath and put food in it. What's the significance of starting a cooker remotely? You can stop the cooker on the way home, but the food remains in a water bath, anyway.
Read Also: Anova Sous Vide Precision Cooker review
Anova Nano has Bluetooth only just like the 1st version of Anova cooker. You can control via the Anova app on Android or iOS devices or using touch buttons on the display of the cooker. A dial to set temperature or timer has been eliminated. You can set temp and timer with touch buttons on display. Speaking of the timer, you will probably find out how to set it without looking up a manual or anything. (setting a timer on the previous models is like a secret command. I believe you never find out how for yourself. Watch the video below to see how to do it.)
WiFi version outputs up to 900W, and Nano does up to 750W. It seems WiFi version is more powerful than Nano, but actually, there is not much difference in performance. So you can consider it as an improvement. Nano is more energy efficient than the previous model. And it's noticeably quieter.
The previous version can remove the bottom part that is called Skirt to clean heating element, circulator, and an inner wall of the skirt. But, Nano is almost all solid, even the clip is not removable. Thus, it is more difficult to dry or clean than the previous model. Instead of this inconvenience, Nano is waterproof. An accidental drop in a water bath won't be a problem.
Anova Nano vs. ChefStep Joule
ChefStep Joule is much smaller, but it's more powerful than the Nano or any other Sous Vide cooker on the market. You can use Joule in a larger water bath, but, you can also use it in a shallow pot or frying pan thanks to its sophisticated design. It has both WiFi and Bluetooth. So you can control it remotely. The only drawback of Joule is that you always need a mobile app to operate it. Without a mobile app and device, it's completely useless. If you cook the same food many times, you probably remember the cooking temperature and time. In such cases, you may feel bothersome to open the app to set temp and start the cooker.
Read Also: Chefsteps Joule sous vide immersion circulator review
Conclusion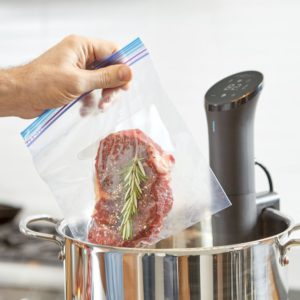 Anova Nano has many improvements over the previous model. It got more stylish, more efficient, and waterproof. The display on the top looks more sophisticated, and it's a lot easier to use, especially setting a timer. It doesn't have WiFi for you to control it remotely. So, if you want the cooker that you can control away from home, the Nano is not the right product for you. But, a WiFi feature is not that practical. You may use WiFi feature or a mobile app to start a cooker for several times at first, but you will probably end up with only using directly on the touch buttons on the display when you get used to sous vide cooking.
If you already have the previous model, I don't think you need to upgrade because overall performance is not much changed. But, the Nano is recommended for those who need the first or another sous vide cooker or for Joule owners who don't like about having to use a mobile app every time. Click here to see the latest price of Anova Culinary Sous Vide Precision Cooker Nano.