At the time of writing, there are six different Windows Mixed Reality VR headsets to choose from. Most features and specifications are the same among them, but some differences do exist in features and specs as well as comfort level and prices. Just take a close look at these differences, and you will find the best Windows Mixed Reality VR headset.
Design
All Windows Mixed Reality headsets designs are similar. They all use a headband like PlayStation VR. A head-mounted display or "Visor" is attached to the front of the headband.
The headsets from all brands but Samsung installed a hinge on the attachment so you can lift up the visor to see your surroundings in the real world without taking off the headset from your head. Samsung probably wants to make their headset sturdy without worrying about a potential issue by installing a hinge between the visor and headband.
Acer WMR Headset
Asus WMR Headset
HP WMR Headset
Dell Visor WMR Headset
Lenovo Explorer WMR Headset
Samsung HMD Odyssey WMR headset
Color
Asus headset has a black polygon finish on the faceplate. It gives a stylish and futuristic impression. Acer headset uses blue plastic for the faceplate with a black line on the center. Dell Visor headset is the only Windows Mixed Reality headset that uses white in color. But, parts that touch your face and head are black. Lenovo, HP, and Samsung headsets are all black.
Audio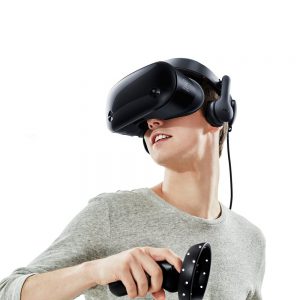 Good quality audio is another essential element to bring you an immersive experience. Surprisingly, Samsung Odyssey is the only device that has built-in headphones. They offer 3D spatial audio from AKG. Other headsets have 3.5mm audio jack to plug in your own headphones.
Controller
All Windows Mixed Reality headsets include two motion controllers. The overall design and button layout are the same, but Samsung made some effort for us to hold them comfortably. Samsung's controllers have rounder edges than all other brands controller. And, a thumbstick of Samsung's controller is more accessible thanks to a slightly different layout than others.
Display
Except for Samsung, headsets by other manufacturers have the same specs for a display. They offer 1440 x 1440 per eye, LCD, 90Hz. As for Samsung, it offers 1440 x 1600 per eye, AMOLED, 90Hz. It may not seem there is a big difference, but AMOLED display provides crisp images and vivid colors. There is no doubt that Samsung Odyssey's display is superior to any other Windows Mixed Reality headsets.
Adjustable IPD
IPD stands for Inter-Pupillary Distance. Only Samsung HMD Odyssey has a dial to adjust IPD between 60 to 72mm.
Field of View
FOV (Field Of View) is one of the critical specs of VR headsets to provide an immersive experience. The higher the degrees of FOV, the more immersive experience you are able to have because we have a broader vision in the real world. The lower degrees, the narrower the vision is. It's like you are seeing through binoculars. Here are FOVs of all Windows Mixed Reality Headsets.
Acer WMR headset: 95 degrees
ASUS WMR headset: 95 degrees
HP WMR headset: 95 degree
Dell Visor: 110 degrees
Lenovo Explorer: 105 degrees
Samsung Odyssey: 110 degrees
As a comparison, FOVs of HTC Vive and Oculus Rift are both 110 degrees.
Inside-Out Tracking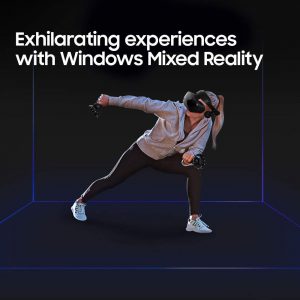 All Windows Mixed Reality headsets allow for six degrees of freedom, which you can move inside the virtual world. Premium VR headsets like HTV Vive or Oculus Rift also offer six degrees of freedom, but the tracking system of Windows Mixed Reality headsets is different from theirs.
Windows Mixed Reality headsets adopt Inside-out tracking. Instead of using external sensors, the headsets have two cameras built in front of a head-mounted display, which monitor the position of the headset itself and motion controllers.
Since Inside-out tracking eliminates the need for external sensors, the setup of Windows Mixed Reality is easy. However, if you place motion controllers out of sight of two cameras, say you look straight ahead and put the controllers behind your back, the tracking will be lost. This is the problem in common on all Windows Mixed Reality headsets.
Price
Conclusion
If you want to have the best VR experience, Samsung HMD Odyssey is the most recommended headset. It's the only Windows Mixed Reality headset that has built-in headphones, high resolution, and AMOLED display. And the headband and face pad have good cushioning covered by leather. It's very comfortable to wear and easy to clean up. The controller is also designed for comfort in mind.
Read Also: Samsung HMD Odyssey Windows Mixed Reality VR headset review
Samsung HMD Odyssey, however, lacks a feature of flipping the visor, which is found on all other headsets. And above all, the price is the most expensive. The original price of $499 is the same price range of HTC Vive and Oculus Rift. Besides, you may find other Windows Mixed Reality headsets with discount, but not so often for Samsung HMD Odyssey at the time of writing. If you don't care the price or you find one with a good discount, Samsung HMD Odyssey would give you the best VR experience. Click here to see the latest price.