Mobile VR, or phone-based VR headsets relatively inexpensive. That's because the most expensive component to perform VR processing are packed in smartphones. It is convenient for those who already have a smartphone that is compatible with a VR headset. All they need is a cheap VR headset.
However, using your smartphone for VR have a lot of inconveniences.
VR consumes a lot of battery power of a smartphone. Notifications interrupt your gameplay. Phones have to keep working as a phone even when it's on VR. It causes too much load for phones to handle, and get overheating very often. You may have to remove a phone case to mount on the headset. There are many disadvantages.
Read Also: Is my phone VR compatible? Here is how to check
As a solution to these problems, Google and Oculus have made standalone VR headsets.
They don't require a smartphone to place in front of the headset or wires connected to PC. Both headsets have released in early 2018. As the time of writing, these are the only headsets which are called Standalone. Here is a comparison of Oculus Go and Lenovo Mirage Solo.
Design of Oculus Go
Oculus Go looks similar to Oculus Rift except for lack of bulky headphones. Instead of bulky headphones, Oculus Go hides built-in speakers inside brackets to which head straps attach. The built-in speakers received many positive reviews. They provide great spacial audio. The head strap is made of flexible and elastic fabric, and it can be folded or detached completely. With its grey mono-tone color, Oculus Go looks plain but stylish and compact. It's easy to carry, and it doesn't take too much space on a desk or in a drawer.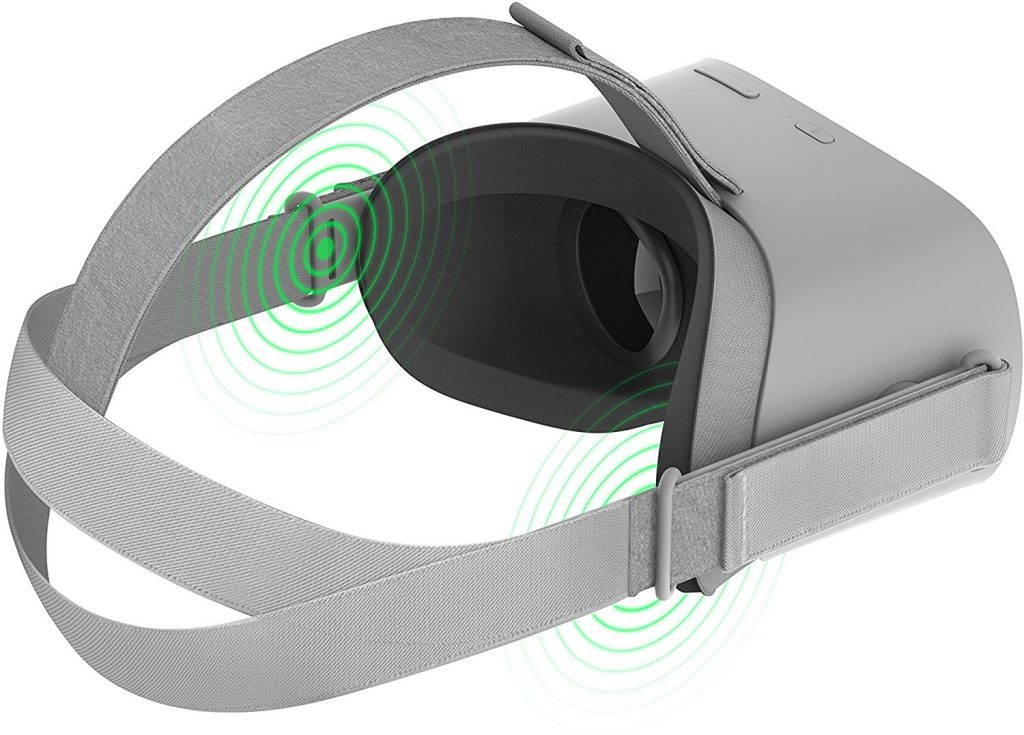 Design of Lenovo Mirage Solo
Lenovo Mirage Solo has a similar design to PlayStation VR headset. Just like a PSVR headset, Mirage Solo uses a headband. The head-mounted display (=HMD) is fixed to the front part of the headband. The distance of the headband and HMD is adjustable. No matter how tight you squeeze the headband, you can relieve the pressure from HMD against your face by adjusting the distance between HMD and the headband. You can see a pair of cameras on the front of HMD, which allows you to make limited movement inside VR. There is no built-in speaker. You need to plug earbuds or headphones into the jack on the side of the headset. Otherwise, it's completely silent. There is no fabric anywhere but plastic instead. The overall design of Mirage Solo is stylish but large and bulky. It's hard to carry, and it takes up space.
WorldSense Positional Tracking
WorldSense is a brand new technology that has been first implemented in Mirage Solo. A couple of cameras on the front of HMD can keep tracking the position without external sensors or cameras. All movements such as lean, duck, and jump reflect inside VR. You can also walk around, but just a step or two because the range you can move is very limited.
Apps and Games
Apps and games for their headsets are different and available at different stores. For Oculus Go, you can download and install from Oculus Store. That is different from Oculus Store for Gear VR, but most apps and games found in the store for Gear VR are found in the store for Oculus Go. If you have paid apps and games for Gear VR, you can download and install for Oculus Go without being charged as long as you log in the same Oculus account.
Apps and games for Mirage Solo are available at Daydream platform. There are 250+ apps and games at launch. Most of them are in common with ones for Daydream View, which doesn't have WorldSense technology. Currently, many apps don't take advantage of 6DoF, but eventually, there will be more and more apps compatible with the WorldSense technology.
Since Oculus platform has been existing much longer than Daydream platform, there are much more numbers of apps and games available in Oculus Store for Oculus Go than Daydream for Mirage Solo.
Battery Life
Both manufacturers claim the battery lasts 2.5 hours with continuous use. And these are correct or can be even longer depending on what you play with them. Both headsets include a wall charger and USB cable. It's worth noting that the charging port of Mirage Solo is USB-C, but the port of Oculus Go is USB Micro B. It's a little strange because most latest electric devices come with USB-C. Even the second generation of Gear VR which was released a couple of years ago has USB-C. I don't know what is the benefit from it.
Internal Storage and Micro SD support
Oculus Go comes with two different models. One is 32GB of internal storage, and the other is 64GB. There is no Micro SD card slot. However, a rumor says that the charging port would support a flash drive with future firmware update. Mirage Solo does have a slot for Micro SD card expandable up to 256 GB. And the internal storage of Mirage Solo is 64GB.
Conclusion
As you see, Oculus Go and Mirage Solo are very different in many aspects. Especially in features, Mirage Solo's WorldSense is a brand new technology. It's just amazing and promising, but currently, it lacks apps and games. And, keep in mind that a range you can move is very limited. You can't expect the same experience as Oculus Rift or HTC Vive.
Designs of the headsets are also very different. Oculus Go is compact, portable, and looks casual. Mirage Solo has a solid and bulky headband. You can squeeze the band tight enough to stay in position even when you jump, duck, lean, and so on. Thus, Mirage Solo is suitable for gamers.
The original retail price of Oculus Go is $199 for 32GB, $249 for 64GB, and Mirage Solo is $399. Is WorldSense and other advantages like Micro SD support worth $150 to $200 price difference? Probably not because it evidently lacks apps and games compatible with WorldSense for now.
Read Also: Lenovo Mirage Solo with Daydream Standalone VR headset review
Although overall VR experience with Oculus Go is not much different from one with Gear VR or other phone-based VRs, it provides more comfortable and seamless experience. Plus, the built-in spacial audio speakers make Oculus Go more comprehensive as a standalone VR headset.
Read Also: Oculus Go all-in-one standalone VR headset review
Feature
Oculus Go
Mirage Solo
Weight
1.03 lb
1.42 lb
Processor
Snapdragon 821
Snapdragon 835
Memory
4GB RAM
4GB RAM
Audio
Built-in speakers
3.5mm headphone jack
3.5mm headphone jack
Storage
32GB
64GB
64GB
expandable up to 256GB with Micro SD)
Display
LCD (2560x1440)
LCD (2560x1440)
Sensors
3DoF Gyroscope
Accelerometer
Magnetometer
6DoF WorldSense Cameras
P-Sensor
Gyroscope
Accelerometer
Magnetometer
Controller
3DoF Oculus Controller
3DoF Daydream controller
Wireless
WiFi 802.11 ac/n
WiFi 802.11 ac/n
2x2 MIMO Dual Band
Bluetooth
3.0
5.0 + BLE
Price
*Click to see the latest price
$199* (32GB)
$249* (64GB)
$399*