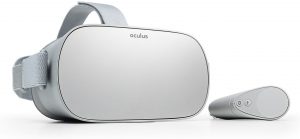 Oculus Go is the most affordable and portable VR headsets on the market. Its standalone processor and display eliminate the need of placing a smartphone in front of headset or connecting wires to a gaming computer. And built-in speakers provide quality spacial audio. With all these features packed, Oculus Go is a truly standalone VR headset and a lot easier for you to start experiencing a virtual reality than any other VR headsets.
No Wires, No Phones
Oculus Go is the third VR headset released from Oculus. It's believed to be between two other headsets, phone-powered Gear VR and PC-tethered Oculus Rift. Unlike Oculus Rift, you can't walk around in VR world with Oculus Go. It's very similar to Gear VR regarding capabilities. However, Oculus Go is more affordable because Gear VR requires Samsung's flagship smartphone.
No Overheating
Most parts of the headset are made of plastic. The metallic plate is used for a front panel to dissipate the heat. I have never seen an overheat warning message, which is a very common and almost inevitable problem of Gear VR.
Comfortable
A face pad is very comfortable. Although there are no holes for ventilation, it never fogged thanks to a breathable material of the face pad and deep cutout around the nose area. When you want to wash, you can remove the face pad by just pulling it and replace by just pushing it. The combination of well-designed face pad and lenses makes them fit each other securely without using Velcro or any other fasteners.
Storage
Oculus Go comes with two models, internal storage of 32GB and 64GB. The difference of original prices is $50. Naturally, the larger, the better but consider the discount. If it's a better deal, it's ok to get 32GB. Whether 32GB or 64GB, they both aren't a large capacity. It's unlikely the someone who thinks 32GB is short of storage and 64GB is sufficient.  It's important to know that Oculus Go doesn't have a Micro SD card slot. So, whether you have 32GB or 64GB, you will need to clean storage from time to time. And you may want to consider to use Plex or something similar if you like watching movies on the headset.
vs. Lenovo Mirage Solo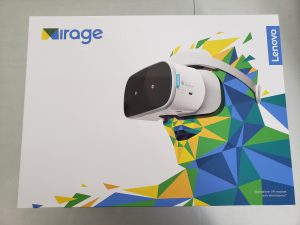 Oculus Go isn't the only standalone VR headset. Lenovo Mirage Solo was released in early 2018, which was almost the same time as the release of Oculus Go. Mirage Solo costs nearly twice as much as Oculus Go. That's because it has a brand new technology of position tracking. Oculus Go doesn't have this feature.
Mirage Solo has a solid headband, and it may not be comfortable when you are lying on a bed. On the other hand, Oculus Go has a flexible head strap. It won't bother much no matter how you are sitting or lying. You can even detach the strap. Thus, Mirage Solo is considered as a headset for gaming, and Oculus Go is suitable for casual users. If you want to watch 3D or 360 contents, Oculus Go would be a better choice than Mirage Solo.
Oculus Store
Apps and games for Oculus Go are available in Oculus Store. You can have access to the store directly through the headset or in mobile app available for Android and iOS devices. Although Oculus Go is a standalone device, you must use the mobile app during setup of Oculus Go. Unlike Oculus app for Gear VR or Daydream app for Daydream View, the mobile app is available for not only specific smartphones such as Samsung Galaxy and Google Pixel but for most Android and iOS devices.
Battery
According to Oculus, the battery of the headset lasts 2.5 hours and recharges in 3 hours. Not many people can wear the headset for hours continually. Taking a break from time to time and charging during the break will extend the overall battery life.
Power off and Sleep mode
Oculus Go is an Android-based device. And it's similar to smartphones regarding power on/off behavior. Pressing the power button of Oculus Go doesn't power off the device but go into sleep mode. You have to hold down the power button and confirm through the headset to power off. From sleep mode, you can wake up the headset by pressing the power button or just putting the headset on your face. A proximity sensor detects your face and wakes up the device automatically for you. However, the sensor can be triggered by anything. If you put your finger close to the sensor, it will wake up. If the head strap hangs down on it, it will also wake up. So, when you carry the headset, you should power it off.
Social Networking and Sharing
Facebook owns Oculus, and they make an effort to urge owners to use Oculus Go in social network and sharing. Oculus Rooms is a pre-installed app which you can invite your friends and hang around with them in a virtual living room. Then, you can share photos, play tabletop games, and watch movies with them. You can also take a screenshot, record a gameplay video, or live-stream to Facebook for everyone to watch. To share your experience with your friends who are actually right next to you, Oculus plans to add a streaming feature to Chromecast.
Related Posts