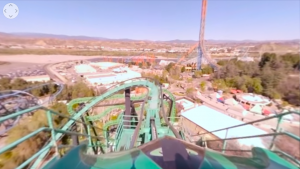 Mobile VR headsets use smartphones as a display by mounting it in front of lenses. But, you should know that not all smartphones support VR apps and 360-degree videos. A smartphone should have a Gyroscope sensor to play VR contents. It's not much about how new a phone is. In fact, there are numbers of new phones that don't have this sensor. Instead of looking for a spec chart of your smartphone on the internet, there is an easy way to check if your phone supports VR contents.
First, go to Youtube from your phone and search 360-degree videos. While playing videos, tilt your phone up and down, left and right. The videos should move along with a movement of your phone. For example, in a roller coaster of 360-degree video, you cannot only see where it's going but also the views on your left and right by turning your phone left and right, look up the sky and down the ground by tilting up and down or even look behind by flipping the phone.
If videos don't move, your phone doesn't support VR contents, and the phone is not compatible with any VR headsets. Just in case, to make sure that what you are watching are 360-degree videos, play the videos and swipe the screen in any direction. 360-degree videos should move or spin by swiping the screen.
There are many other ways to check compatibility. Here are some of them.
Go to VRtest.Ninja from your phone and tap Start. It will tell you either GOOD or FAIL, and you can even see your test result details.
Go to https://www.freeflyvr.com/compatible/. There is a list of compatible phones. See if your phone is listed.
Install Sensor Box for Android app. It will detect all available sensors on your device and even show you how each one works with an animation. (Android device only)
In addition, Google Cardboard app is available for Android or iOS devices, but there are numbers of VR apps available on Microsoft Store for Windows phones. As long as it has a Gyroscope sensor you can enjoy VR contents on Windows phones, too. And, it's not limited to smartphones. iPod touch 5th Gen and newer are VR-compatible. iPod touch 4th has the sensor, but a display (3.5″) is too small, not recommended.
Related Posts