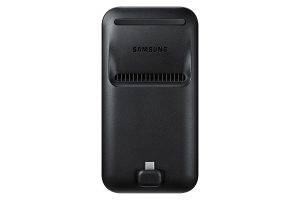 Samsung DeX Pad turns your Galaxy smartphone into a mini PC. Currently, the following models are compatible. Galaxy S8, S8+, Note 8, S9, and S9+.
Specs
Dimension: 6.125″ x 3.125″ x 1.25″
Weight: 4.7 oz
What's in the box
Samsung DeX Pad
HDMI cable
USB-C cable
Wall Charger
Quick Start Guide
Design
Samsung DeX Pad is a square pad made of plastic. The USB-C connector with a bracket sticks out on the surface. The tip of the connector can swivel a little, so you can easily insert and pull out your smartphone without causing damage or giving stress. However, a bracket covering the connector is solid. It can't be retracted or folded. It's always there.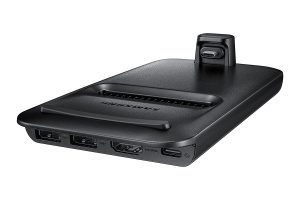 There is a vent for a built-in cooling fan in the middle. And There is a rubber for cushion and grip embedded on the opposite end to the connector. The rubber is slightly raised on the surface of DeX Pad. It makes a slight clearance between a smartphone and DeX Pad and gives a maximum cooling performance. There is another vent around the bottom edge on the back. And rubber pieces are embedded at each corner for grip.
On the top edge, two USB ports for an external mouse and keyboard, HDMI output, USB-C port for a power source. Unlike DeX Station, there is no Ethernet port.
What's different from DeX Station?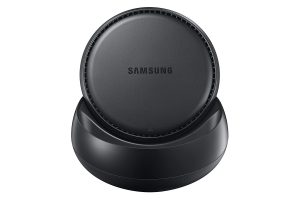 During use, a smartphone lies flat with its screen facing up. You can use the screen as a touchpad. DeX Station doesn't have this feature. The smartphone mounts on DeX Station vertically with an angle, and it just sits there and does nothing other than processing. It means you must have a mouse whenever you use DeX Station.
DeX Pad, on the other hand, gives you choices, which you use your smartphone as a touchpad or connect a mouse. When you click a text input field, a virtual keyboard pops up on a monitor (not on a smartphone's screen.) You can type texts by clicking letters on the virtual keyboard with a touchpad. It's tough and frustrating, but at least it means that DeX Pad can work without a keyboard or mouse. Reportedly, the screen of the smartphone will be used as a keyboard, but for now, it only functions as a touchpad.
There is another improvement. DeX Pad supports 2K resolution while DeX Station does 1080p.
Unlike DeX Station, DeX Pad doesn't block a headphone jack of a smartphone. So there is an option to use a wired headphone in addition to Bluetooth headphone, smartphone's speaker, and a monitor's speaker.
Setup
A setup of DeX Pad is a breeze. Connect all cables, and it's done. It automatically starts and prompts you to choose between Start Samsung DeX or Screen Mirroring.
If you want to use Bluetooth devices such as a headphone and keyboard, and they are already paired with your smartphone, you can use them without doing anything. If it's not paired yet, you can pair after starting DeX or in screen-mirroring mode, or directly using smartphone's setting before connecting DeX.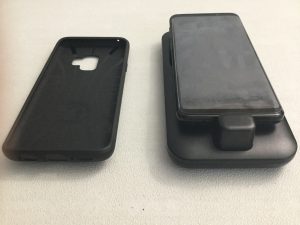 If it doesn't start DeX automatically, something is not connected correctly. Many users experience that their phone cases aren't compatible with DeX Pad. The cases have a cover on the bottom frame won't work with DeX Pad because the case blocks the connector to engage all the way inside the USB-C port of smartphone. So, you have to take off the case and connect to DeX. If you have a case with a large cutout around the bottom such as Samsung official cases and similar ones, it works without taking off the case.
Another issue comes with a message, "To use the DeX Pad, connect a Samsung fast charger. As the message says, you can't use any other wall adapters than the adapter come with DeX. I tried to use an adapter from Lenovo Mirage Solo which has the same output power (2.0 A) and Duracell 2.1 A output adapter. But neither of them doesn't work with DeX Pad.
Things I like and dislike DeX Pad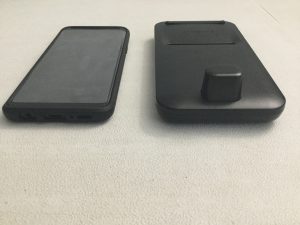 As mentioned above, many phone cases are not compatible with DeX Pad. The problem is straightforward. The connector can't engage all the way inside of USB-C port when the smartphone is covered with the case. And, this problem has been existing since the previous model, DeX Station. Solution to this problem could have been straightforward, too. Samsung had to make the connector more pointy or include extension adapter. Samsung seems that they don't care as long as their official case fits DeX.
Unlike a mouse or touchpad on laptops, there are no left and right clicks or scroll wheel. But, you can do the same navigations with a touchpad by tapping, double tapping, using one finger or two fingers. You will need a little time to get used, but it's easy and useful. I plan to take DeX Pad when I travel. I won't carry an external mouse with DeX Pad unless going on a business trip or an extra long vacation.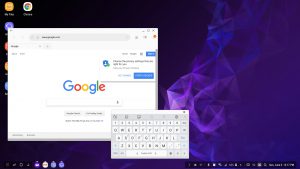 A keyboard, on the other hand, is disappointing. Samsung boastingly advertises that your smartphone on DeX Pad turns into a touchpad. However, they don't mention much about a keyboard. Until I got and tried DeX Pad, I thought a virtual keyboard would show up on the screen of a smartphone. But actually, a virtual keyboard shows up on the monitor only. You have to move the cursor and tap each letter with a touchpad. It may be OK for web browsing, but it's way too challenging for writing documents. I need to carry an external keyboard with DeX Pad.
Although Samsung successfully created a small, compact, and lightweight accessory for their smartphone, I hate the design of the connector. Why does it have to be solid and stuck out on the surface? It would be OK if it were foldable or retractable. I would appreciate for even just a cable attaching to the Pad, and it might have been a solution to phone case issue. The stick-out connector ruins the overall design of DeX Pad.
Conclusion
Samsung DeX Pad provides desktop experience and allows you to use the smartphone as a touchpad. The touchpad is useful, and you may not need an external mouse. However, a virtual keyboard is hard to use. You will need an external keyboard if you type a lot. The retail price $99.99 is a little pricey for the features it currently has. But when you consider software updates and the fact that developers have started creating third-party apps, it may be reasonable. DeX Pad is a good addition to your Samsung Galaxy smartphone's accessories. Click here to see the latest price.
Related Posts