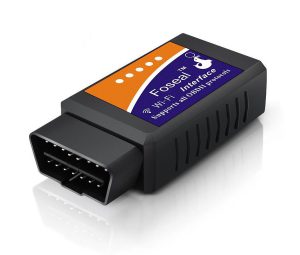 OBD2 adapters became popular in recent years. The adapters have access to the vehicles computer and at the same time, connect to your smartphone to diagnose engine problems or see extra engine data which is not normally displayed on the dashboard. They connect to your smartphone wirelessly using either Bluetooth or WiFi. Some brands have Bluetooth or WiFi version although they have the same specs and features. Why are there two versions? Bluetooth vs. WiFi OBD2 adapters. Which is better?
Basic of Bluetooth technology
Both Bluetooth and WiFi are wireless technology transmitting radio waves between two or more electric devices to communicate each other. Bluetooth is commonly used as a replacement for a wire between two electric devices such as transferring sound data from smartphone to headset or sending a small file between two computers.
Bluetooth is designed for transmitting small data between two or more devices that are close each other. And it consumes less power than WiFi. Thus, it's suitable for an application between two or more portable devices.
Basic of WiFi technology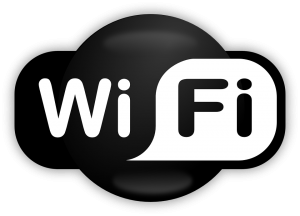 WiFi, on the other hand, is designed as a replacement for high-speed cabling which can handle large file transfers, streaming videos, and so on. Its radio wave can travel a wide range. So, it's commonly used in internet modem routers.
Speed of OBD2 adapters and application
Speaking of data transfer from OBD2 ports, data provided by vehicle's computer via OBD2 ports is small. It doesn't matter if you use Bluetooth or WiFi version OBD2 adapter. A difference of transfer speed between Bluetooth and WiFi can be ignored.
Power consumption of OBD2 adapters and application
OBD2 adapters don't contain a battery. They are powered by a vehicle's battery. So, it doesn't matter which adapter you use. The power consumption of OBD2 adapter is tiny. But your smartphone may affect for an extended time of use. It may consume more power when you use a WiFi adapter.
However, the difference is slight. And while driving, you probably use your smartphone as a music player, navigation, or receiving calls. You may need to charge your smartphone, anyway. And you can charge your smartphone via cigar socket anytime as long as you have a charger and cable. So, power consumption is not an important factor when you chose between Bluetooth and WiFi OBD2 adapter.
Non-MFi certified Bluetooth adapters won't work with iOS

Not all Bluetooth adapters are compatible with iOS devices. Because of Apple's MFi (Made For iPod) program, Bluetooth OBD2 adapters require a licensed special chip inside themselves to work with iOS devices. The ways to get around this restriction are either to make iOS devices jailbroken or to use WiFi OBD2 adapters.
Manufacturers who don't bother getting an MFi license create WiFi versions. That is why many Bluetooth OBD2 adapters, especially inexpensive ones, are not compatible with iOS devices. So, if you use iOS devices and consider purchasing an OBD2 adapter ranging from $10 to 30, the only choice is a WiFi OBD2 adapter.
No internet on Android device with WiFi adapter

WiFi OBD2 adapters work with Android, iOS, and even Windows. It seems that WiFi version is better than Bluetooth version. Should Android users choose WiFi over Bluetooth? No. There is a problem when you use WiFi adapters with Android devices.
Whenever an Android device connects to WiFi, it relies on the WiFi connection for internet traffic. The problem is that OBD2 adapters aren't internet modems. They are not connecting to the internet. So you can't use the internet while it's connected to WiFi adapters. And currently Android doesn't have a way to switch internet traffic to the mobile data connection unless you disconnect WiFi.
It's a huge drawback and hassle. Every time you need to look up details of trouble codes, you have to disconnect OBD2 adapter's WiFi. What's more, some features of OBD apps such as a route map won't work at all. So, if you are an Android user, you'd better choose Bluetooth OBD2 adapters.
iOS configuration to stay a mobile data connection
iOS devices can perform an advanced setting to stay connected to a mobile data network even when they are connected to WiFi. Click here to see the steps for DashCommand app. For other apps, the steps are almost the same, but you may need to enter a different IP address and Subnet Mask. Please refer to the page of each app for more details.
Bluetooth OBD2 adapters compatible with both Android and iOS
Here are the Bluetooth adapters compatible with both Android and iOS.
Kiwi 3 ($150) – Kiwi 3 is a fast and versatile adapter. It's compatible with many apps for Android and iOS devices. It also works with Windows. Click here to see more details.
Automatic Pro ($130) – Automatic Pro is focused on a vehicle tracking and logging. It has not only Bluetooth but also 3G connection and built-in GPS to locate your car all the time. It works with their Automatic Driving app and even their website to see a driving record. It's also compatible with several 3rd party apps on Android and iOS. Click here to see more details.
BlueDriver ($100) – BlueDriver is focused on a vehicle diagnosis. It works with their BlueDriver app exclusively. Through the app, you can have access to the repair reports generated from a database of over 6.6 million fixes verified by professionals. It also offers enhanced diagnosis such as ABS, SRS, and transmission on the supported makes and models. Click here to see more details.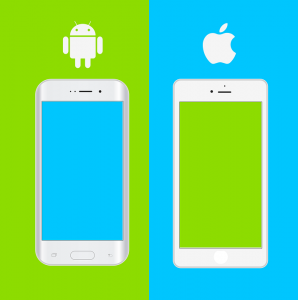 Conclusion
As a rule of thumb, choose Bluetooth OBD2 adapters if you use an Android device. For iOS users, some high-end adapters are Bluetooth and compatible with both Android and iOS. But, if you want inexpensive ones, choose WiFi adapters. And, keep in mind to change the WiFi setting to Static so you can use full features of apps.