Six free songs are added to Beat Saber. When you try to start the game, you will be notified the update is available and ask if you want to update. After being updated, you will see six new songs in OST vol.3. Here is a list of the songs.

Origins (ft. Mutrix) by Jaroslav Beck, Jan Ilavsky
Reason For Living by Morgan Page
Give A Little Love by Pegboard Nerds
Full Charge by PIXL
Immortal by Slippy
Burning Sands by Boom Kitty
All six new songs use gold and pink cubes. You are supposed to slash gold cubes with the left controller and pink cube with the right controller.
The issue with Custom Songs, Beat-On, and SideQuest
I play Beat Saber on Oculus Quest. If you have custom songs downloaded via SideQuest and Beat-On, you may experience installation failure no matter how many times you try to update. If it's the case, you need to uninstall Beat Saber via SideQuest or Beat-On and then reinstall Beat Saber.
Don't worry about your high scores. They remain intact throughout the process.
Even after you uninstall Beat Saber, you will continue to see the icon of the game in the home screen and library. Just click it, and it will start downloading and installing automatically.
Then, I tried to add custom songs back. I opened Beat-On and followed step 1 & 2 & 3. (1 – uninstall Beat Saber, 2 – patch on Beat Saber, 3 – install mod Beat Saber) However, it freezes. Beat-On says "Critical Error" in a red box and shows the image below forever. After that, you can't open Beat Saber or even uninstall it.
The only way to get out of this situation (as long as I know), hook up the headset to the computer and launch SideQuest. Click "Currently Installed Apps and a gear icon on Beat Saber and "UNINSTALL APP." Then you have to reinstall via the home screen or library. (A popup window says "Update", but what it actually does is download the whole game and install.)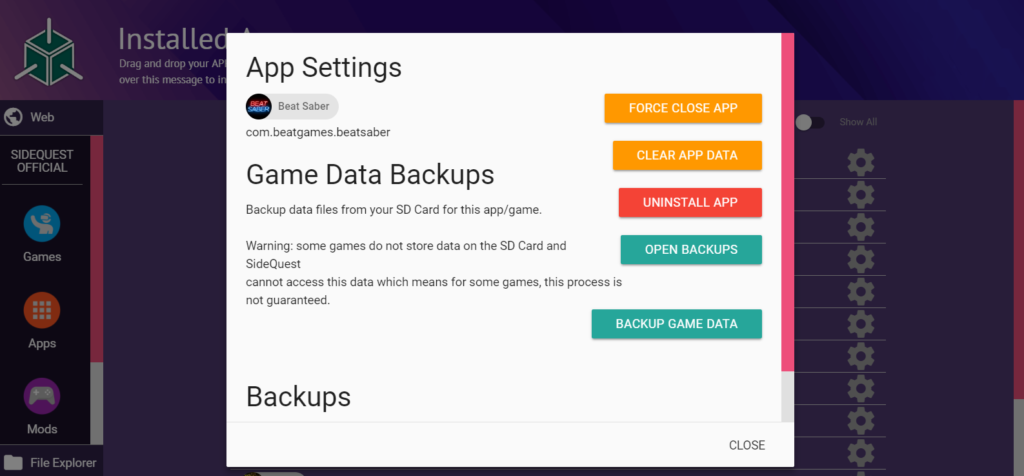 Again, don't worry about your high scores. I have done three times (freeze, uninstall, reinstall, Beat-On, freeze again), high stores stay without a need for a backup.
It seems the patch is not compatible with the updated Beat Saber. The developer will probably release a compatible patch soon. Until then, you can enjoy the new songs and many other songs in OST Vol.1 & 2, Extra, and add-ons.
Related Posts