It's been two years since Amazon Echo Dot 2nd Gen released. Amazon launched a new version (3rd Gen) Echo Dot in 2018.
Design
At about 4 inches in diameter and weighing over half a pound, the new Dot got bigger and heavier than the predecessor. That's because it has a more powerful 1.6-inch speaker, which is a half inch larger than a 2nd Dot's speaker.
The most noticeable difference from the prior model is a fabric rim on its side. And the edges of the top and bottom are rounder. Personally, I prefer the previous design. I don't know why Amazon wants to make the new Dot look similar to Google Home Mini.
Sound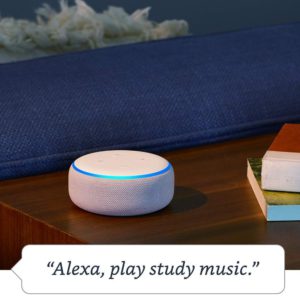 Thanks to a larger speaker, it can deliver a lot louder and better sound than the previous model. The drawback is that it requires more electricity than 2nd Dot. While 2nd Dot needs 9W, 3rd Dot does 15 W. It uses a proprietary barrel connector. And the cord is not detachable from the adapter. You can't use a phone charger to power the new Dot.
Stereo-Pairing
The new Dot supports Amazon's new stereo-pairing feature. The feature allows you to use two Dots as the left and right speakers on each. And you can also pair them with the new Echo Sub for the boosted bass of a 2.1-style setup. 2nd Dot and 1st Echo are not capable of this feature.
Microphones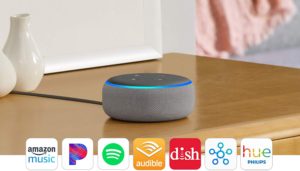 2nd Dot has seven microphones, and 3rd Dot has four. Unlike speakers, quality of microphone doesn't have a much noticeable difference.
Color
The new Dot is available in three different colors, Charcoal, Heather Gray, and Sandstone. They are all basically different shades of gray.
Price
The original price of 3rd Gen is the same as 2nd. It's $49.99.
New Features
Around the time of the release of new Echo devices in 2018, new features are added or will be added with the software update.
Hunches – Alexa will even remind you of your routine and make suggestions. For example, when you say "Goodnight," Alexa will say something like, "I think you left the light on the porch, would you like me to turn it off?" Amazon says this feature will get better and smarter over time.
Multistep Requests – You will be able to ask Alexa to multiple actions in one command. For example, you can say, "Alexa, add eggs, milk, and butter to my shopping list," or "Alexa, play pop music on Pandora at volume three."
Whisper Mode – It's simple. When you whisper to Alexa, she responds by whispering.
Alexa Guard – You will have Alexa to detect something suspicious while you are not home. After activating Guard mode by saying a phrase like "Alexa, I'm leaving," Alexa listens sound in the house and sends you an alert if the sound is unusual or suspicious like the sound of breaking glass or an alarm of smoke detector.

Conclusion
3rd Gen Echo Dot has a lot improvement on its speaker. If you are not satisfied with 2nd Dot's sound quality, it is definitely worth upgrading. And new "Stereo-Paring" feature can make a more desirable audio system in your room. Just keep in mind that it is a little bigger than 2nd Dot and no longer using a micro-USB cable. Click here to see the latest price of Amazon 3rd Gen Echo Dot.