Belkin Wemo Insight is a smart plug that works in your home automation. It connects to your home Wi-Fi network to switch on/off wirelessly. Using mobile devices such smartphones or iPhones with Wemo app installed, you can turn on/off the plug from anywhere. And It also works with Nest, Amazon Alexa, and IFTTT.
Difference from other Belkin Wemo Smart Plugs
Two other smart plugs are released by Belkin, Wemo Switch and Wemo Mini. Wemo Switch is bigger than Wemo Insight. Wemo Mini is smaller than Wemo Insight. It's so slim that it doesn't cover adjacent sockets on the same outlet. So, you can use multiple Wemo Mini plugs on the same outlet. The features of Wemo Switch and Mini are the same. They have the features of switching, scheduling, setting a timer, and being compatible with Amazon Alexa, Nest, and IFTTT. Wemo Insight has all these features plus Energy Monitor.
Energy Monitoring Feature
With this feature, you can use the Insight in more ways than you may think. As a basic way, you can see a real-time and average power consumption in the app. And it calculates the today's or estimate of monthly costs of operating an electric device. You may need to change Currency and Cost per kWh to get accurate values.
Data Export
You can have all of the usage and energy data exported to your email address in a CSV format. The app stores up to the last 30 days of data. You can also set up a schedule to send data daily, weekly, or monthly.
Usage Alerts
You will get a notification on your mobile device after you set up Usage Alerts. The app notifies you when Wemo Insight detects a device on, off, or on for the time duration you specified. The feature is useful when you use Wemo Insight for devices which automatically turn off or go into sleep/standby mode like a printer, electric kettle, or most battery chargers.
For example, this battery charger uses 100W when it just starts charging. As the battery is getting close to full, charging is slowing down, and power consumption is getting lower. Just before the battery gets full, the wattage is as low as 12W. And after it's fully charged, the charger uses only less than 2W to maintain the battery fully charged. You can take advantage of the difference of these values to get a notification when it fully charges the battery.
When you use Usage Alert, it's important to know the wattage when a device is in standby, off, or sleep mode and edit On/Standby Threshold in the app.
Setting a timer
A timer is useful for electric devices like a coffee maker or desk lamp which doesn't have many functions. For example, this coffee maker has only one toggle switch. You plug the coffee maker into Wemo, set a timer for one hour and you will never wonder or worry if you forget to turn it off after you leave home.
If Wemo Insight doesn't count down a timer…
Keep in mind that if you use an electric device that consumes very low power, the timer won't work properly with the default setting. The Insight doesn't consider a standby or sleep mode as ON. By default, On/Standby Threshold is 8W. For example, this desk lamp consumes only 7W. Though the lamp is on, and you set a timer for 30 minutes, countdown never starts. The Insight thinks it's in a standby mode because 7W is below the threshold. In this case, you will need to change the threshold to 6W or less to get the timer work properly.
Keep schedule without Wi-Fi network
Schedule is another feature available on all Wemo Smart Plugs. It's worth noting that Wemo remembers all the setting you made even after a power outage or losing Wi-Fi connection. Once you set up a schedule, the Wemo will keep doing without a Wi-Fi connection. You can make a schedule like turning off a modem and router for an hour and then turn back on at midnight every Sunday.
IFTTT
All Wemo products are compatible with IFTTT. IFTTT is a free web-based service that connects one app to another to interact each other. You make a set of conditional statements called Applets. When a condition is met in one app, it triggers an action in another app. Here is a full list of Triggers and Actions of Wemo Smart Plugs.
Triggers
Actions
Turn on
Turn off
Turn off then on
Turn on then off
Toggle on/off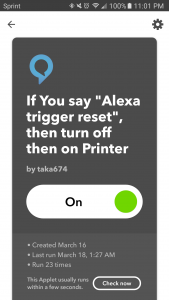 I personally use "Turn off then on" for my wireless printer. The printer often loses a wireless connection. It easily recovers by a power cycling. I used to turn off and then on manually. But now, thanks to IFTTT and Amazon Alexa. All I need to do is say, "Alexa, trigger reset."
Exclusive Triggers to Wemo Insight
Since Wemo Insight has an energy monitoring feature, there are some more Triggers. And you can make unique Applets with them.
Standby mode entered
Daily minutes on is longer than # minutes
Daily cost rises above $#
Monthly estimated cost rises above $#
With them, you can make Apples like, "Get a notification when a daily cost rises above $2." or "When a standby mode entered, blink Philips Hue light bulb." Unfortunately, Applets using these Insight-exclusive triggers don't work immediately. In my experience, they usually delay about five minutes. But they can be delayed by up to an hour as the website says. Applets using non-Insight exclusive triggers and actions work immediately!
Summary
The energy monitoring feature lets you use Wemo Insight in more creative ways. And Wemo Insight is one of the few smart plugs that are compatible with IFTTT. Altogether, the Insight is one of the best smart plugs on the market.
Related Posts: