Samsung Gear Fit 2 Pro is the updated version of Gear Fit 2, which is a stylish and versatile fitness band. At a glance, it's almost identical. What is the difference between the Samsung Gear Fit 2 and Pro?
Gear Fit 2 Pro

Gear Fit 2
Design
Both the Fit 2 and the Pro has a curved Super AMOLED touchscreen display. The Pro has a slightly smaller display, but you can't see a difference because the difference is 0.08 inches.
The back of the display, there are a heart rate monitor sensor and electrical contacts for charging. You can place it on a charger in either direction and built-in magnet helps to attach it to the charger correctly and stay securely.
On the right side, there are two buttons to turn on/off, open the menu, and go back to a previous screen.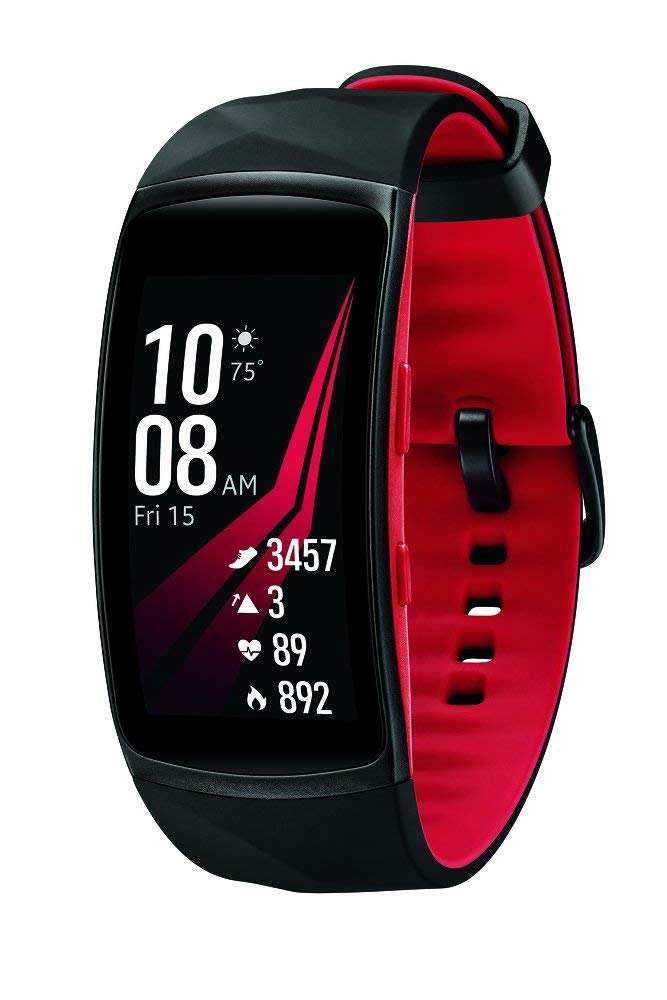 The Pro comes with a wristband with a standard watch clasp instead of the Fit 2's peg and hole closure. Unlike the Fit 2, the Pro's wristband provides a more secure fit on your wrist and it won't take off accidentally. If you don't like the original design of the wrist band, you can purchase and change for yourself. There are a variety of designs of aftermarket wristbands compatible with both the Fit 2 and Pro.
Features
Both the Fit 2 and Pro has a built-in GPS to track the route, distance, and speed in real-time without a need for a smartphone. It's good for those who run outdoor because they don't want to carry a smartphone during the workout.
Both the Fit 2 and Pro has 4GB internal storage for keeping music files to play offline. If you subscribe to the Spotify's Premium, you can download and create a playlist for listening offline or stream via WiFi.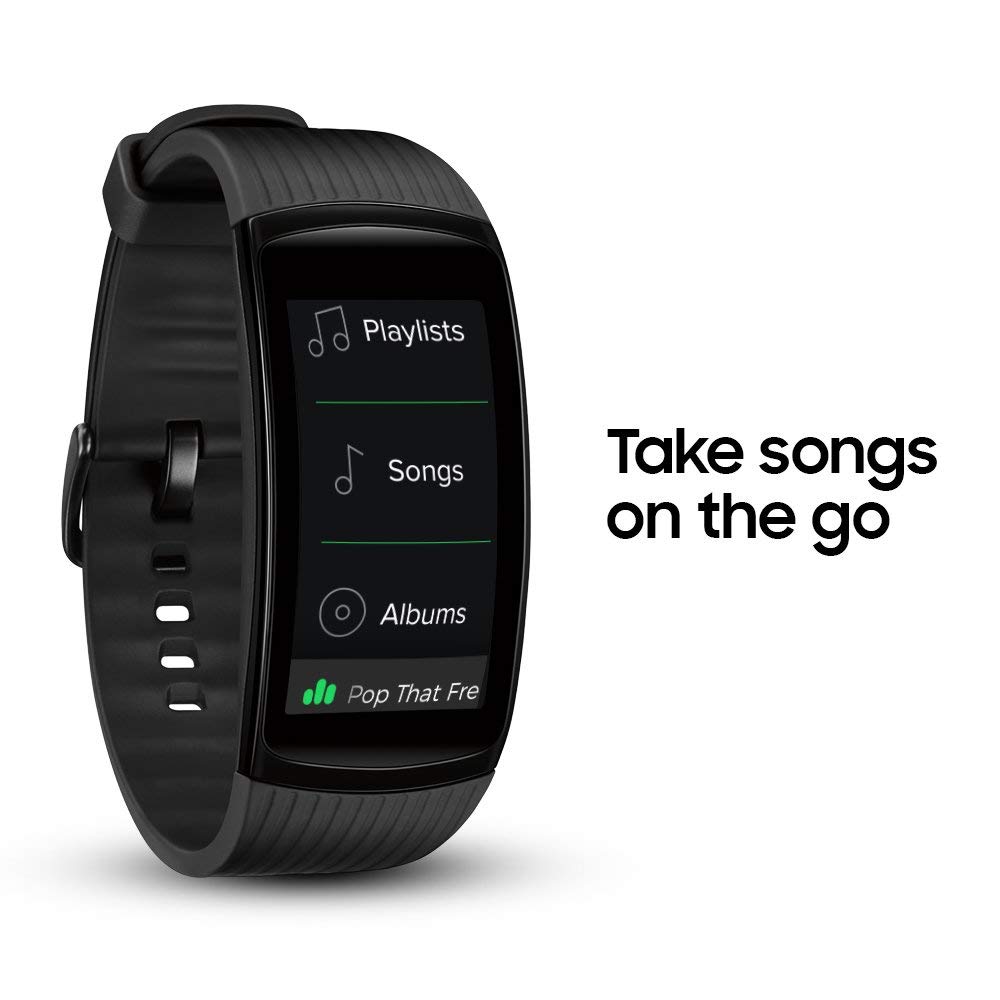 The Gear-version apps such as Spotify, Calories, Under Armor, etc are new, but they are not only for the Pro. These new apps are compatible with both models. You need to download and install them via the Samsung Gear app on a smartphone.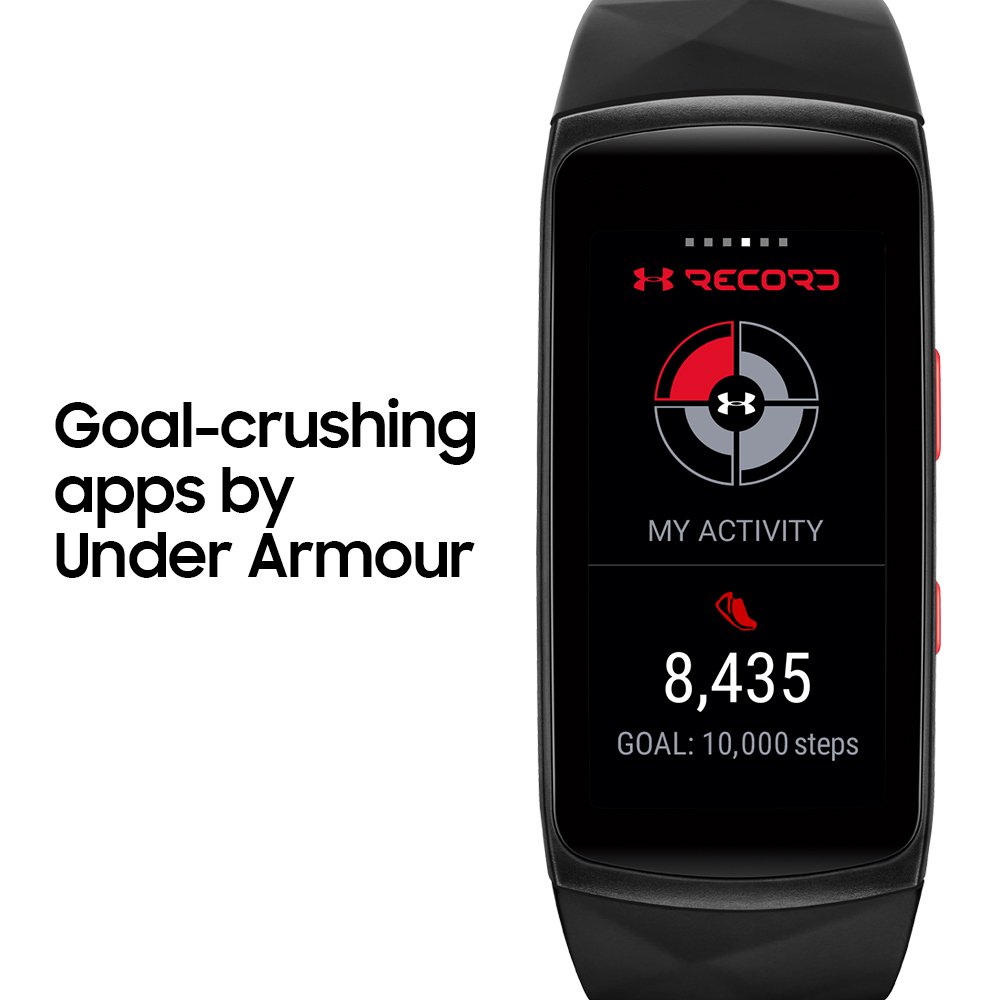 Water-Resistance
The Pro features a water-resistance rate at 5 ATM, which means it can be submerged in up to 50 meters of water. This is the feature mainly differentiated from its predecessor. Obviously, it's good for swimmers. And, when it goes into the water, the Pro automatically goes into Water Lock Mode, which prevents water pressure from activating or controlling the screen accidentally.
Who is Samsung Gear Fit 2 Pro for?
The overall design of Samsung Gear Fit 2, as well as the Pro, is for those who prefer a sleek fitness band to a traditional watch style. Plus, a curved AMOLED display gives a natural look on your wrist. With the water-resistance feature, Samsung Gear Fit 2 Pro is good for swimmers. And a built-in GPS, heart rate monitor, and music library are probably all you need for your workout.
Gear Fit 2 Pro

Gear Fit 2
The term "Pro" might give you the impression that it has new and exclusive features. But, except for water-resistance feature, the Fit 2 and Pro are almost identical products. In fact, the original prices are not much different. The original price of the Fit 2 is $179, and the Pro is $199. If you already have the Fit 2, there is no need for upgrading to the Pro unless you need a water-resistance feature. But, if you don't have any fitness tracker right now and like this design, a sleek, discreet, and versatile Samsung Gear Fit 2 Pro is highly recommended.
Product
Gear Fit 2 Pro
Gear Fit 2
Wristband Design
Standard Watch Clasp
Peg-n-Hole
Screen Size
1.5"
1.58"
Resolution
432 x 216
310 pixels
432 x 216
322 pixels
Size
25.0 mm x 51.3 mm
24.5 mm x 51.2 mm
Fits Wrists
125 to 165 mm (S)
158 to 205 mm (L)
125 to 170 mm (S)
155 to 210 mm (L)
Weight
33 g (S)
34 g (L)
28 g (S)
30 g (L)
RAM
512 MB
512 MB
Internal Storage
4 GB
4 GB
WiFi
802.11 b/g/n
802.11 b/g/n
Bluetooth
Bluetooth 4.2
Bluetooth 4.1
Battery
200 mAh Li-ion
200 mAh Li-ion
Sensors
Accelorometer,Gyro,HRM,GPS,Barometer
Accelorometer,Gyro,HRM,GPS,Barometer
Water Resistance
50 meters under the ISO standard 22810:2010
up to 5 feet (1.5 m) of water for up to 30 minutes
Price
$199*
$179*
Related Posts