Gear Fit 2 is the second version of fitness wristband from Samsung. It has many improvements over the predecessor, Gear Fit. A wider display allows you to see and read the information in a vertical orientation. The display of the first Gear Fit always shows horizontally, which makes you feel a little awkward to read. Gear Fit 2 has an IP68 rating while Gear Fit has IP67. It means Gear Fit 2 has a better rating of water-resistant. According to Samsung, it may be submerged in up to 5 feet of water for 30 minutes. However, the wristband is not for swimming, but you may use it in the rain, or it would be okay with an accidental drop to the water.
Aside from basic features such as a heart rate sensor, pedometer, receiving notifications or automatic detection of your activity, which are common and found in many other fitness wristbands, Gear Fit 2 has more features which you may want to choose it over other fitness bands. Here are 3 reasons Gear Fit 2 would be the best fitness wristband for you.
#1 iOS Support
In January 2017, Gear Fit 2 (along with Samsung smartwatch Gear S2 and S3) is now compatible with iOS. The same apps are available in Apple App Store. Gear Fit app is for Gear Fit 2, and the Gear S app is for Gear S2 and S3.
#2 Built-in GPS
Gear Fit 2 has a built-in GPS. It means that you don't have to carry your smartphone to track route and distance you are running or walking. Fitbit Charge 2 ($149.95) doesn't have a GPS, so it needs to be connected to your smartphone's GPS to track route and distance. Here are some (not all) fitness wristbands which have a built-in GPS.
#3 Music Player
Thanks to a built-in GPS, you can leave a smartphone at home when you run, walk, or ride a bicycle. Back then, let's say five years ago, smartphones are smart enough to meet requirements for outdoor runners like GPS, fitness apps, Bluetooth, and music. Now that fitness wristbands have a built-in GPS, they must have a music player, too. Unfortunately, fitness wristband with these features isn't many. In fact, none of three fitness wristbands above (Surge, Vivosmart, and Vivoactive) has a music player. They can control a music player of a connected smartphone. But that means you need to have a smartphone with you during activity.
Gear Fit 2 has a music player and storage for music files. All you need to listen to music is a Bluetooth headphone. You can now ditch your smartphone during activity without any compromise. Of course, you can control smartphone's music player like other fitness bands, too. You may find other wearables which have both GPS and music player, but those may be categorized in Smartwatch. Among fitness wristbands which have a sleek design, lightweight, and comfort during an activity, Gear Fit 2 is currently the only one with both features.
You can transfer music files to Gear Fit 2 from your smartphone. The total space of the band is 4GB, but nearly half of them is already used by "System." I believe that around 2GB is more than enough for most people. The standard file formats are supported, such as MP3, WMA, AAC, OGG, etc.
No Maps? storage may be almost full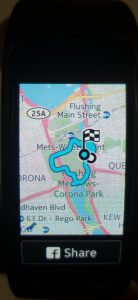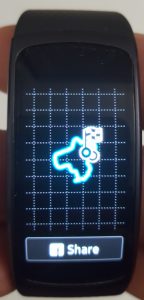 Speaking of the storage, you shouldn't fill it up with music files. It will affect logs or maybe other performance of the wristband. In my personal experience, I couldn't see maps in logs. Right after I bought and charged the wristband, I filled the storage almost entirely with music files and then go running. In logs, it showed the line indicating how I moved in a blank (grid) background. I thought that was normal. Until I saw a color map on my friend's Gear Fit 2, I didn't know that was a problem. I couldn't find a solution on the web. After I tried some things, I finally got to know that too much storage caused it. Making more available space by removing some music files brought maps in all previous logs!
Conclusion
Gear Fit 2 is the best fitness wristband, especially for outdoor runners. It has all the features so that you can leave your smartphones at home. A large, yet sleek designed display is beautiful. No other fitness wristbands are comparable to it. A price $179 is definitely worth. But it's been a while since its release. So, you may find a good discounted price!
Related Posts