Backers of Kickstarter project of Kiwi 4 OBD2 adapter gets notified that the adapter is shipping and arriving in 4 to 6 weeks. There is some good news along with this update.
Read Also: Kiwi 4 OBD2 Adapter Review – issues on hardware and connection
First, the Kiwi OBD app will be available for an update to version 2.0 in a few weeks.
Second, all backers will have a basic license of Kiwi OBD app for free. It usually costs $9.99 and includes MultiGauges, Diagnostics, and Fuel Efficiency.
Lastly, you will also get Video Overlay and Data Logging for free after you register Kiwi 4 for warranty and like PLX Devices' Facebook page: https://www.facebook.com/PLXDevices/ Then, send a message to them, and you will receive the codes to unlock the features of Video Overlay and Data Logging. They usually cost $9.99.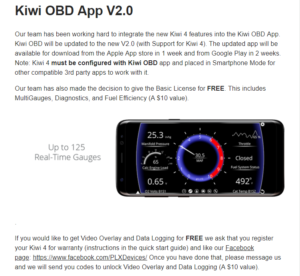 Kiwi 4 is the new version of OBD2 scan tool by PLX Devices. It has some unique features like a micro SD card slot for data logging and a built-in speaker for an audio alert. Click here to see more details about Kiwi 4 OBD adapter.