For apps that are optimized for DeX, you can resize or maximize the window. But, many third-party apps only run in a small window which emulates a smartphone's portrait layout. For those apps, you can't find the icon to maximize the window on the top right-hand corner. If you try to resize, the app's window turns red, which is indicating the app can't be resized.
Turn on Samsung DeX Labs to make apps resizable
However, there is a setting to make non-DeX apps resizeable or expandable. Open Settings > Samsung DeX > Find "Samsung Dex Labs" and turn on. After that, some non-DeX apps can be both resized and maximize the window, and some of them can be resized only. Keep in mind that it won't keep the original ratio of the window when you resize on these apps. For example, Kodi can resize after turning on Samsung DeX Labs, but it's difficult to keep the right ratio of the window. For these apps, I recommend to use screen mirroring or using DeX Max app described below.
DeX MAX – Tweak for Samsung DeX
DeX MAX app is a third party app. With this app, you can resize or maximize the window of many third-party apps. All you have to do is download the app from Google play store. Then, open the app, and you will see all your apps inside the window of DeX MAX. Most apps you open from here will have the icon to expand on the top right-hand corner of the window. However, there are some exceptions. For example, Kodi won't go to the full screen, and it will need the extra setting on DeX MAX app.
How to get Kodi to be the full screen on Samsung DeX
Using a screen mirroring feature is one of the methods. If you want to stay in Samsung DeX and get Kodi to be the full screen, here is the Youtube video, which is demonstrating how to set up.
Pinch-to-Zoom feature on Google Maps
If you use the display of Samsung Galaxy smartphone as a touchpad, there is no problem when using Google Maps app. A Pinch-to-Zoom feature works in the same way as you use the mobile app on a smartphone. However, if you use a mouse wheel or aftermarket touchpad with Samsung DeX, you probably have difficulty using Google Map app. You can zoom in by double-clicking (or tapping), but there is no way to zoom out. To get around this problem, you can open a map in Chrome browser. A mouse wheel works perfectly, as well as a Pinch-to-Zoom on an aftermarket touchpad
Mobile site and Desktop site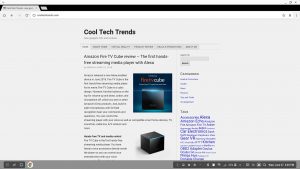 If Chrome browser keeps showing the mobile version of the website, you can switch to desktop version so you can see the web pages better. Click three dot on the top right-hand corner of the window, and then, find "Desktop site" and check the box. After that, any websites you visit will be desktop version. However, when you open a new tab or window, it doesn't keep this setting. You should check the box of "Desktop site" again.
How to zoom in and out the pages on a website
You can't zoom in or out some websites by default. But, after you check the box of "Desktop site," you can zoom in and out by Pinch-to-Zoom, mouse wheel or Ctrl+"+" and Ctrl+"- "on the keyboard.
Related Posts