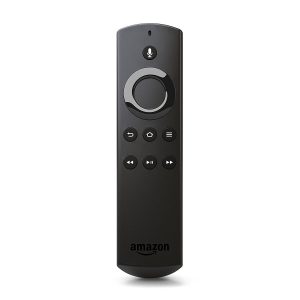 Newer versions of Fire TV devices include a remote with microphone (=Alexa Voice Remote.) A microphone button allows you to speak to Alexa, and she will respond your commands, questions, search streaming contents from Amazon Video. The first generation of Fire TV Stick is the only device which includes a remote without a microphone. The Alexa voice remote is compatible with any Fire TV devices including 1st gen of Fire TV Stick, and you can purchase the remote only. However, this is not the only way to bring Alexa voice assistance to the 1st gen of Fire TV Stick. There are two methods to use Alexa voice assistance without the Voice Remote. These methods also work on all Fire TV devices.
Amazon Fire TV Remote App
The first method is to use an application available in Google Play Store and Apple App Store. The app is free. It's called Amazon Fire TV Remote. Setup is a breeze. Open the app and select your Fire TV device, and your TV shows a code. Enter the code in the app, and it's all set. To speak to Alexa, pull down the mic button. Say your command, question, or a voice search while keeping your finger on the screen of the app. You don't have to say, "Alexa" because pulling down the mic button wakes up Alexa and makes her listen what you're going to say.
The app has other useful features. Tap the icon next to the mic button, and you will see all apps and games you have installed on your Fire TV device. You can open any app or game with a single tap instead of pressing a directional button multiple times to search and hitting the select button to open.
There is another icon on the top of the app. Tap this icon, and it opens up a keyboard in the app. It's useful when you search the contents of third-party apps. Because results of Alexa voice search is always on Amazon Video, App, or Game. When you try to find content inside the third-party app, you have to type the keyboard inside the app. The keyboard on third-party app link to the keyboard on Amazon Fire TV Remote app so you can get a search result in that third party app.
Connect Echo device with Fire TV device
The other method will need an extra device. If you have Amazon Echo or Echo Dot, you can connect to your Fire TV device via Bluetooth. Then, you can make a variety of things on your Fire TV device by speaking to your Echo device.
First, the sound comes from the Echo device. If your TV is small and cheap, you are probably not satisfied with your TV's sound quality. The Echo or Echo Plus have much better sound quality. Plus, now you have full control of volume with your voice command. You can say, "Alexa, louder," "Alexa, volume 3," "Alexa, turn it down." and so on.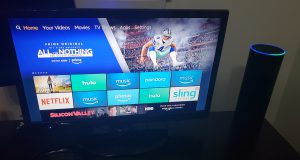 Second, you also have media control such as play, stop, pause, fast forward, etc. Well, it depends on the app, but you can control with your voice at least Pause and Resume on any apps. If you play a video on Amazon Video, you can control a lot of things. You can say, "Alexa, fast-forward 10 minutes." "Alexa, play from the beginning."
Third, you can search media with your voice as well. You can say, "Alexa, search [title of the movie]." or "Alexa, find [title of ]the show]." Alexa will respond you by saying "Getting [title] from Fire TV" and show the search result on the TV. As a voice search with the physical remote or the remote app, search results are limited inside Amazon Video, Apps, or Game.
Lastly, you can open an app with your voice. If you say, "Alexa, open Netflix," and she opens Netflix. If you say, "Alexa, open Hulu," and she opens Hulu. You can't open all apps with your voice. I found the following apps can open via Amazon Echo, Amazon Music, Netflix, Hulu, AccuWeather, FireFox, Silk Browser, Crackle, and Vevo. Please note that these are not all. And the most useful command I found is that "Alexa, Home." This command brings it back to the home screen from any apps.
Here is how to connect Echo device with Fire TV device. Go to Settings > Controllers & Bluetooth Devices > Other Bluetooth Devices > Add Bluetooth Devices. Then, you will see "Echo-XXX" on the list. Select and done.
Two devices stay connected until you turn off either of the devices, speak to your Echo devices to disconnect, or go to the settings on Fire TV device. And if you start streaming music, news or weather from third-party apps on your Echo device, it automatically disconnects from the Fire TV device. You can re-connect by saying, "Alexa, connect my device." Or when you turn back on either of devices, they will automatically connect.
Comparison between two methods
Amazon Fire TV Remote app can do everything the physical remote can do. Plus, you can use a keyboard and shortcuts for apps. And, if your device is the 1st gen of Fire TV Stick, you have Alexa voice assistance as the new feature. The only disadvantage of the Remote app is that it requires a little time to open and connect to the Fire TV device. But, it's a free app. There is no reason that you don't want to install the app on your smartphone or tablet.
On the other hand, when you use an Echo device as a remote for a Fire TV, there are many restrictions. However, the benefit of hands-free controls is huge. You should try if you already have both Echo and Fire TV devices. Echo and Echo Plus have relatively good quality speakers. And 2nd gen of Echo and Echo Dot has 3.5 mm auxiliary output to connect and use external speakers.
Related Post