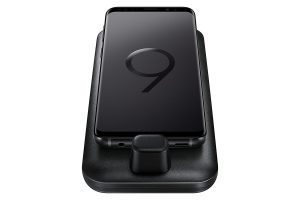 Samsung DeX Pad will be released on April 30th, 2018. It turns your latest Galaxy smartphone S9 and S9+ into a PC environment. It uses USB-C connector to dock your smartphone. And it can use a connected smartphone as a touchpad and keyboard. Samsung Dex Pad is backward-compatible to S8, S8+, and Note 8.
Design
The designed has been changed a lot from the DeX Station. The Pad and connected smartphone sit flat on the desk while the Station holds the smartphone up with an awkward angle. With the Pad, you can use the display of phone as a touchpad.
No Ethernet
Both the Station and Pad charge your phone during operation via USB-C port. And they both have two USB ports and one HDMI port and USB-C port for power. But, Dex Pad has no Ethernet port which exists on the back of the Station. A smartphone can get access to the internet via WiFi, so Ethernet may not have been necessary since Dex Station in the first place. Thanks to not having Ethernet, the device can be compact and light.
Despite the lightweight and small size, the Dex pad has a cooling fan to keep a smartphone cool while in use.
2K resolution
Pad is compatible with a 2K monitor. As for Station, it is 1080p maximum
You can also access to your smartphone during operation. The virtual screen allows you to reply a message, open an app, or whatever you usually do on the smartphone.
Things to know before purchasing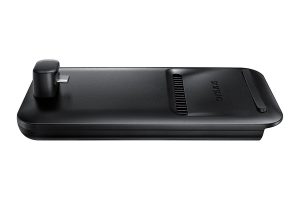 As a disadvantage, Dex Pad can't use fingerprint scanner because of the orientation. The iris scanner works while in use, but you may need to lean over to the display of the smartphone or lift up the smartphone connected to Dex pad or type PIN or draw a pattern. For Dex Station, the display of the smartphone is facing you. You only need to take a look at the display to unlock. Dex Station was released along with S8. And S8 is the first Galaxy smartphone to have a feature of iris scanner. Dex Station takes advantage of the new feature and gives you more futuristic experience.
The Dex Station also has a similar problem because of its orientation. There is no way to use the 3.5 mm headphone jack on the phone to use a headphone or PC speaker because the headphone jack is blocked when you plug the smartphone in the Dex.
There will be more the Dex optimized apps and games that support keyboard and mouse play. You can now play Final Fantasy XV pocket Edition with the Dex pad.
The Dex Pad will be available on May 13th, 2018 for regular price of $99.99.
Related Post: Samsung DeX Pad Review use full features of Galaxy S8, S9, Note 8 with DeX