If you lose or break a remote control of your electronics such as TV, DVD player, streaming play, cable box, and so on, don't panic. These days, you have several options to get a replacement. Here are the solutions when you broke or lost remote control.
Buy the original remote from manufacturer and third-party seller
It's as simple as it sounds. You can search on the internet with the model number of your device. You will find websites of the manufacturer or third-party sellers that sell the original remote online.
Call Satellite or Cable Box company
If you are a subscriber of Cable or Satellite channels, and the remote and box are supplied by the company, you can call the company for a replacement. If the remote is broken, you may get a replacement for free. If the remote is lost, you may have to pay a cost for a replacement.
Replace with Universal Remote Control
Universal remote controls are not brand specific. They work with various devices from different brands. Directly go to the store and get it. You can find them at not only electric stores but may find them at supermarkets, or drug stores. Or, you can order online.
Read Also: Best Universal Remotes recommendations by BestReviews
If you need a replacement of a remote for your TV or DVD Players, you can get a decent one for around $10. And most of these types of remote can work with multiple devices. Keep in mind that most inexpensive universal remote uses IR (Infra-Red) light. So, the original manufacturer's remote has to be IR remote.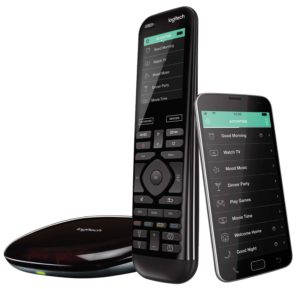 Some devices like streaming players use other signals than IR. For example, Amazon Fire TV uses Bluetooth, and Roku streaming stick uses WiFi direct. If you want to control these devices with one universal remote along with your TV and DVD Players, you will need to Logitech Harmony hub-base remotes.
The Logitech Harmony hub-base remotes are much more expensive than IR universal remotes, but there are various benefits.
They are compatible with almost all media devices.
They can control more devices than budget universal remotes. For example, Harmony Elite can pair up to 15 devices.
They allow you to customize the buttons. For example, pressing a single button turns on a group of devices or switches to your favorite channels between different media players.
They connect to your home WiFi network and the internet through the hub. It allows you to connect to your smart home devices, Philips Hue lights, or even Amazon Alexa smart speakers. With Alexa skill, you can control your devices with your voice.
It's easy to pair devices and assign buttons on remote with your computer or mobile app because it's connected to WiFi and internet.
They  have a mobile app that controls them all as well. It's handy when you can't locate the remote or the battery of the remote runs out.
Read Also: Logitech Harmony Elite review and comparison with Companion and Ultimate
What to do until you get a replacement
Whether you decide to purchase the original or universal remote, it's ideal to have a makeshift by you get a new remote. Mobile apps come in handy in this situation. Just go and search with a phrase "remote control app" + "your device name and brand (or model number)." Many devices have their remote control app. You can use them and perfectly make it work with your devices. If you can't find it, you can try using a universal remote control app. They can work with a range of TV, DVD player, streaming players, and so on.