Mixed Reality is referred to an environment where physical and digital objects co-exist and interact in real time. Currently, Mixed Reality is introduced as a part of the Windows 10 operating system. It offers holographic and mixed reality experiences with compatible head-mounted displays.
Current Mixed Reality Products
Its flagship device is Microsoft HoloLens. It provides a mixture of a real physical world with holograms. They exist together in a shared environment. There are also virtual reality headsets for Windows mixed reality. They are built to specifications as part of Windows Mixed Reality. But, they are just like virtual reality headsets and lacking holographic experiences.
Microsoft HoloLens
Microsoft HoloLens is a smart-glasses headset. It's a cordless, self-contained Windows 10 computer. Not only can you see holographic platforms, but you can interact with it through gaze, voice, and hand gestures. Other companies such as Samsung and Asus are interested in working with Microsoft to produce their own mixed reality products similar to HoloLens. Intel had been developing but it's has been canceled in 2017.
Windows Mixed Reality Headset
In recent years, multiple companies released virtual reality headsets for Widows mixed reality platform. Something in common on these headsets is that they offer a room-scale VR experience without external sensors or cameras. And they have a handheld motion controller which are also tracked by the headset without external sensors and cameras. Acer, Dell, HP, Lenovo, Asus, and Samsung have already released their own mixed reality headset. While HoloLens is a self-contained Windows computer, these virtual reality headsets require to hook up with PC.
Cost of Windows Mixed Reality Headsets
Windows Mixed Reality is a lot less expensive than HTC Vive or Oculus Rift. Retail prices of the headsets are around $400, but many of them are found with a discount now. You may get one with motion controllers for about $250.
Windows Mixed Reality Headset has a higher resolution
All Windows Mixed Reality headsets have a display with higher resolution than HTC Vive or Oculus Rift. The headsets by all manufacturers except for Samsung offer 1440 x 1440 per eye while HTC Vive and Oculus Rift are set at 1080 x 1200 per eye. Samsung's headset has an even higher resolution at 1440 x 1600 per eye, which is equal to HTC Vive Pro.
Steam VR integration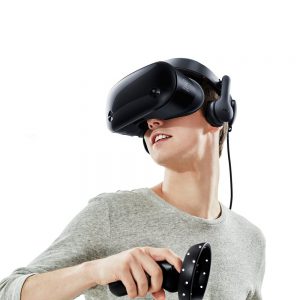 Not only can you enjoy VR games from the Microsoft Store, but the enormous library of Steam VR games are available for Windows Mixed Reality headsets. Please note that not all Steam VR games work properly with Windows Mixed Reality headsets. If a game doesn't have the official Windows Mixed Reality logo, you'd better search on the internet to make sure of its compatibility.
Easy to set up
A notable feature of all windows mixed reality headsets in common is inside-out tracking. Unlike HTC Vive and Oculus Rift, it doesn't need external cameras or sensors to track your movement. Instead, they all have built-in cameras in front of headsets. Thus, it's easy to set up. It's almost a plug-and-play experience.
Room-scale experience
Inside-out tracking allows you to have room scale experience. Again, the tracking system doesn't use external cameras or sensors. It's impressive that only built-in cameras in front of headset do almost all the same jobs as ones of HTC Vive and Oculus Rift.
Problem of controller's tracking
Windows mixed reality's inside out tracking has advantages over HTC Vive and Oculus Rift regarding ease of setup. However, there is one inevitable problem. Motion controllers are also tracked by cameras in front of the headset, but when they are out of sight of the cameras, tracking will be lost. As a result, it can be challenging to play some games, especially requiring a lot of movements.
Conclusion
There are two types of Window Mixed Reality products. HoloLens features Augment Reality, and headsets from Asus, Acer, Dell, HP, Lenovo, and Samsung highlights virtual reality. However, keep in mind that Mixed Reality is supposed to be a blend of AR and VR, and products are created to offer those experiences. For now, most Mixed Reality products are essentially virtual reality headsets.
Related Post